As Joe Biden's First Year Is Coming, What Has Been Done?
WASHINGTON DC, Blogtuan.info President Joe Biden is seen as having moved quickly since taking his oath of office on January 20, 2021.
His major accomplishments include signing the US 1.9 trillion Covid relief bill into law less than two months into his tenure.
He has also issued more executive orders so far than his three predecessors.
Reported CNN, in Biden has also fulfilled his promise to restore the presidency to what it was before his predecessor, Donald Trump, replaced tweets with daily press conferences and brought in experienced cabinet and staff experts.
Ratri Istania from Loyola University, Chicago, reported by VOA, said that Biden delivered on his promise to present a cabinet that mirrored the US.
"This is a cabinet that will be very colorful. In accordance with his campaign promises and victory speech, he is eager to present a leadership and government that represents America, in terms of ethnicity, race and gender," he said.
Here are some of the key things Biden has done during his first year in office.
Covid-19 pandemic
Biden took office and pledged to deliver 100 million vaccine shots by his 100th day in office.
This comes after Trump failed to achieve his goal of vaccinating 20 million Americans by the end of 2020.
The Biden administration hit its target of 100 million injections by mid-March, about 40 days ahead of schedule.
The administration hit 200 million doses of the vaccine on April 21, a week ahead of Biden's updated schedule.
Biden has also assigned public health experts and scientists to a number of roles in government.
He appointed Dr Anthony Fauci, longtime director of the National Institute of Allergy and Infectious Diseases as chief medical adviser and appointed the director of the White House Office of Science and Technology Policy to Cabinet.
Economic Recovery
Days before his inauguration, Biden submitted a proposal for massive economic aid.
He asked congress to approve a $1.9 trillion fund to give the public another round of stimulus checks, help for unemployment, small business support and money to help schools reopen safely.
In March, Congress approved the package, known as the American Rescue Plan.
Biden has also used his executive powers to expand food aid, extend the federal moratorium on evictions and continue withholding payments on federal student loans and interest costs.
Health
Vice President Kamala Harris and House Speaker Nancy Pelosi of California, stand and applaud as President Joe Biden addresses a joint session of Congress Wednesday (28/4/2021)
Biden has acted quickly to strengthen the Affordable Care Act, one of his key campaign promises.
His administration has taken several steps that reversed Trump's efforts to crush key Democratic healthcare laws.
Dismissed workers who wish to remain on their job-based coverage will receive a subsidy that pays the full premium cost from April to September, as part of the assistance package.
Biden also began withdrawing approval from the Trump administration allowing states to mandate Medicaid work conditions.
Immigration
Biden has signed several executive actions targeting Trump's hardline immigration policies, including reversing Trump's ban.
Biden set up a task force focused on identifying and reuniting migrant families separated at the US-Mexico border as a result of Trump's controversial "zero tolerance" policy.
He also repealed Trump-era proclamations restricting legal immigration during the Covid-19 pandemic.
Biden scrapped Trump's declaration of national emergency, which allowed his predecessor to put in additional funding for a border wall and called for a review of the ongoing wall project.
He narrowed down immigration enforcement in the US. The President also directed relevant agencies to ensure that LGBTQI+ refugees and asylum seekers have equal access to protection.
Climate Crisis
Biden fulfilled his promise to host a global climate summit in his first 100 days in office.
During the event, he committed to the US to reduce its greenhouse gas emissions by 50 to 52 percent below 2005 emission levels by 2030.
While those goals are part of the Paris climate agreement, which Biden followed back in office, they are not binding.
The government has yet to roll out a plan on how the US will match that.
Taiwan Policy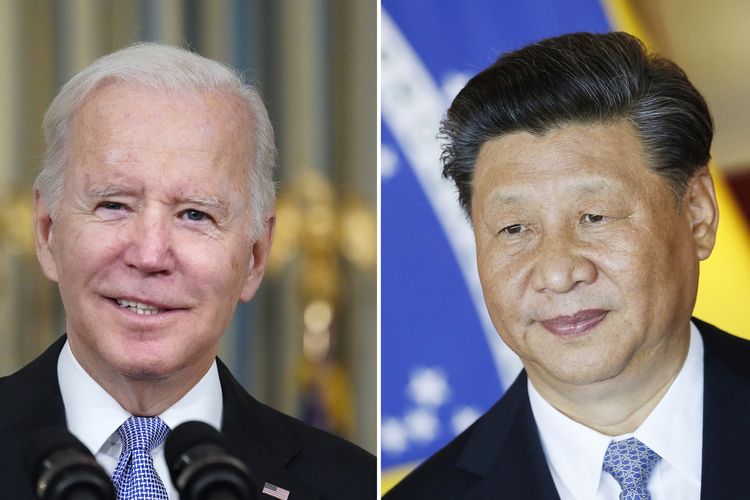 Photo collage of United States President Joe Biden (left) in Washington DC on November 6, 2021, and Chinese President Xi Jinping (right) in Brazil on November 13, 2019. Biden and Xi Jinping meet during a virtual summit on Monday night (15/11). /2021) US time.
Biden has invited Taiwan to a virtual meeting of the Summit for Democracy with more than 100 countries.
This title is one of Biden's campaign promises. The US invited Taiwan not as a country but as a model democracy, but this move made tensions between the US and China escalate
Taiwan itself is claimed by Beijing as part of its territory and has promised to one day be captured, even by force if necessary.
The Summit for Democracy will take place virtually on December 9 and 10 ahead of a face-to-face meeting in next year's second edition.
Afghanistan Policy
Biden had emphasized that the withdrawal of troops from Afghanistan was a sign of a new era of US foreign policy.
The US will reduce its dependence on its military power.
Regarding the events of the takeover of Afghanistan by the Taliban, he admitted that his government did not anticipate Afghanistan being defeated by the Taliban so quickly.
The US had estimated that the Taliban controlled Kabul within 90 days. In fact, it's only been a week.
Midwives have only two choices for Afghanistan: follow the Trump regime's decision or go back to war
"I will not prolong this war forever," he insisted.
But Biden admits he mistrusted former Afghan President Ashraf Ghani who fled and gave up his country.
Then, during the 17-day evacuation operation, the US managed to fly 124,000 civilians.
A total of 5,500 of them are US citizens. There are currently only about 100–200 US residents in Afghanistan who wish to return home.
Get updates selected news and breaking news every day from Blogtuan.info. Let's join the Telegram group "Blogtuan.info News Update", how to click the link https://facebook.com/groups/2271467342910314, then join. You must first install the Telegram application on your cellphone.
.