Warning SARS-CoV-2 variant is more mutant than Delta
Thursday, November 25, 2021 13:00 PM (GMT+7)
British experts have sounded the alarm about a new COVID-19 variant, believed to have appeared in Botswana, the most mutated version of the virus to date.
Daily Mail newspaper on November 24 reported that so far, only 10 cases of this strain, which can be named "Nu", have been detected. However, it has appeared in 3 countries, suggesting that this variant is more contagious. In addition, it carries 32 mutations, many of which suggest it is highly infectious, resistant to vaccines, and has more mutations in the spike protein than any other variant of SARS-CoV-2, including Delta.
Professor Francois Balloux, a geneticist at University College London, said the variant could be present during a long-term illness in an immunocompromised patient. This person likely has AIDS but has not been diagnosed.
In patients with weakened immune systems, Covid-19 can last for months because the body is unable to fight it off. This allows the SARS-CoV-2 virus time to mutate, helping it to penetrate the body's defenses.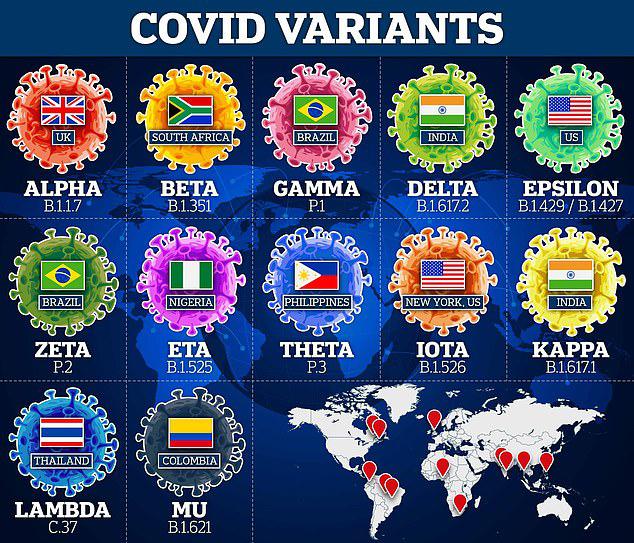 Variants of COVID-19. Photo: Daily Mail
Changes in the spike protein make it difficult for existing vaccines to fight the new variant because the vaccine "trains" the immune system to detect the old spike protein of the virus. Dr Tom Peacock, a virologist at Imperial College, described this variant's mutation combination as "terrible".
Mr. Peacock warned that B.1.1.529, the scientific name for this variant, is likely to be "worse than almost any other strain", including the Delta strain raging around the world. Professor Balloux said that B.1.1.529 can dodge antibodies more than Delta.
Still, the scientists say the variant's unprecedented number of mutations could make it "unstable" and difficult to spread. According to them, "there is no need to worry too much" because there is no sign that B.1.1.529 is spreading rapidly.
To date, 3 cases of B.1.1.529 variant infection have been detected in Botswana, 6 in South Africa and 1 in Hong Kong.