Russia will export a nasal spray COVID-19 vaccine
Friday, 11/26/2021 11:00 AM (GMT+7)
The Russian Direct Investment Fund (RDIF) announced that the country plans to export the nasal spray vaccine to other countries next year.
According to VNA, on November 24, Kirill Dmitriev – head of Russia's Direct Investment Fund (RDIF) said that Russia has made progress in making COVID-19 vaccines, including vaccines. – Ask for Sputnik children's version and nasal spray form. It is expected that next year, Russia will export the nasal spray COVID-19 vaccine to other countries.
Earlier, speaking in a meeting with government officials on November 23, Russian President Putin said that he had tested a nasal spray COVID-19 vaccine after 6 months of receiving two doses of Sputnik V because decreased antibody levels. In addition, Putin also injected a booster dose of Sputnik V Light and did not have any health problems after using the above vaccines.
"I didn't feel anything. Nothing unusual. After two doses of the vaccine, I did a little exercise in the morning," Putin said.
Russia is developing a nasal spray vaccine and plans to export it next year. Illustration
The nasal spray COVID-19 vaccine is being clinically tested on volunteers by the Gamaleya Institute. This vaccine has a number of advantages over the traditional one, which is to provide additional protection for the lungs, which are strongly affected by the SARS-CoV-2 virus, and people can self-administer the vaccine. this.
Currently, many countries around the world are researching and developing nasal spray vaccines to help prevent and treat COVID-19 because the nasal mucosa is the main entry point for the SARS-CoV-2 virus.
At the same time, Ms. Tatiana Golikova – Deputy Prime Minister of Russia also shared that the Russian Ministry of Health will register the Sputnik M vaccine (GAM-COVID-VAK-M, a vaccine developed by the Center for Research in Epidemiology and Virology) National Biology Development Gamaleya) is intended for children aged 12-17. This vaccine is expected to be put into use from the end of December.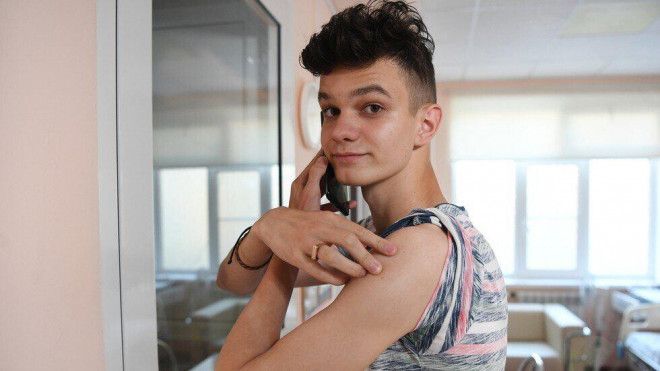 One of the first to participate in COVID-19 vaccine research on the Sputnik V platform for adolescents. Photo: Sputnik
Mr. Alexander Gintsburg – Director of Gamaleya Center also revealed that after the COVID-19 vaccine for teenagers is approved, they will submit documents to study the vaccine for children aged 6-11. In addition, President Putin has also requested support in the development of a COVID-19 vaccine for children aged 2 years and older.
According to records, in Russia the proportion of people who are fully vaccinated is about 37%. Meanwhile, in recent weeks, the country has recorded more than 1,000 deaths from COVID-19 every day. To date, Russia has recorded a total of more than 9.4 million cases of the disease, the fifth highest in the world, of which more than 267,000 deaths.