Friday, 11/26/2021 10:00 AM (GMT+7)
While Ho Chi Minh City requires that online exams and tests are only lightly organized, many primary schools hold rigid exams, causing overload for students and parents.
Ms. Huong, a parent in Go Vap district (HCMC), said that never before has the midterm exam for students (HS) been as tiring as this school year, when her family has 2 children in grade 4 and grade 4. 6, on peak exam days, Ms. Huong had to take time off from work to stay at home to support her 2 children.
Parents take time off work to… watch time for exams
Many parents of grade 5 at D.TR Primary School (Thu Duc City) reflect that when the school organizes a mid-term mock exam, the teacher will send a link to the parent's Zalo group every time they go to an exam subject. , parents add another step is to send that link for students to do the assignment.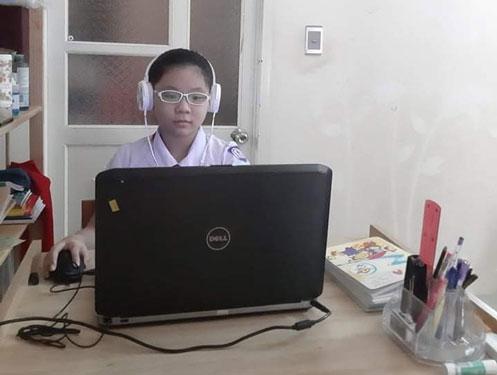 Parents should create a separate space for their children to study and take exams online
For fear of their children being disadvantaged, if on the day of the test, they can't hold their phone or send them the link of the exam questions, so many parents choose to stay at home for a few days for their children to take the exam. Some parents can't take the day off, so they leave the phone at home for their children.
Cases like many of the above parents are not rare nowadays, according to reporters, each school organizes a different way of testing. Some schools will organize gently, some schools cause overload. At An Khanh Primary School (Thu Duc City), students will take mid-term exams in 3 subjects: Vietnamese, math and English. According to Ms. Hoang, a parent of grade 4 at the school, the school organizes an exam on the Azota app. Any family that has a printer can print the exam question, do the test on it, and take a photo of the work to send to the teacher, if it's overtime. The system will lock itself. As for the students who do not have a printer, they will do their homework on paper and take pictures to send to the teacher.
At Nguyen Thi Dinh Primary School (District 7), Ms. Hoang Thuy Bich Thuy, Vice Principal of the school, said that the school organizes online exams for students on the olm.vn system, each student will have a separate account. . The school prepares questions to put into the system and time them simultaneously, the exam schedule is also set on the system, for example, at 8 o'clock, the exam questions will be opened at 8 o'clock, only for spelling and writing practice, students do it in the morning. In the evening, students write on paper, parents take pictures and submit to the system. The school's point of view is that it is a gentle organization that does not put pressure on the students. According to Ms. Thuy, when trying to enter an exam room, she witnessed some children who had to follow their mother to the office to do the test very hard…
Do not put pressure on the exam
According to the Ho Chi Minh City Department of Education and Training, the mid-term examination in the first semester is only for the purpose of assessing the progress of students, attaching importance to encouraging and encouraging learning problems. students' training, helping students to maximize their abilities, ensuring timely, fair and objective. Educational institutions can use online test and assessment systems built by the department or other test and assessment systems linked to the department's system, exploiting lesson design tools. test available. Leaders of the Department of Education and Training also affirmed that schools absolutely do not create pressure to periodically test students, just consider it as a normal daily assessment activity for them.
Ms. Lam Hong Lam Thuy, Head of Primary Education Department – Ho Chi Minh City Department of Education and Training, said that the department had very specific instructions and training for schools in taking online exams and tests, especially avoiding overload. for parents and students. For grades 4 and 5, the midterm and final exams are just to assess how students are learning online, the scores have absolutely no value.
"It is possible that in some cases, online teaching and testing is quite stressful for some teachers, especially older teachers, so there are rigid situations that make it difficult for parents and students. I will grasp and correct it in time," said Ms. Thuy.
Do not interfere with your child's work
Ms. Hoang Thuy Bich Thuy said that in the process of online testing and assessment, it is actually very difficult to manage the intervention of parents when students do homework. The student's score is not important, but if the parents help, the result is that it is very difficult to accurately assess the child's real capacity and ability to absorb so that the teacher can adjust the method or foster it in time. "The school does not impose restrictions, but advises parents to give their children the freedom to do their homework so that the assessment is most objective and fair," Ms. Thuy said.