Touching the dog who has been with the owner for 9 years with cancer, both died 90 minutes apart
Friday, 11/26/2021 10:09 AM (GMT+7)
During 9 years of his owner's battle with cancer, the dog was always at the bedside, finally passing away 90 minutes before him.
The pet dog is always with the owner, refusing to leave half a step.
A young American man recently re-shared the touching story between his father and his loyal pet dog on his personal page, taking away the tears of many people. The guy said the incident happened more than a year ago, but only now he decided to tell everything.
Specifically, the boy's father is a veteran named Daniel Hove. After many years serving the country in the US Air Force, Mr. Daniel returned to work as a firefighter in his hometown of Burnsville, Minnesota. In 2011, he was diagnosed with pancreatic cancer. Due to illness, he was forced to retire in 2012.
During the treatment, family and friends were always there, encouraging and supporting Mr. Daniel through the exhausting chemotherapy sessions. Mr. Daniel also has another special companion, the 11-year-old pet dog Gunner. The dog was always at his bedside, becoming a great source of encouragement for him during his 9 years of fighting cancer.
Even if Mr. Daniel had to stay in the hospital, Gunner would follow him around and hang out in the ward, lying under his bed and waiting while he was undergoing chemotherapy. Worried that the dog sleeping on the hospital floor would catch a cold, Mr. Daniel's family specially prepared a small bed for him, right next to Mr. Daniel's bed.
Having been together for a long time, intelligent dogs can feel the emotions and pain that their owners have to go through. Every time he received chemotherapy, Mr. Daniel was in pain, the discomfort from within made him irritable. At such times, Gunner also became depressed. Whenever Mr. Daniel is unhappy, the dog's mood is also not good.
"When my dad gets agitated, Gunner gets agitated, and if my dad doesn't calm down, the dog doesn't calm down either. If my father does not respond, so will Gunner," said Heather Nicoletti – Daniel's daughter.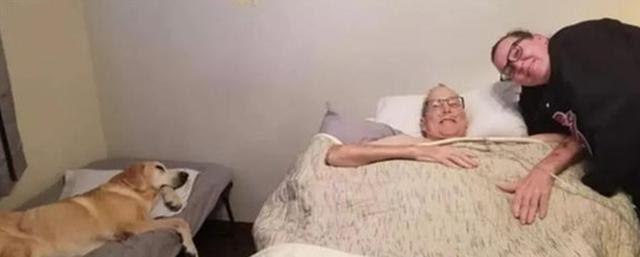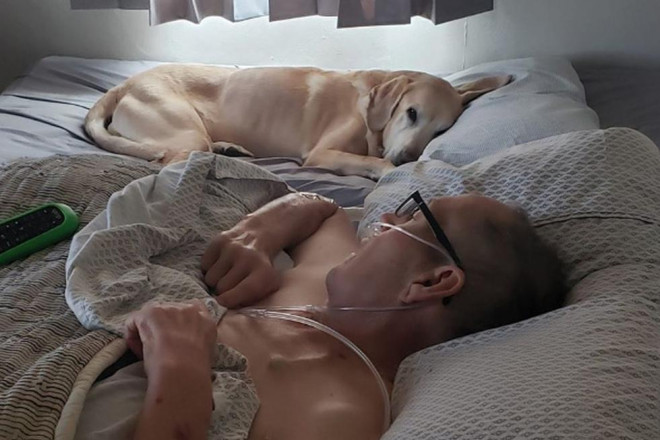 The man and the dog were together for 9 years, finally passing away 90 minutes apart.
Just like that, the dog Gunner and Mr. Daniel have been together for 9 years. Mr. Daniel's condition is getting worse and worse. As for Gunner, the dog also ages over time, his physical health also weakens.
Realizing that Gunner was less and less moving, the family took the dog to the hospital for a check-up, the doctor discovered that the dog had a leg disease, possibly paralyzed, unable to walk normally anymore. . If that happens, the dog will have to endure both physical and emotional pain.
Not long after that, Gunner was also unable to get up from the hospital bed, could only lie on the bed and watch his owner, unable to run around Mr. Daniel like before. Gunner's condition got worse and worse, with no cure. The doctor helplessly informed that Gunner would not be able to last much longer, hoping that the family would accompany the dog for the last time.
One afternoon, the faithful dog took its last breath, leaving Mr. Daniel forever. Fortunately, Gunner passed away very gently and peacefully, without suffering any pain.
Not knowing if it was a coincidence or a fateful link between Gunner and his owner, just 90 minutes after the dog passed away, Mr. Daniel also passed away due to illness. At the same time losing two important members, Mr. Daniel's family is extremely sad but also feels lucky because until the last moment, the dog Gunner and the owner can still accompany each other.
His son Daniel wrote: "We knew they were going together. They are best friends until the very end. Gunner couldn't be without my dad, I think he chose to go with the dog."
The story of the faithful, timeless friendship of Mr. Daniel and his dog Gunner attracted the attention of many netizens, making everyone moved to tears.