The simple act revealed the real relationship between a man's new wife and his ex-wife.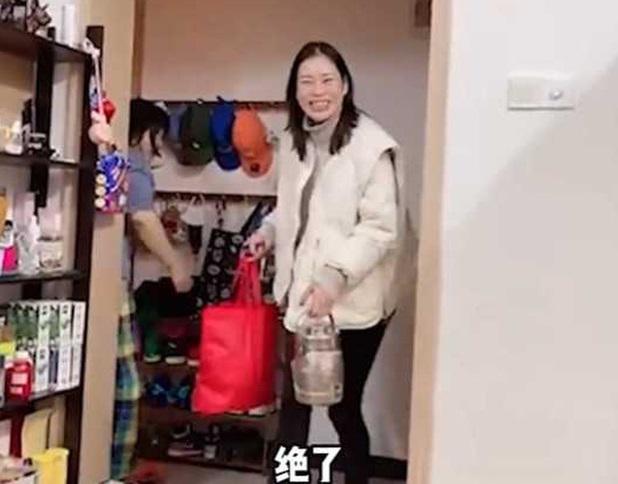 The woman drove more than 30km to bring things to her husband's ex-wife.
According to the posted information, at 7 a.m. on January 10, an unnamed woman in Xuzhou (Jiangsu, China) set out to bring Laba congee to Ms. her husband) and Qin's daughter with her latter husband.
It is known that Laba is a traditional Chinese holiday celebrated on the 8th day of the 12th month according to the lunar calendar. On this day, Chinese people often eat Laba porridge made from rice, grains and dried fruits.
Ms. Tan and her previous husband (the husband of the unnamed woman) have a son together. After the divorce, the two people agreed that "if you don't have a predestined relationship to be a husband and wife, then be friends". The son then chose to live with his father and stepmother.
Although not her own child, the unnamed woman took good care of the boy, just like her own son. A family of three lives happily together, never having conflicts, nor having the usual stepmother – son-in-law matters.
In particular, the relationship between a woman and her husband's previous wife is also very good. The two people often visit each other's houses, their feelings are so close that outsiders mistakenly think they are "sisters". Qin's daughter and her husband also loved the woman very much, often calling her little mother.
"My ex-husband's wife is a very nice person. Although divorced, their relationship is still very harmonious. This is very beneficial for the psychological development of children. I myself was touched to see her treat me so well. This is also considered a kind of fate," said Ms. Tan about her ex-husband's new wife.
After being posted, the video of "the new wife visiting the ex-wife" quickly spread on social networks, attracting the attention of many netizens. The actions and beautiful way of life of the two new and ex-wife received many compliments from everyone.
"This is the miracle of mankind. It's rare for new people and old people to be able to treat each other so well," one netizen commented.
Another guessed: "This husband is definitely a very nice and 'reasonable' person. This is also the premise for the close sisterly relationship of the two women."
Another netizen wrote: "Hopefully the relationship of adults can be like this. Children's psychophysiology is not negatively affected by parents' divorce or family separation."
Not long ago, Chinese netizens had the opportunity to stir before the story of a man who took care of his wife's ex-husband for 16 years.
Specifically, in 2005, Mr. Zhao Jinglong from Songyang, Lishui, Zhejiang fell in love and married Ms. Zhou Yuying – a married woman. Her ex-husband, Mr. Liu Haojin, 21 years ago, fell from the third floor while working in an accident.
The fall left Mr. Liu paralyzed on the lower half of his body, unable to self-clean. The family burden fell on Ms. Zhou's shoulders. Mr. Liu has taken the initiative to file for divorce many times, even thinking of suicide when he saw that he made his wife suffer.
However, Ms. Zhou insisted that even if she got married, she would bring Mr. Liu and her daughter with her. Until she knew and developed feelings for Mr. Zhao, she still kept that thought. The two got married when Mr. Zhao promised to treat Ms. Zhou's ex-husband as a brother and that her daughter was also his child.
Since then, Mr. Zhao has devoted himself to taking care of Ms. Zhou's ex-husband and focusing on business. After several years of hard work, Mr. Zhao and Ms. Zhou paid off the loan for Mr. Liu's treatment and built a three-story house. The four people's lives have changed a lot, but the promise to take care of Mr. Liu remains the same.
Living with his wife's new family, Mr. Liu has put aside his shyness, low self-esteem, and gradually becomes cheerful. With the help of the disabled people's association, he opened a tea shop to be more active in life.