Practice writing is the first step of learning Literature in the 2nd and 3rd years. Writing practice starts from 2nd to 5th grade with simple descriptions of things around such as cats, chickens, relatives, teachers… Practicing writing helps them put themselves in things and events, requiring high observation. Writing is first to describe static objects, then to describe active objects.
However, young children are innocent, naive and do not know the standards of things and people. So far, many children's poems have made adults laugh.
Recently, a funny essay by 3rd graders made everyone laugh. The article has 5 sentences describing a bird that has a genetic mutation. It is a shapeless bird with 2 wings and 4 legs.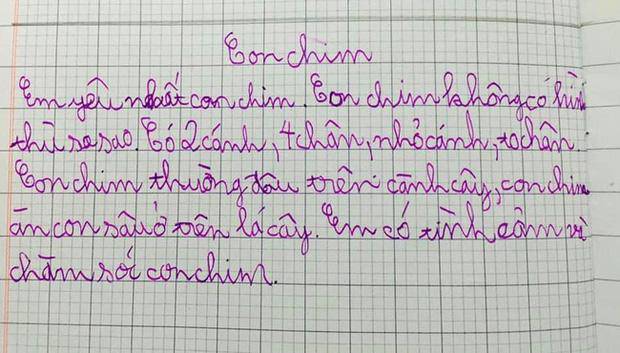 Essay describing a bird of a boy in grade 3. Photo: NVCC
The text of the assignment is as follows: "I love the bird the most. The bird has no shape. It has 2 wings, 4 legs, small wings, big legs. The bird usually sits on a tree branch, the bird eats deep on it. leaves. I have love and care for the bird."
Immediately after the article was shared, it attracted the attention of parents. People commented enthusiastically: "Then this is a bird or a dog but it has 4 legs like this. The bird must have died, read it and laughed and cried", "What a child, a wild imagination really rich."
Sharing with the reporter of Dan Viet newspaper, Ms. NKA, living in Hanoi, the author of the photo revealed: "This is my son's essay when he was in 3rd grade. The teacher assigned it but didn't grade it. Suddenly, I Looking back at the photos, I found it funny, so I shared it online for everyone to read. I didn't expect it to receive such attention."
According to Ms. KA, her son is currently in grade 8. He still keeps his innocent personality and learns Literature, he has silly sentences like the old days. Ms. KA happily gave an example: "Once, a teacher gave an essay describing the landscape after the rain. My son described it: "After the rain, the street was flooded with water. Everyone waded in the water. Traffic is blocked, motorbikes rush to the sidewalk to go." The essay is described in a super realistic way, without any romantic literature.
However, Ms. KA does not force her child to follow the pattern, but allows her to be creative. The mother is only a guide and guide for children to learn.