According to this class-action lawsuit, when affected users contacted PayPal about frozen funds, they were told they had violated PayPal's acceptable use policy (AUP), but not explained how the violation took place.
In addition, the lawsuit alleges that in at least one case, PayPal said users would "require a subpoena" to find out why their funds were frozen.
"PayPal violated its own Terms of Use Agreement by not adequately notifying users that their accounts were on hold," the lawsuit says. When PayPal announced an account was on hold, the company "did not tell users why money was being held, how they could disburse the hold, and/or how they could avoid it. the fact that my account is suspended."
The lawsuit alleges that PayPal enjoys frozen funds after a 180-day hold and argues that PayPal's "use agreement and AUP cannot be used as a 'robbery license'."
The three main plaintiffs claimed that they had nearly $250,000 forfeited by PayPal. Plaintiff Shbadan Akylbekov, the owner of a shop that sells hyaluronic acid injectors for skin tightening, said that PayPal took $172,206.43 from his wife's account without explanation; This account is used for the store.
After several calls and letters to PayPal, Akylbekov was told that the money from the account was forfeited to "compensate for pre-specified damages resulting from the breach." [AUP] pursuant to the User Agreement". Akylbekov also claims that he never received a copy of this policy until the account was taken into custody.
PayPal later said that it used the recovered funds to reimburse customers for purchasing hyaluronic acid injectors from Akylbekov's store. Akylbekov then asked PayPal to present documentation on the customer requesting a refund, but has not yet received the document, although a PayPal representative previously said it would be available within two days.
Finally, PayPal sent Akylbekov a form 1099-K (card payment declaration) stating that Akylbekov owes tax on $162,517.19. The lawsuit alleges that PayPal asked for a tax break on expenses it never paid, specifically, collecting $172,206.43 but reporting only $162,517.19 to the Internal Revenue Service.
Another PayPal user, Roni Shemtov, said she received three different explanations about PayPal seizing $42,351.87 from her account. The first customer service rep said she violated the AUP by "using a computer and IP address used by other PayPal users".
A second rep from PayPal said she violated the AUP by owning multiple PayPal accounts; Shemtov denied this. The last one said Shemtov violated policy by selling yoga clothing products 20-30% below retail price. Shemtov was also sent a form saying she owed tax on the money PayPal had seized.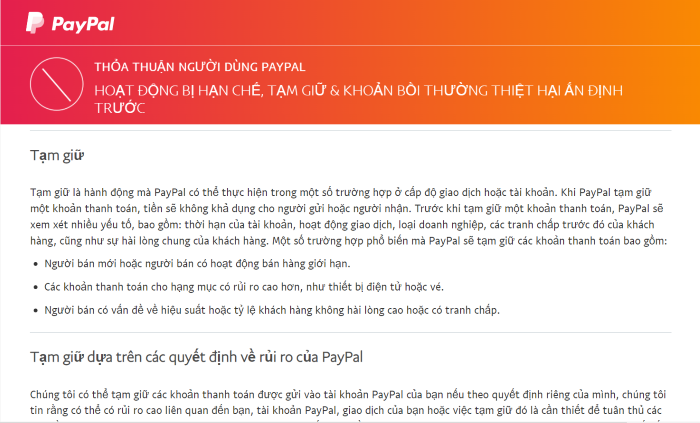 Third plaintiff Lena Evans said PayPal took $26,984 from her account. Evans is the founder and operator of a non-profit organization called the Poker League of Nations; She uses her PayPal account to buy and sell on eBay for the purpose of organizing poker tournaments. She said that PayPal offered no explanation for the collection, even after multiple phone and email communications.
This class action lawsuit claims three times the total damages for the plaintiffs and participants.
PayPal told Ars Technica that the company is reviewing this lawsuit and will respond through the appropriate legal channels in due course..
Tung Phong (According to Ars Technica)