This afternoon's suggested dinner will feature the following dishes:
– Fried shrimp with bamboo shoots: 100,000 VND
– Boiled pumpkin: 15,000 VND
– Fried egg with scallops: 25.00 VND
– Fried bean sprouts with onions: 10,000 VND
Total: 150,000 VND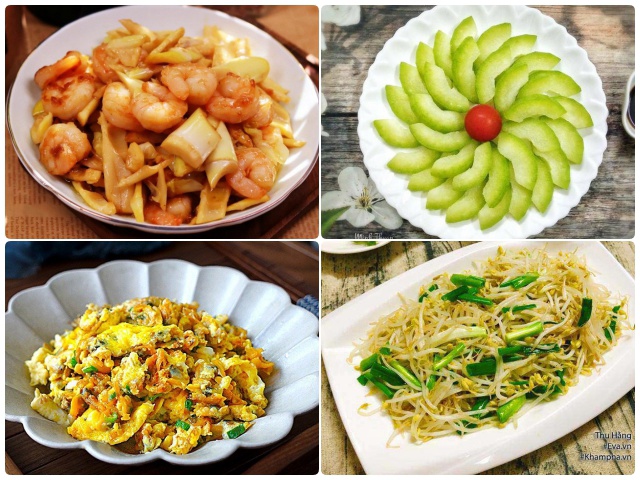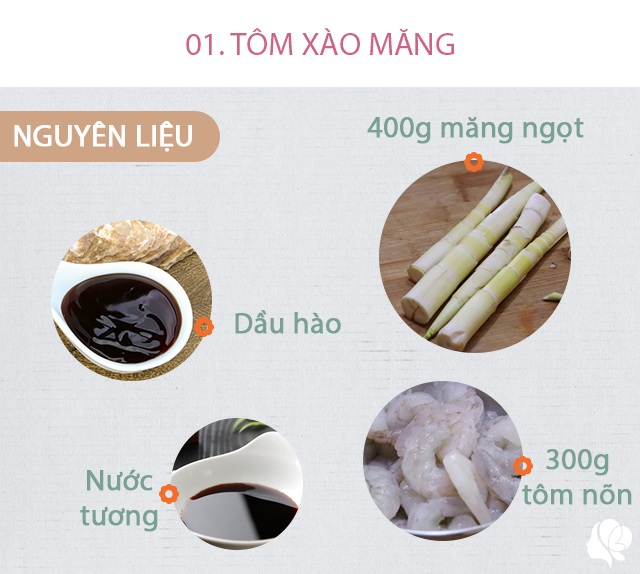 Ingredients: 300g fresh young prawns, 2-3 sweet bamboo shoots, 2 spoons of lard, 2 spoons of soy sauce, 2 spoons of oyster sauce, 1 spoon of dry starch, half spoon of sugar, salt to taste.
Bamboo shoots, peel the outer skin, use a knife to cut the old part, wash and dry. If you can buy fresh prawns, peel them, remove the black threads, and wash them thoroughly. If it's frozen shrimp, thaw it. Freshly sliced ​​bamboo shoots.
Add 1 teaspoon soy sauce, 1 teaspoon dry starch, a pinch of salt and pepper to the shrimp, mix well, marinate for 10 minutes.
Put enough oil in a saucepan, heat it until the oil temperature reaches 50%, then pour the shrimp into the pan, stir-fry on medium and low heat, until the shrimp changes color, then put the shrimp in a bowl.
Put 2 tablespoons of lard in the pan, saute the bamboo shoots, add half a teaspoon of sugar, season with salt to taste, stir-fry until cooked. Sauteed lard with bamboo shoots will add to the aroma.
Put 1 tablespoon soy sauce in a saucepan, stir-fry over medium heat, cook for 2 minutes until the bamboo shoots are tender and tasty.
Add the sautéed prawns, season with 2 tablespoons of oyster sauce, stir until the prawns are completely cooked, then place on a plate.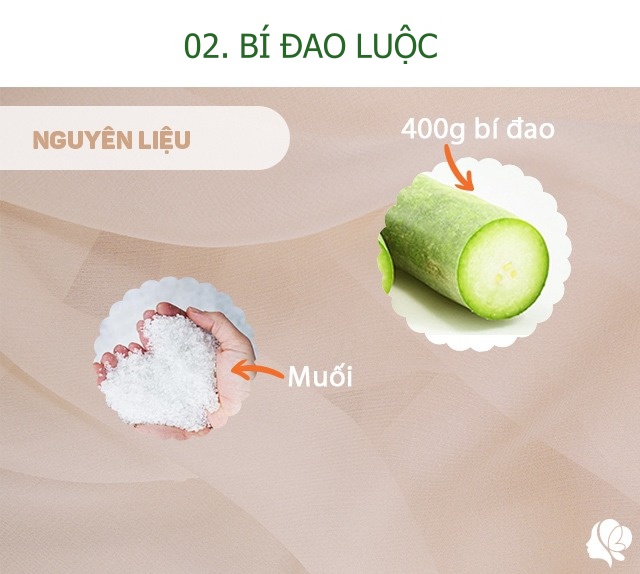 Preparation: 400g pumpkin, 1 pinch of salt
Pumpkin is peeled, washed, cut into bite-sized pieces. Boil water in a saucepan with a little salt, add the chayote to a boil, then remove from heat.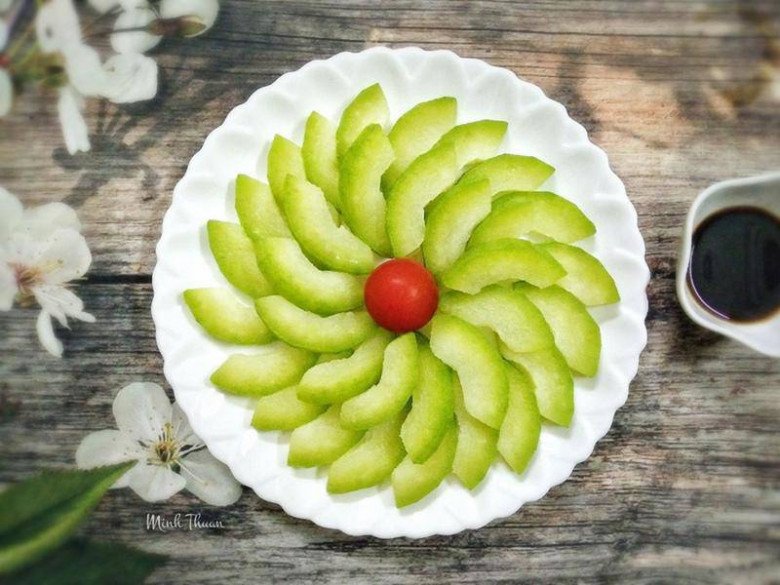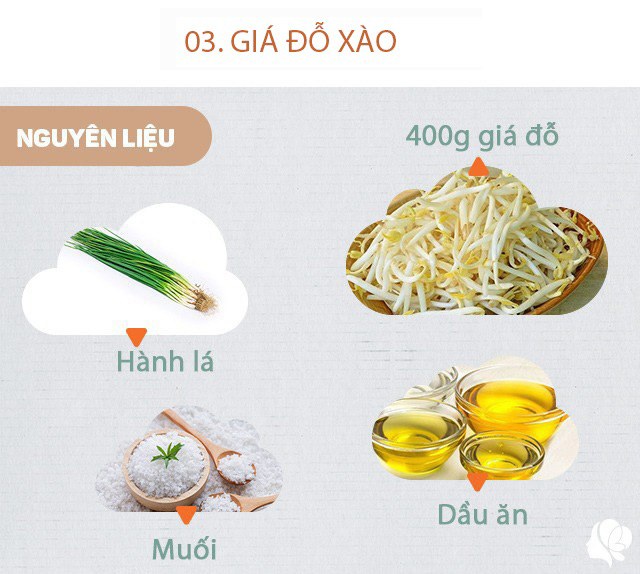 Preparation: 400g bean sprouts, spring onion, salt, cooking oil
Wash the bean sprouts, peel the skin and dry. Wash the onions and cut into small pieces. Heat the cooking oil, then add the bean sprouts and fry until cooked, season with salt to taste. Add the scallions and mix well, then turn off the heat.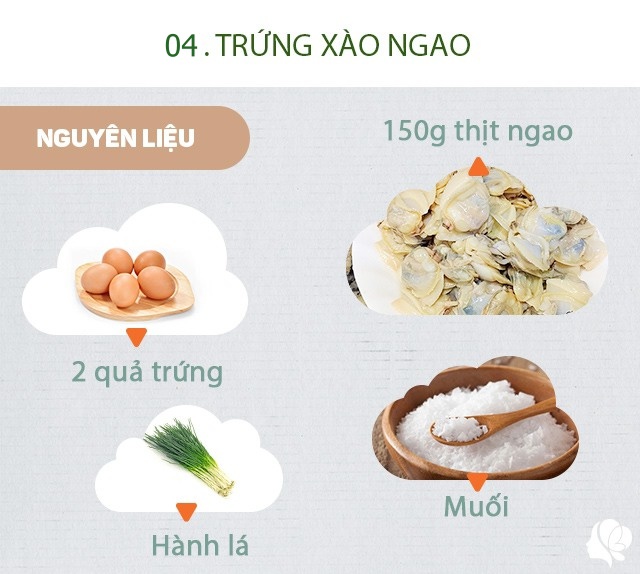 Preparation: 150g mussel meat, 2 eggs, 2 spring onions, a little ginger, 1 teaspoon salt, a little black pepper, a few drops of white wine
Puree the ginger, chop the scallions, set aside. Ginger acts as a de-fishing agent. Put the eggs in a bowl and beat well.
Heat a frying pan, pour a tablespoon of oil, heat to 60%, pour in the clams, ginger, salt and then add a few drops of white wine, sauté for about 2 minutes over high heat. Adding white wine and ground ginger can get rid of the fishy smell of shellfish. If you don't like the taste of white wine, you can also switch to ripe wine or skip it.
Pour in the eggs, tilt the pan a few times to spread the eggs all over the pan and heat evenly. Then sprinkle the finely chopped scallions and black pepper on top. Stir using chopsticks a few times, if the eggs are solid and cooked can be directly served on a plate. Scallop fried egg is ready, the taste is very rich and unique, you must try it!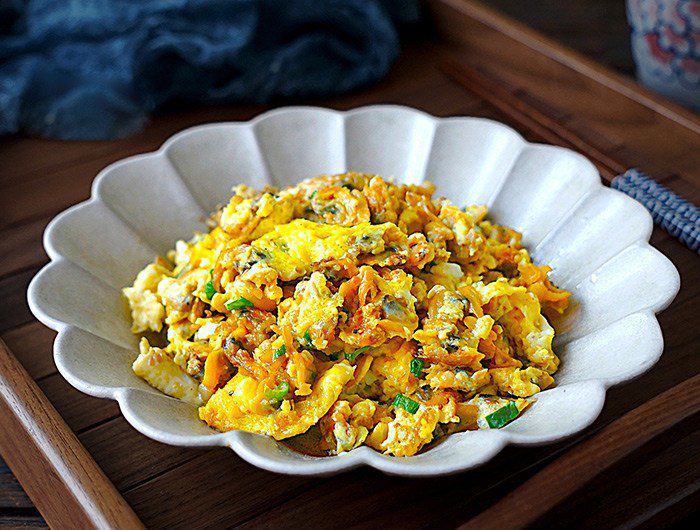 Good luck!
You are reading the article
Afternoon rice full of rice dishes, eat one piece but crave the second piece
at Blogtuan.info – Source: Eva.vn – Read the original article here