An inspection in Taiwan found that some disposable chopsticks contained high levels of sulfur dioxide. The Center for Environmental Protection of the Local Administration Bureau and the Department of Food and Drug Administration, Ministry of Health of Taiwan pointed out that, during the production of disposable chopsticks, in order to maintain a more beautiful appearance, they are usually treated with sulfites. Meanwhile, sulfur dioxide and hydrogen peroxide act as bleach to prevent chopsticks from turning yellow, black and moldy.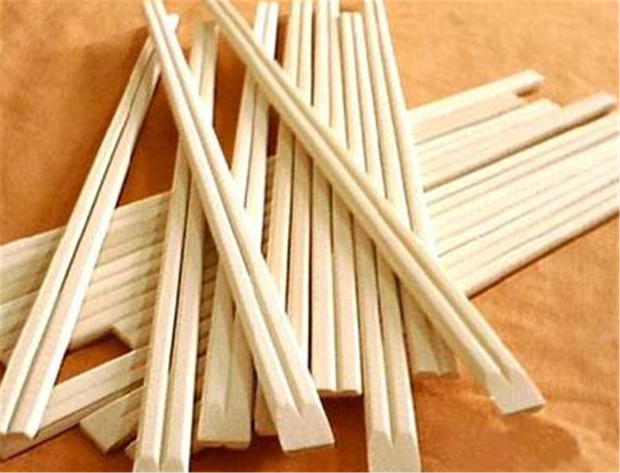 After the human body ingests sulfite, most of it is converted to sulfate and excreted in the urine. However, if the average person eats too much sulfite, it can cause difficulty breathing, vomiting, diarrhea, and other symptoms. In addition, sulfites will combine with the body's calcium to cause "corrosion" of bones. In addition, if you accidentally ingest too much sulfur dioxide, it will cause respiratory diseases such as difficulty breathing, even the risk of asthma.
4 tips for consumers to protect themselves
Therefore, experts from the Center for Environmental Protection (Taiwan Local Administration) advise consumers these 4 tips to avoid harm to health:
– Avoid using disposable chopsticks that are too white. Wooden or white chopsticks that are too perfectly colored may be too bleached.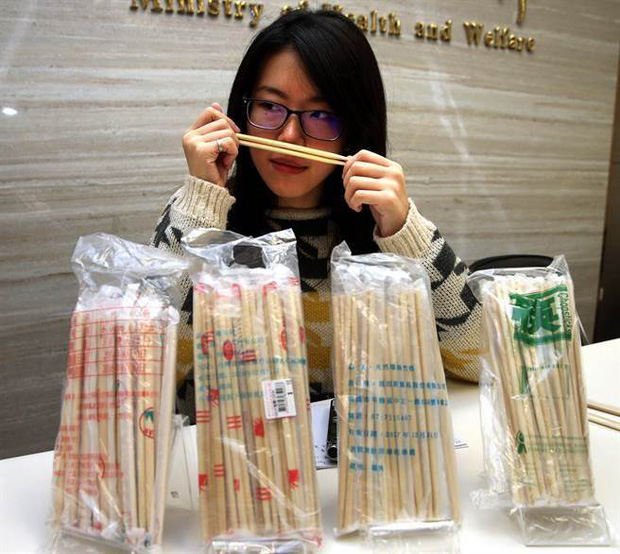 – When you smell or taste the acid of disposable chopsticks, there may be residual sulfur dioxide left on the chopsticks. Since sulfur dioxide is soluble in water, consumers can soak disposable chopsticks in warm or hot water for a few seconds to remove any residual sulfur dioxide on the chopsticks.
– Try to avoid using chopsticks with patterns to avoid ingesting pigments of unknown origin. Consumers should remove the chopsticks (disposable) from the packaging by peeling them from the chopstick handles to avoid the tip of the chopsticks accidentally getting ink on the packaging.
– Bring your own cutlery, this is the most hygienic and safe way.
Is the engraved ring on the chopstick handle related to the amount of recycling?
Sheet Sanli News Taiwan believes that the number of circles engraved on the handles of disposable chopsticks is related to the number of times the chopsticks are recycled. Chopsticks without engraved rings means chopsticks have not been recycled, with 2 engraved rings, have been recycled and reused a second time, with 3 engraved rings, have been recycled and reused for the 3rd time and after being used a second time this Tuesday will be destroyed.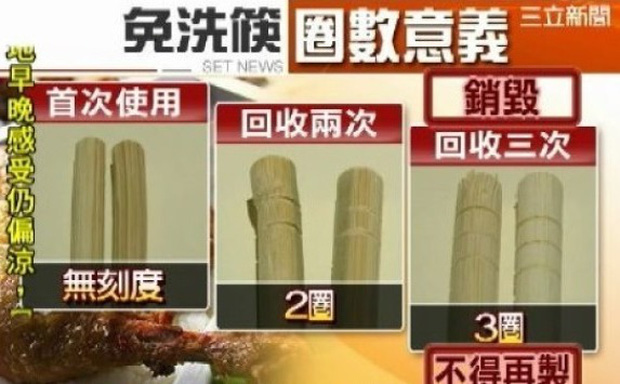 According to Taiwanese media, the number of rings engraved on the handles of disposable chopsticks is related to the number of times the chopsticks are recycled and reused.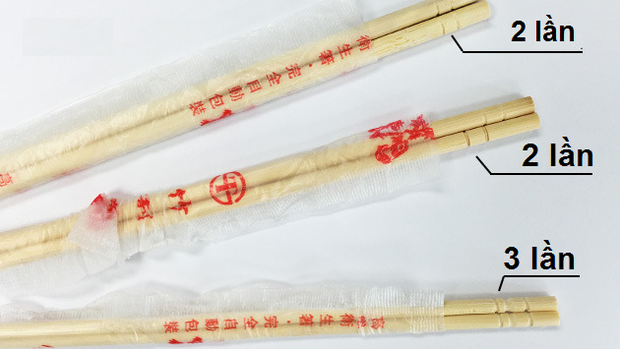 The more chopsticks are recycled, the more deformed they look, the whiter they become due to excessive bleaching. Sanli News conducted an experiment, filled 2 cups with water, people put 2 shrimp in each cup, and then put 1 disposable chopstick in each cup. In the first cup using chopsticks without engraved rings, the other cup using chopsticks with 3 engraved rings. As a result, in just 1 day, the shrimp in the cup with 3 round chopsticks were dead, while the shrimp in the other dish were still alive.
Before the information about "recycling chopsticks" mentioned above, Sanli News A chopstick manufacturer in Taiwan says: Recycling chopsticks is more expensive than producing new chopsticks. Now why would anyone "wash chopsticks" like that again.
Whether disposable chopsticks can be reused over and over is not proven, but you might consider bringing your own chopsticks, which are eco-friendly and hygienic!

Sources and photos: Sanli News, TOPick, hk.on.cc
Bạn đang đọc bài viết Expert guide 4 tips to protect yourself
tại Blogtuan.info – Đọc bài viết gốc tại đây