Business
Negative after two weeks, 10 year old girl hospitalized for post-COVID-19 complications
The baby was taken by his mother to a private hospital in Phu Tho 15 days after testing negative for SARS-CoV-2. For 2 weeks after recovery, the baby no longer has symptoms such as cough, fever, etc. However, 2 days after being admitted to the hospital, he had a dry cough, no phlegm, no chest pain, the family took him to the hospital.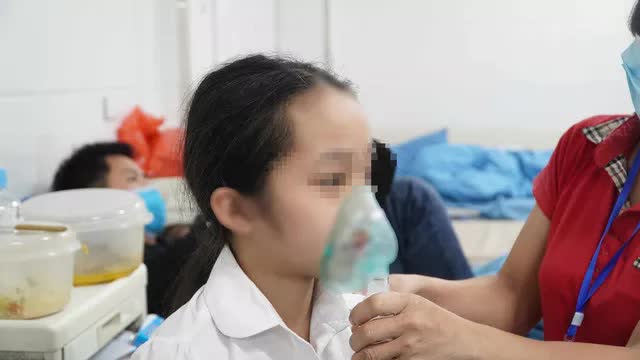 The girl needs to be hospitalized for treatment of complications of pneumonia after recovering from COVID-19. Photo: BVCC
The doctor suggested that the baby needs to be admitted to the hospital for treatment because he is short of breath, his lungs are poorly ventilated, a chest tomography scan showed pneumonia. The results of the examination of the baby surprised the family because after the baby recovered, there were no abnormal health signs for 15 days.
According to doctors, most children with COVID-19 are mild and recover more quickly than adults. However, a small number of children have post-COVID-19 or "persistent COVID-19" symptoms to some degree. BSCKII Nguyen Minh Tien – Deputy Director of Ho Chi Minh City Children's Hospital – said that according to studies in other countries, the rate of children with COVID-19 who had recovered but still had post-COVID-19 symptoms was 6-15%. .
Assoc. Prof. Dr. Tran Minh Dien – Director of the National Children's Hospital – also said that post-COVID-19 symptoms are present in children with a history of COVID-19 or contact with people with COVID-19, who live in epidemic areas. Common symptoms include: Mild fever, shortness of breath, persistent cough, fatigue, muscle aches, palpitations, erythema, or corneal congestion.
Some memory is affected, the ability to concentrate thoughts and sleep disturbances or digestive disorders such as vomiting, abdominal pain, diarrhea. In particular, there may be signs of shock, blood clotting disorders, acute kidney damage…
The most worrying post-COVID-19 complications in children are multisystem inflammatory syndrome in children (MIS-C), damage to the heart, lungs, kidneys, blood vessels, etc. In fact, doctors from the National Hospital of Pediatrics, Children of Ho Chi Minh City, Children of Dong Nai, Phu Tho or Hai Phong … have received and treated a number of cases of this complication.
Post-COVID-19 symptoms can occur and last up to 120 days, so after the illness is over, families need to monitor the child for at least three months.
Doctor Nguyen Minh Tien said that all children do not need to be re-examined after COVID-19 because some children have these sequelae and are not as serious as adults. Most of the symptoms such as cough, fever, fatigue… in the acute stage, the child will recover easily, leaving no lasting sequelae when recovering from the disease. At Ho Chi Minh City Children's Hospital, on average only 3-5 children come to the post-COVID-19 check-up each week.
For young children, the reality of post-COVID-19 clinics shows that children who often go to the doctor with their parents (families have many infected people), have fewer post-COVID-19 symptoms than adults.
"Many children come to the doctor just because their parents are worried." – Dr. Dinh The Tien, Duc Giang General Hospital – commented.
With MIS-C syndrome, TS.BS Dr. Ta Anh Tuan – Head of Internal Medicine Intensive Care Department, National Children's Hospital – said that this syndrome usually occurs after babies are infected with COVID-19 from 2-6 years of age. Clinical manifestations of children with MIS-C syndrome are: Continuous high fever, rash, indigestion, if more severe can experience cardiovascular complications, shock…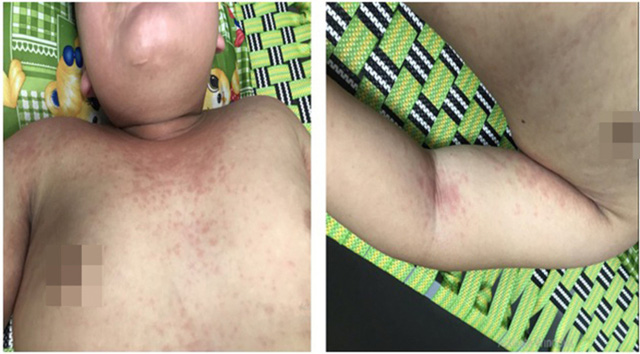 Signs of a rash on the child's body warn of the dangerous MIS-C syndrome. Photo: BVNDTP
People with this syndrome will fall into a critical condition and possibly die if not identified and treated early. This disease is difficult to diagnose and easy to confuse with other similar diseases.
The MIS-C rate of children is very low, only about 0.1%, usually in the 8-11 year age group, overweight and obese children have a higher risk of severe MIS-C.
"If the child is diagnosed early, detects MIS-C syndrome early and is treated properly and promptly, progress is usually good and the child recovers well."- said BS Mr.
You are reading the article
Negative after two weeks, 10 year old girl hospitalized for post-COVID-19 complications
at Blogtuan.info – Source: cafebiz.vn – Read the original article here