At 72, when people are retired and happy with their children and grandchildren, Princess Rita Boncompagni Ludovisi has to struggle with inheritance disputes. It is known that it is a 16th century villa located in the center of Rome with a cultural masterpiece, looks like a living historical archive.
Villa Aurora is owned by the Boncompagni Ludovisi family, which is over 400 years old. However, due to an inheritance dispute between Princess Rita – the third wife of the late Prince Nicolò Boncompagni Ludovisi (died 2018) and the three sons of the eldest wife, this magnificent villa had to be auctioned off to share the inheritance.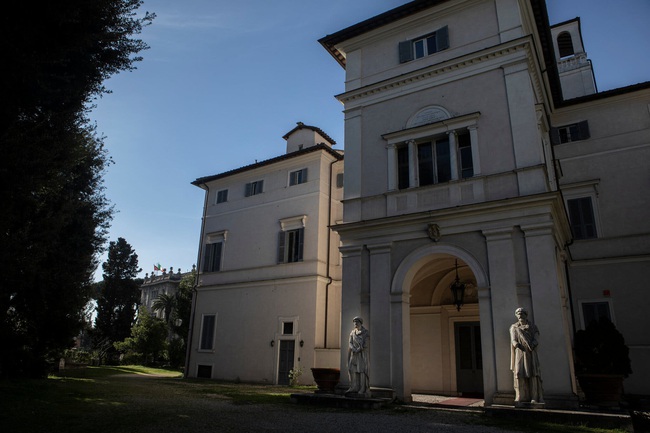 In this villa, there are many masterpieces of two artists who lived in the late 16th century, Caravaggio and Guercino. The most valuable asset is the painting on the ceiling depicting the 3 gods representing Jupiter, Pluto and Neptune, valued at $351 million (approximately VND 8,000 billion).
Currently, Princess Rita has to go out to live in a small apartment with 4 pet dogs. Due to an inheritance dispute, he was also unable to allow guests to visit the villa to collect living expenses. The princess herself also saw this as a "betrayal" to the Prince's family for what she had sacrificed.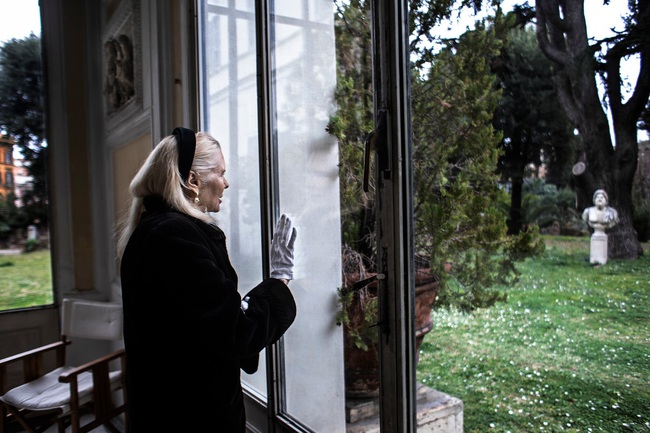 "In Prince Nicol's will, I got half of the entire property and was entitled to live in the villa. But my husband's 3 children with his eldest wife, they tried everything to get all the property and they wanted to kick me out. They only care about money, no respect for the house. one hundred years old."Princess Rita sadly shared in the media.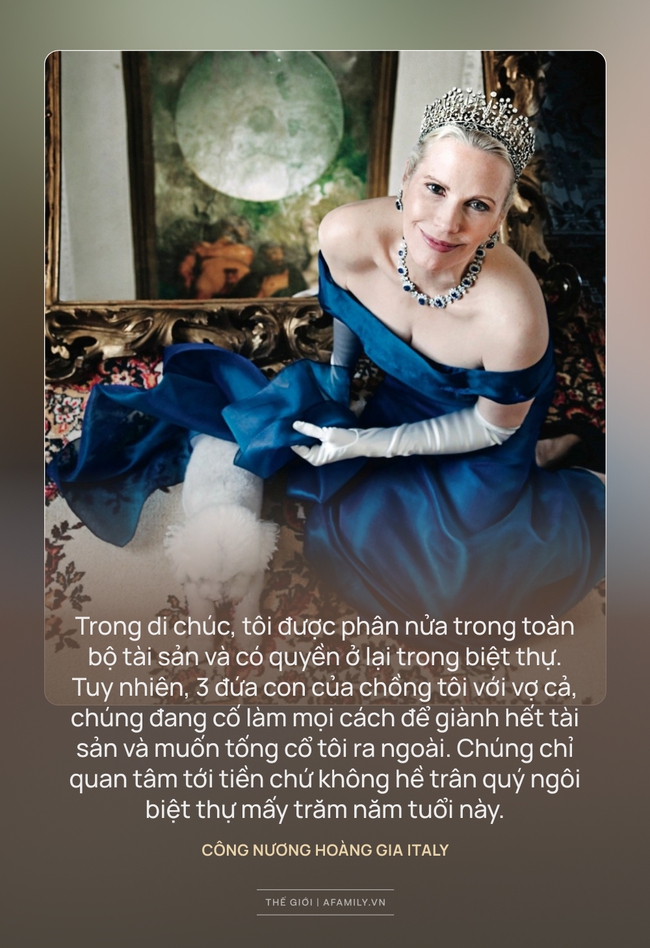 Live "red face and silver fate"
It is known that young Princess Rita dreamed of becoming a swordsman, but she ended up becoming a researcher in Washington. There, she met her first husband, John Jenrette, and the couple married in 1976. But later this man became an alcoholic, had many scandals, so they eventually broke up.
In 1986, he had the opportunity to work for a popular television weekly, and he had a lot on his hands, so he decided to invest in real estate. This created an opportunity for him to meet Prince Nicol of the Italian royal family. Despite being married to a second wife, Prince was very attracted to her, the two quickly found harmony and returned to the same house in 2009. After marriage, Princess Rita has contributed a lot to charities as well as found ways. from the Boncompagni Ludovisi family.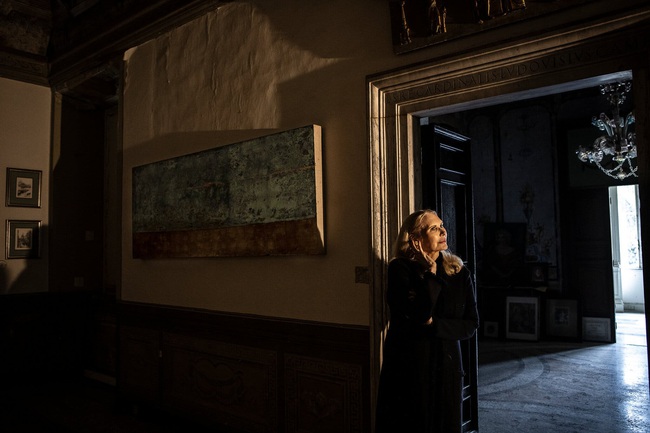 Just when I thought life was over, trouble came back. The Prince's second wife – Princess Ludmilla Boncompagni Ludovisi, filed a lawsuit in court to confiscate the villa because the Prince stopped supporting when he married Rita.
One of the Prince's three sons with his first wife, Bante, reproached his father for being a man who only knew how to drink every day, keeping only women outside, so he married three times. Bante also accused his father of always wasting money on repairs to Aurora's house, without receiving the money himself.
The climax was when Prince Nicol died in 2018, when his three children and his first wife accused Princess Rita of being involved in the prince's death. After that, even though they were justified, this also became a reason for them to continue to debate the inheritance of the Aurora house.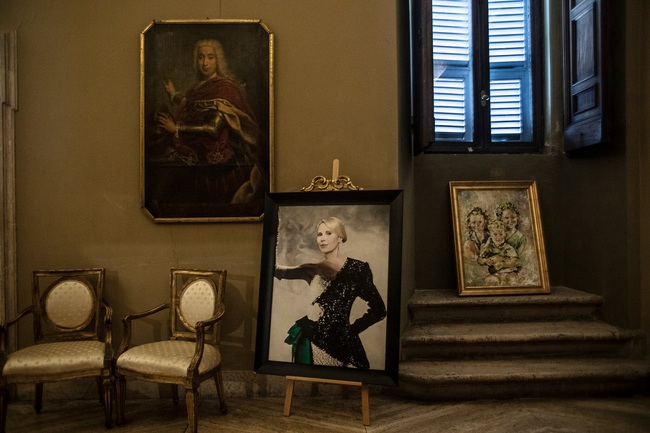 In December 2020, when Princess Rita fell, broke her kneecap and could not take care of the villa, the three children themselves called officials from the Italian Ministry of Culture to come check. However, to him, this was no different from trespassing, so he asked an acquaintance of his to block the door from entering.
Until now, even though she is close to heaven and earth, Princess Rita is still fighting day and night to protect her rights. Over the years, she has had to "fight" every second, every hour to protect Aurora's home – where she and her husband have spent more than 20 years restoring and preserving historical beauty.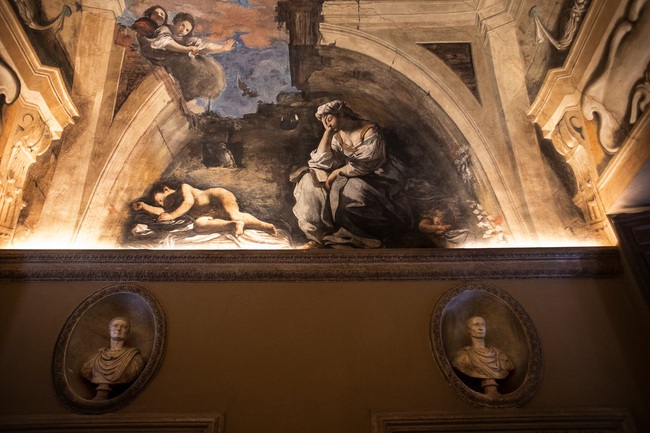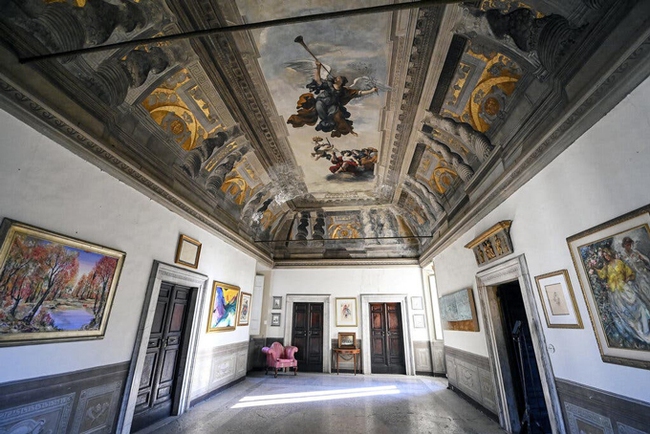 "Before he died, he reminded me to be wary of his first wife's three children, but I didn't expect them to be so openly contested. My husband and I both cut all money, travel, money to buy gifts to preserve the aurora villa, I don't want to be crushed in the hands of those who don't know how to appreciate." – Princess Rita confirmed.
Right now, he wants the richest billionaire on the planet Elon Musk or Jeff Bezos, the second richest person in the world, to buy back the villa at the next auction, because they are people who know how to preserve culture and history. These two people treated him very politely, and did not put pressure on the price of the old paintings in the mansion. The Princess herself also hoped that the incident would end quickly so that she could rest.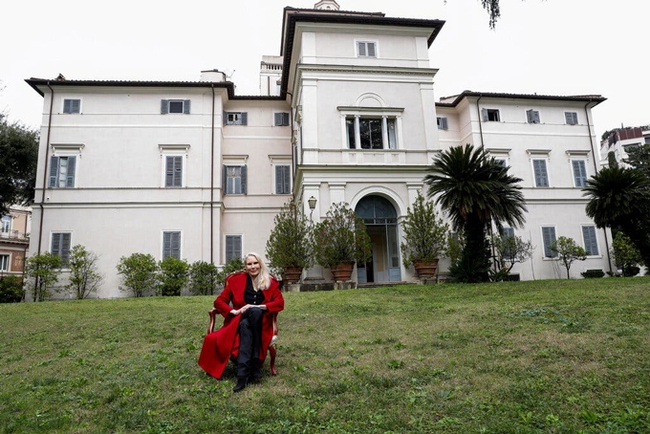 According to NYtimes
https://afamily.vn/cuoc-doi-hong-nhan-bac-phan-cua-cong-nuong-hoang-gia-italy-bi-con-chong-ket-toi-muu-sat-ve-gia- van-phai-lam-1-viec-tuong-chi-co-tren-movie-20220306090349749.chn
You are reading the article
Princess Rita and 533 million USD old house dispute
at Blogtuan.info – Source: Afamily.vn – Read the original article here