Cư dân mạng
World
The truth about the "most expensive" chili in the garden of singer Khanh Don
Recently, singer Khanh Don shared clips of harvesting chili peppers in his home garden, which received special attention from the online community. Specifically, in response to his wife's words in the clip, he said:
"My husband is harvesting Aji Charapita chili. This is a Peruvian chili, grown in a typical Peruvian forest, with a very special soil. It smells very good and tastes very spicy. What's even more special, this chili is the most. expensive chili in the world. Do you know how much is 1 kg? I'm sure you won't believe it, about 500 million 1 kg of chili, half a billion dong 1 kg of chili, do you think it's terrible?".
Seeing her husband say that, the singer's wife revealed: "Stop eating, what makes you regret eating?"
Clip of singer Khanh Don harvesting the world's most expensive chili (Source: Khanh Don)
Under the comments section, many netizens think that Khanh Don and his wife lied, "husband juggles wife", deliberately raised the price to make color. Some people even posted photos of these chili peppers for sale on e-commerce platforms at a low price of just a few hundred thousand dong per plant, to prove that what the male singer and his wife said was not true.
But according to research, the type of chili that Khanh Don grows is the most expensive chili in the world. Many Vietnamese artists such as Trinh Tu Trung, Ly Hai, Huy Khanh, Tien Luat… have worked hard to cultivate and received unexpected results.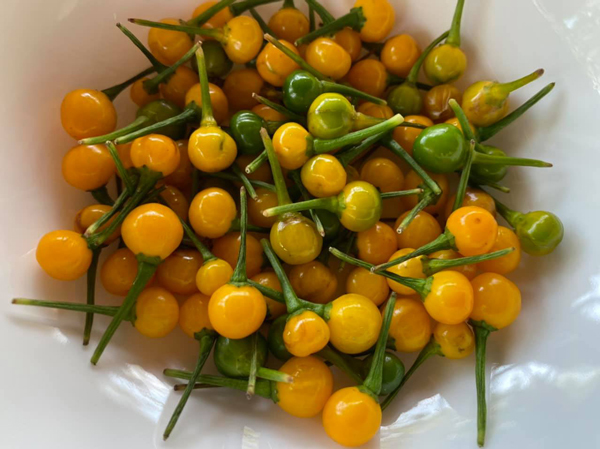 Aji Charapita chili has been named the most expensive chili in the world
It is known that the Aji Charapita chili comes from Peru which is mostly grown wild. They are medium-term trees, with a height of 40 – 55 cm, crown 35 – 45 cm, good growth at 16 – 45 degrees Celsius, fruit harvest after 90 days. Each tree has hundreds of small round fruits, red or yellow, but yellow is the most common.
The spiciness of this chili reaches 30,000 to 50,000 degrees Scolville heat, even 4-20 times higher than the famous jalapeno. According to his statement, this spicy taste can actually "pierce" the tongue, so it is not recommended to be eaten fresh.
Bell peppers are expensive because their healthy ingredients can help relieve pain, aid digestion, and fight inflammation. The amount of vitamin C in each chili reaches 76.4 mg equivalent to oranges, this is an antioxidant, helps prevent the aging process in cells. In addition, the vitamin A content in bell peppers also helps brighten the eyes and prevent macular degeneration of the eyes.
In some countries, the price of this chili is sold to high-end restaurants up to $25,000 per kilogram. There are even times when the price of Aji Charapita chili reaches 35,000 dollars.
https://soha.vn/su-that-ve-loai-ot-dat-nhat-the-gioi-500-trieu-dong-kg-trong-vuon-nha-ca-si-khanh-don-20220312171307505. htm
You are reading the article
The truth about the "most expensive" chili in the garden of singer Khanh Don
at Blogtuan.info – Source: Soha.vn – Read the original article here