A serious battle has broken out in Ukraine and things may get worse in the coming weeks.
Although the Ukraine conflict is, in essence, likely to end in a "zero-sum" (hostile relationship), there is one problem that can be compromised: the idea of ​​Ukraine becoming a member of NATO.
This idea was first promised by NATO at the 2008 summit.
While there is no timetable or provisional security guarantee, this issue has been reaffirmed in the US-Ukraine Charter of November 10, 2021 with good promises and eloquent rhetoric.
According to experts, that in itself is a major source of error.
The "necessary and sufficient" condition
President Vladimir Putin was the one who made the decision to launch a special military operation in Ukraine. But according to Time, Western policies have created a strategic situation and prompted Putin to do so.
At the heart of any potential deal is to establish a ceasefire and subsequent withdrawal of Russian troops from Ukraine, while preventing Ukraine from becoming a future NATO member on security grounds.
Such an agreement can be enshrined in the Ukrainian Constitution, and in the original agreement reached by NATO with Moscow. President Volodymyr Zelensky should be at the forefront of proposing this provision.
There are clear reasons to think that Ukraine's membership in NATO will not be easy.
firstUkraine's accession to NATO is never a good idea, as the prospect affects Russia and is therefore counterproductive to the goal of stabilizing Europe.
Second, it won't happen anytime soon even before Russia takes military action as there is never a timetable for this.
Tuesday, With the current situation, it was definitely impossible.
But giving up NATO membership is seen as a "necessary and sufficient condition" for Ukraine to negotiate with Russia to reach an agreement to reduce current tensions.
And once an agreement is reached, Russia is likely to reassert Ukraine's sovereignty, return the Donbass region to Kiev, receive specialist monitors and possibly peacekeepers on Ukrainian soil, and at the same time recognize that Ukraine could join other invited organizations, possibly including the European Union. (EU).
That is what Moscow promised in the Budapest Memorandum of 1994 (attached to Ukraine's new sovereign decision to return Soviet nuclear weapons on its territory to Russia).
NATO dreams far away in Ukraine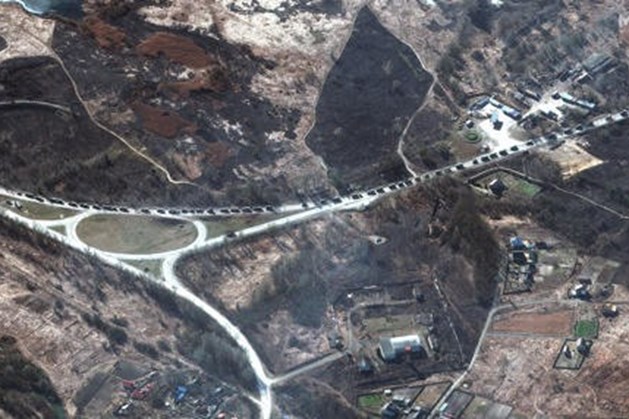 Russia may soon withdraw its troops when it reaches an agreement with Ukraine on the issue of joining NATO.
With this deal, Russia will feel more secure because there is no future prospect of Ukraine joining the alliance that defeated the Soviet Union in the Cold War.
The hope is that with Ukraine no longer wanting to join NATO, Russia can claim to have stabilized the security order of Eastern Europe.
In fact, since 1994, NATO has added 14 more members, all to the south or east of the original alliance and closer to Russia than ever before.
And Moscow knows very well that, if it violates its commitments, Ukraine's commitment not to consider becoming a member of NATO in the future will also be rescinded.
With this deal, President Putin will start reviving the sanctioned Russian economy.
Some argue that this approach would violate NATO's "Open Doors" policy. But the policy is often interpreted as having no basis in alliance agreements.
Article X of the treaty states that an invitation to join in the future should only be made if it enhances the security of the wider North Atlantic region. Obviously, the prospect of Ukraine becoming a member of NATO is not compatible with this Article X.
According to that approach, when Russian troops return home (with field supervision by the Organization for Security and Cooperation in Europe), the US and its allies will end sending military support to Ukraine's armed forces.
And of course that would require the suspension of some sanctions against Russia and then lifting them. Donbass will get autonomy, but no veto power over Ukraine's foreign or domestic policy. Most of the American reinforcements that were sent to Eastern Europe recently are probably going home soon.
And these deals, like former US President Kennedy's handling of the Cuban missile crisis (where he made small concessions in exchange for big profits), will prioritize peace and Ukraine's security and sovereignty appropriately.
https://soha.vn/time-dieu-kien-can-du-de-nga-rut-quan-khoi-ukraine-tt-zelensky-phai-di-dau-lam-1-viec-2022030823211149.htm
You are reading the article
Timing: Conditions are "necessary enough" for Russia to withdraw its troops from Ukraine
at Blogtuan.info – Source: Soha.vn – Read the original article here