Stomach Stew
Resource:
– Stomach
– 1 pack of herbs, ginger, dried shallots, pepper. You can add lotus seeds, red apples outside
Make:
– The stomach is bought and washed with salt and lemon to remove the greasy and unpleasant smell, when washing the stomach, remember to turn it upside down to wash the inside thoroughly.
– Boil water, add ginger, dried red onion, and stomach until it boils. Remove the stomach and wash again until clean.
– Slice the belly into small pieces.
– Coat the stomach with a little seasoning.
– Fry the onions in cooking oil, quickly put the belly into the island. Add water, Chinese medicine wrap, add lotus seeds and red apple if you like, pepper.
– While the pot belly is simmering, let it simmer for about 35 to 45 minutes for the belly to soften. Season to taste, pour into a bowl and enjoy.
– So the whole family has a delicious and nutritious boiled belly with traditional Chinese medicine, everyone will definitely like it!
GREEN MEAT
Resource
– 600g beef: cut into bite-sized pieces
– 300g carrots: cut into pieces
– 200g mushroom: cut the legs
– 50 grams of shiitake mushrooms: soak
– Chopped red onion
– 200g lotus seeds: boil in boiling water (50g for beef stew with green peppers, 150g for dessert)
– 100g pork liver: thinly sliced, soak in fresh milk without sugar for 5 minutes, then squeeze until clean, wash and chop
– 30g green bell pepper: mashed
– 500ml fresh coconut water
– Spices: Oyster oil, monosodium glutamate, cashew oil, fish sauce, sugar, seasoning seeds, tapioca flour
make
Marinate the beef with 1 tablespoon fish sauce, 2 tablespoons oyster sauce, 1 tablespoon green pepper, 1 tablespoon onion, leave for 15 minutes to allow the meat to soak into the spices.
Sauté the cooking oil and fragrant shallots, then add the carrots and stir-fry, add 1 tablespoon of seasoning seeds, reduce the heat, stir the carrots until smooth, then remove the carrots into a bowl. Add the shiitake mushrooms to the skillet, stir-fry for a while so that the shiitake mushrooms absorb the remaining seasoning in the pan, then pour the shiitake mushrooms into a bowl. And do the same with the mushrooms.
Put 1 tablespoon of green bell pepper in the skillet, add the pork liver and stir fry, then add the marinated beef to the skillet, when the meat is poached and drained, add the fresh coconut water.
When it boils, reduce the heat, cook until the meat is almost tender, add the carrots and lotus seeds, when the meat is tender, add the shiitake mushrooms and straw mushrooms. Season to taste, then add 2 tablespoons of tapioca flour mixed with filtered water, to make the thickness of the dish.
Beef stew with green peppers can be eaten with rice or vermicelli, but the bread still tastes better. Today's dinner dessert is lotus seeds cooked with rock sugar.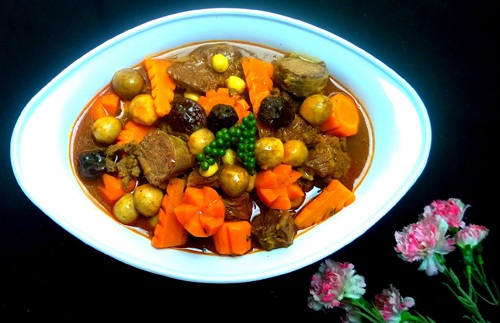 HOW TO KEEP VARIOUS GUESTS
Resource:
– 1 big pork leg about 1kg
– 1 lemongrass stalk, crushed; 2 cloves of garlic; 2 petals of anise; 1 cinnamon stick; 2 slices of lemongrass leaves; 3 spring onions; 1 slice ginger
– Spices: 1 tablespoon of cinnamon apricot wine or ripe grapes; 1 tablespoon oyster sauce; 1 teaspoon of spice powder; 10 peppercorns; 3 tablespoons soy sauce; 1/3 teaspoon salt; 1 teaspoon brown sugar; 1 teaspoon black soy sauce; 500 ml of fresh coconut water; 1 can of coca cola; 1.5 liters of cold water; some dry chilies (if any)
Do:
Use a razor to scrape off the dirt on the pork skin, then wash it in cold water. Boil the pork leg in boiling water for 7-10 minutes, to remove all dirt, then rinse again.
Put cold water, fresh coconut water, coca in a saucepan with wine, lemon grass, ginger, salt and lemon leaves and all the above seasoning ingredients, put on the stove, simmer for 5 minutes.
Then put the pork leg into the stew until the pork leg is soft and brown, then turn off the heat.
Give Five spice boiled pork leg On a plate, decorate with floral decorations from cucumber, lettuce and chili to make it more attractive. Use a sharp knife when eating!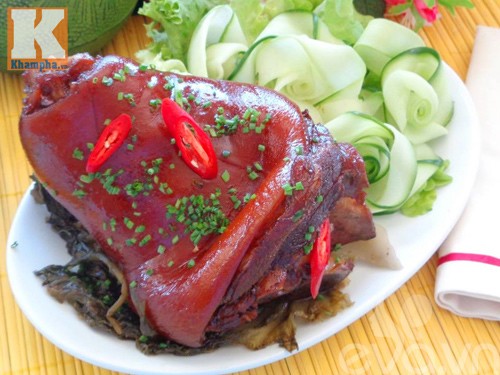 EASY BENEFITS
Resource: (number of ingredients for 4 people)
– 400g beef with fat and veins
– 200g chestnuts
– 50 grams of pre-roasted cashews
– 800ml coconut water
– soy sauce 50ml
– 20 ml of broth (broth water)
– 20 ml of oyster sauce; 10 ml sesame oil
– 50g chili satay
– Seasonings: 30g seasoning powder; 40 grams of sugar; 5 grams of pepper; 2 cloves of garlic; cooking oil
– 1 purple onion.
Do:
Peel and cut the chestnuts in half.
Crush, peel and chop 2 cloves of garlic and 1 onion. Wash, cut beef, marinate with minced shallots and garlic, soy sauce 50ml, broth 20ml, oyster sauce 20ml, sesame oil 10ml, chili satay 50g, seasoning powder 30g, sugar 40g, pepper 5g.
Put a large pot on the stove, put a little oil, put on a high heat. When the oil is hot, slowly add the meat to the skillet.
While the meat is poaching, pour in the coconut milk and chestnuts, reduce the heat to medium, and simmer the meat for about 2 hours.
Clear chestnut beef stew In a cup, sprinkle with cashews. You can add a few slices of red chili for color.
Notes:
– We recommend choosing beef with both veins and fat will be tastier.
– You can use a pressure cooker to shorten the cooking time.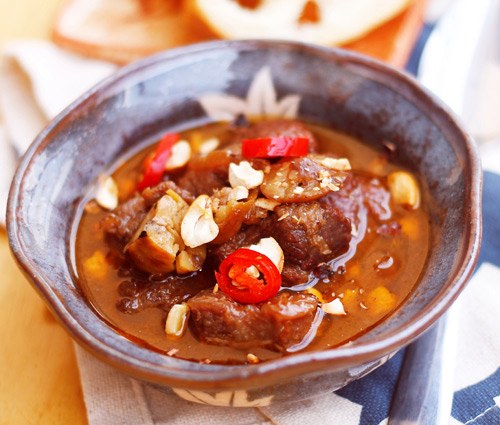 Green Pepper Belly
Resource:
– Pork belly (pork belly): 1 piece about 500g
– Green pepper: 8-10 branches.
– White radish: 1 tuber.
– 1 fresh coconut.
– Onion, vinegar, salt, flavoring, cooking oil.
– Spinach, fresh vermicelli served with.
Do:
Your stomach is turned over, the membranes are scraped, squeezed with salt, vinegar to get rid of the lumpiness and smell.
Then rinse with cold water, cut in half lengthwise, drain and put on the stove to roast on both sides. This step will help the stomach become crispy, fragrant and clean of all odors and lumps.
After pre-baking, you wash the stomach with water until clean, drain, cut into pieces.
Peel the white radish, cut 2 ends, wash thoroughly, cut into 3 cm pieces, then cut into pieces. Green pepper washed. Onions are peeled, washed and finely chopped.
Coat the belly slices on top with a little seasoning, green chilies and onions on top for about 30 minutes to soak.
Spinach picks up old stems, withered leaves. Then wash thoroughly, soak in dilute salt water for about 30 minutes.
Put the pot on the stove, add a spoonful of cooking oil to heat. When the oil is hot, add the remaining onions and sauté until fragrant, then place the marinated belly on the island for about 5 minutes to hunt again. Pay attention not to stir too long, the stomach will be hard.
Put fresh coconut water in a pot belly over the stew for about 15-20 minutes. You can use bone broth instead of fresh coconut water. Then enter the white radish, from the remaining green peppers in the stew until the radish is tender, season to taste.
When you eat, you put down the pot Green bell pepper stew Went to hot pot to eat with spinach, vermicelli. Crunchy, not chewy, rich chunks of belly mixed with a hint of spiciness, the distinctive aroma of green peppers and sweet-tasting broth are really the highlight of this dish.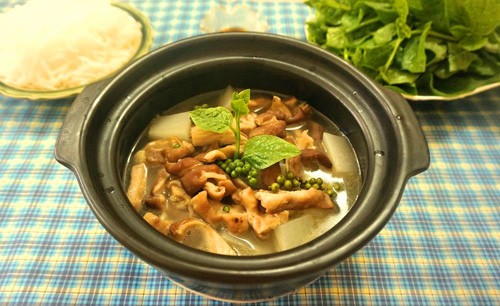 Chicken with Lemongrass Stew
Resource:
– Chicken thighs: 300g, wash and cut into pieces
– 100 grams of ginger, half crushed, half sliced
– 1 crushed garlic
– 4 lemongrass stalks, 2 thinly sliced, 2 left and crushed
– Leek
Make:
Pour a little oil into the pan, add the lemongrass, ginger, and garlic and sauté until fragrant. Next, add the chicken and stir fry for a while, season to taste.
Once the chicken is cooked, pour 1 cup of water into the saucepan. Once the water boils, reduce the heat and cook until the chicken is tender.
Chicken with soft lemongrass stew, remove into a bowl and enjoy!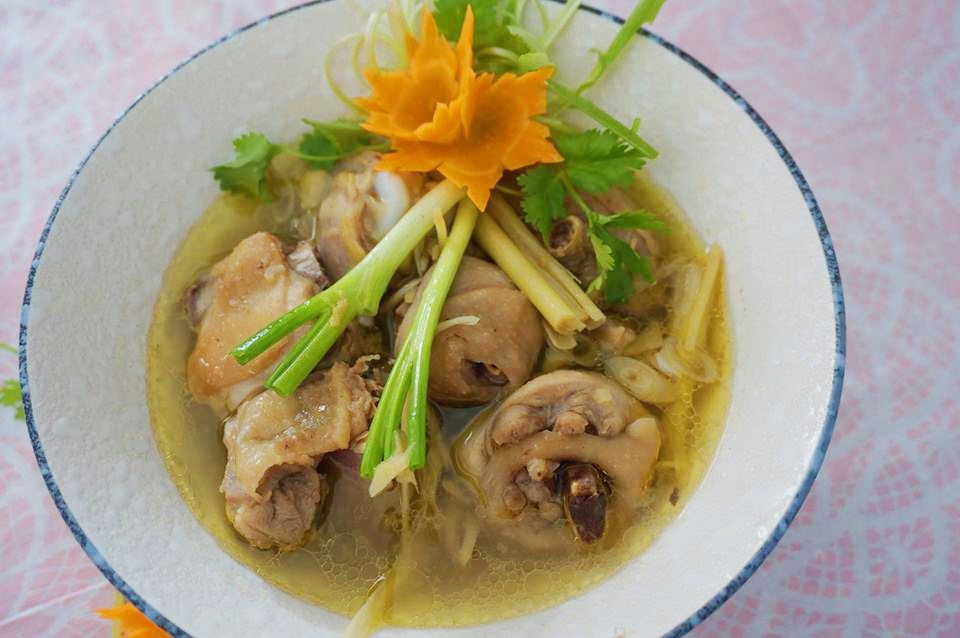 Good luck
You are reading the article
6 hot stews, easy to make, delicious, just cook
at Blogtuan.info – Source: Eva.vn – Read the original article here