Business
Central Highlands – Mountain Road makes Vingroup "eagle", FLC, Tan Hoang Minh, … can not sit still: Tens of thousands of billion dong are waiting for the task, the land is constantly feverish!
In early 2021, Trung Nguyen Legend Group made a surprise when it announced its foray into real estate. However, instead of choosing Hanoi, Ho Chi Minh City, Da Nang, etc., Mr. Dang Le Nguyen Vu chose the Central Highlands – a place associated with his coffee business as a starting point, with the Coffee City project. . However, Trung Nguyen was not the only "tiger" dominating the land of Pho Nui.
Shining star
The Central Highlands region includes the 5 provinces of Kon Tum, Gia Lai, Dak Lak, Dak Nong and Lam Dong, located in the center of Indochina, with a natural corridor connecting Southern Laos and Northeastern Cambodia.
In the context that land reserves in big cities like Hanoi and Ho Chi Minh City are getting smaller, and land prices are getting more expensive, the Central Highlands has emerged thanks to its superior location, connection infrastructure and land net funds. ,…
From 2010 to 2015, many important traffic projects have been completed and completed, completely changing the face of the area such as the Ho Chi Minh road through the Central Highlands, National Highway 19, National Highway 20… This can be said to be a step " breakthrough". " on the total investment capital for Central Highlands transportation infrastructure so far.
From 2016-2020, there are 7 more road projects in the Central Highlands implemented with a length of 579km, a total cost of 14,500 billion VND. Buon Ma Thuot Airport is also gradually increasing passenger traffic, in 2019 alone, the port has attracted more than 1 million passengers, more than 7 million tons of goods transported.
Last year, in 2021, Permanent Deputy Prime Minister Pham Binh Minh also signed a decree approving the two railway projects Chon Thanh (Binh Phuoc) – Dak Nong and the Buon Ma Thuot (Dak Lak) – Nha Trang (Khanh Hoa) highway project. .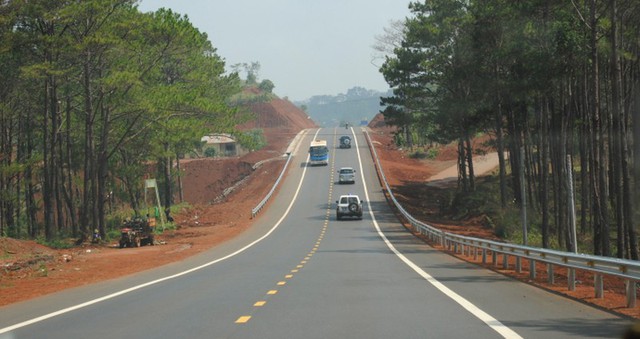 The Ho Chi Minh Road through the Central Highlands created a major turning point for the region
In addition, according to the Central Highlands development plan by 2030, the Central Highlands will have 117 urban areas based on upgrading 89 existing urban centers and building 28 new urban centers. Big cities like Buon Ma Thuot, Da Lat, Pleiku, Gia Nghia, Kom Tum, Bao Loc will build modern service facilities such as trade centers, supermarkets, shopping malls, commercial – service areas, wholesale warehouses, etc. At the same time, the main tourist service centers in the region will be centered in the cities of Buon Ma Thuot, Pleiku, Da Lat, etc.
dr. Nguyen Tri Hieu analyzes at VnFinance, the trend of investment money flowing to the periphery has been going on for the past few years. The impact of the Covid-19 epidemic has further accelerated the shift in investment cash flows to the suburban market, thanks to the elasticity of economic growth and tight demand for housing. The Central Highlands market is no exception to this wave.
However, according to Pak Hieu, the difference between the Central Highlands market is its "immunity" to the Covid-19 epidemic when it enters a period of prosperity and development. The available potential of this culturally rich land, strong tourism and industrial development potential, combined with methodical investments in project development planning have brought this place to a promising and exciting "normal" often new stage.
In particular, the Central Highlands region in general still retains natural beauty full of the vitality of mountains and forests, nature, plus a pleasant climate, has become an emerging destination, attracting tourists who want to explore. .
The Central Highlands have many beautiful places that still retain a wild and rich culture
"Eagle" wakes up a thousand dreams
In recent years, the Central Highlands region, especially Dak Lak, has been visited by many real estate "eagles".
Since 2019, at the Dak Lak province Investment Promotion Conference, more than 71,000 billion VND have been committed to investing in the region. In which, Vingroup proposed a service complex for the car company VinFast and a 5-star shopping center – hotel complex project, Ruko in the city of Buon Ma Thuot, with an estimated total investment of VND 2,500 billion. ..
TNG Holdings also focuses on developing tourism, urban housing, residential areas and new urban areas with a total investment value of more than 1,700 billion VND.
In May 2021, in Dak Nong, T&T Group presented an investment idea in a 1/2000 scale zoning plan for the Dak R'tih lake ecotourism urban area, Gia Nghia city. The project has an estimated investment of up to 2 billion USD. Previously, the group had proposed investing in 5 projects in the city of Buon Ma Thuot, including: Ea Tam commercial and service area (51.6 ha); 5-star hotel complex, commercial area and commercial housing (42 ha); Ea Kao villa project (46.1 ha); Lake Ea KaoKao Golf Course (76.7 ha) and Dak Lak Provincial Cultural Center.
Meanwhile, FLC is an investor in the tourism, sports, entertainment and ecological urban area of ​​the lake Ea Nhai in Krong Pac district and Cu M'gar district. The investment capital is estimated at 10,000 billion VND. At the end of 2021, the project was officially approved by Dak Lak province.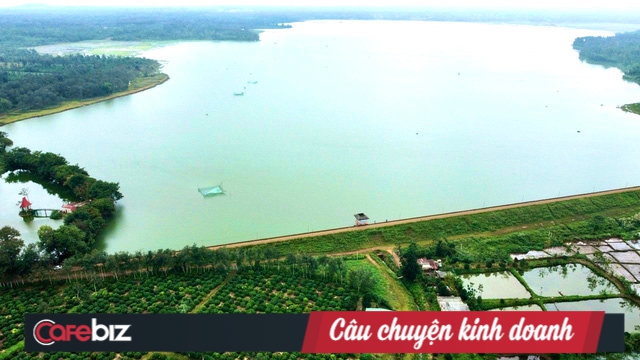 In early January 2021, Tan Hoang Minh Group also proposed to Dak Lak province to participate in the auction of assets attached to the land and transfer the land use rights of the Provincial General Hospital (old) at 2 Mai Hac De, Tan Thanh ward, Buon City Ma Thuot , as well as presenting the project plan on this land to become a 5-star hotel, commercial center, commercial housing, …
Or Alphanam back to the city. Kon Tum explores investment opportunities in ecotourism and resort areas in the Le Loi area and the commune of Chu Hreng…
Since 2020, Ecopark Group has started researching and researching 2 projects in Bao Loc City including Service Complex, golf course ecotourism, Sapung mountain cable car and Urban area, entertainment service – Resort on Nam Phuong 1 lake, Nam Phuong 2 lake 2.
Him Lam Group is also promoting investment in a number of projects in Bao Loc city such as the B'Lao ward residential area, the Da Ban waterfall ecotourism area (Dai Binh river) and the road connecting the North – North – Male axis. The company also conducts research and investment in the tourist urban area of ​​Macadamia Paradise with a total area of ​​more than 187 hectares located in the southern city of Bao Loc.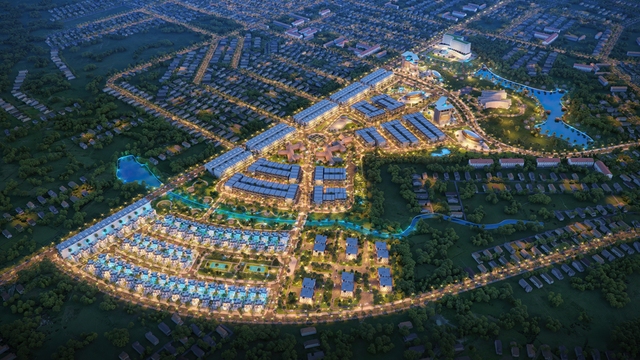 Coffee City is one of the most prominent and in-demand projects in Buon Ma Thuot
However, most of the projects mentioned above have just stopped at the research stage or have just been approved. Meanwhile, the Trung Nguyen Legend Coffee Town project was officially introduced to the media in early 2021 but actually started construction in 2017. The houses in the project are being offered for sale at zero, cheap prices – around 7 billion VND and even rising to 10 billion VND/unit, attracting investors from Hanoi, Ho Chi Minh City,… to buy.
Land prices go up
Interest in real estate "eagles" caused land prices in the Central Highlands to rise sharply, especially starting in 2021.
According to the Lao newspaper, in Gia Lai, soil fever was most prevalent in areas adjacent to Pleiku city such as the Ia Sao communes, Ia Der or locations near the FLC golf course area, the new administrative center of the Dak Doa district. …
In Dak Lak, a representative from the Buon City Land Registry Office Branch Office Ma Thuot said that the land fever situation in the city declined sharply after the 2022 Lunar New Year holiday. Before Tet, an average day, officials In the unit, they had to process more than 500 set of documents for people, but by mid-February, it had been reduced by 50%. However, there are still many "land triggers" in the region that openly drive up prices, causing market fluctuations, even virtual transactions.
Ms. Le Tham – Deputy Director of Tam Real Da Lat Branch once shared, in Da Lat city the price never goes down, and tends to go up because many investors from other provinces, especially land prices in the center area, range from 200-500 million/m2, radius 5-10km , housing ranges from 10-100 million/m2. The plots of land in the districts of Lac Duong, Don Duong, Duc Trong and Lam Ha (the districts with information on the planned incorporation into the expanded city of Da Lat) attracted special attention from investors.
It is predicted that in 2022 the Central Highlands market will continue to develop in a positive and prosperous direction.
https://cafebiz.vn/tay-nguyen-pho-nui-khien-cac-dai-bang-vingroup-flc-tan-hoang-minh-khong-the-ngoi-yen-hang-chuc-nghin-ty- dong-cho-truc-dat-nen-khong-ngung-sot-20220313012534823.chn
By Business and Marketing
You are reading the article
Central Highlands – Mountain Road makes Vingroup "eagle", FLC, Tan Hoang Minh, … can not sit still: Tens of thousands of billion dong are waiting for the task, the land is constantly feverish!
at Blogtuan.info – Source: cafebiz.vn – Read the original article here