Business
Coming together with a shocking transfer in Asia, always thinking how the German Boss can find a happy smile again
Doan Nguyen Duc, also known by his nickname Bau Duc, is a businessman and chairman of HAGL. In 2011, he was honored by the Wall Street Journal as one of the 30 most influential entrepreneurs in Southeast Asia.
Starting from the role of an entrepreneur, Bau Duc has spent many assets and passion to pursue his love of football. Since 2001 until now, he has always been one of the figures who captured the public's attention.
On his journey to find a place for Vietnamese football, Bau Duc made many bold decisions. In 2002, he "bought" the number one striker in Kiatisak Southeast Asia and paid up to 15,000 USD a month. Unexpectedly, this transfer led him to be a friend and companion for more than two centuries.
Unknown team "brave" to recruit Asian cult talent
In an interview, the owner of HAGL revealed that he had spent a lot of effort and money recruiting Kiatisak to Nui Street in 2002.
Bau Duc said: "Around 2000 when it came to Kiatisak, no one in Southeast Asia knew. He is a striker every team in the region wants. But at that time, the famous clubs did not dare to dare. the team that played in the V-League, and moreover HAGL, an unknown name in the mountains of the Central Highlands who played in the First Division, not many people knew.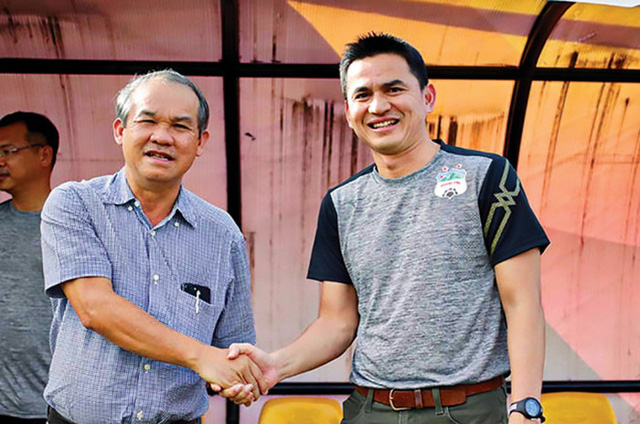 But then I thought differently. Why do I have the money, the ability to persuade, not try once. Success or not, let's try," said Duc who started the story to 'catch' Kiatisak." However, the media and public opinion said that he was too confident and did not know how to measure his strength.
Ignoring the gossip, the chosen Duc and his comrades are determined to find a way to contact Kiatisak. They called, faxed, emailed… he still didn't pick up the phone, didn't answer. Faced with that cold attitude, Mr. Duc still did not give up.
Finally, the Kiatsak player was also rocked by Bau Duc. But when Kiatsak spoke up, public opinion and the Thai press simultaneously protested. The reason they gave was that a player who was a "living monument of football in the Golden Temple" like Kiatisak could come and play for a first-class team in Vietnam? That's unacceptable!
Addressing Thai public opinion, Kiatisak accepted to sit at the negotiating table with HAGL. Bau Duc's opponents at that time were Malaysia, Singapore and Indonesia. He decided to pay 20% more than competitors, in addition to equipping Kiatisak with a villa, Mercedes car and other vehicles.
Before this incentive, Kiatisak again asked Duc where he got the money to pay. At that moment, he opened the phone and called home. After being called, Kiatisak's account immediately received 2 years' salary. The firmness of Duc's selection made Sac just nod his head!
A friendship that lasts for 2 centuries between 2 men who are loyal to football
In 2002, Bau Duc and senior leaders of HAGL went to Bangkok to attend the wedding of Kiatisak and his wife Asarapa. The photo taken together at that time was treasured by Kiatisak's wife and was shown to everyone on the occasion of the 20th wedding anniversary.
This is proof that HAGL and Duc have a very important position for Kiatisak. Therefore, he immediately nodded when elected Duc was invited back to lead the old team – which he considered his second family.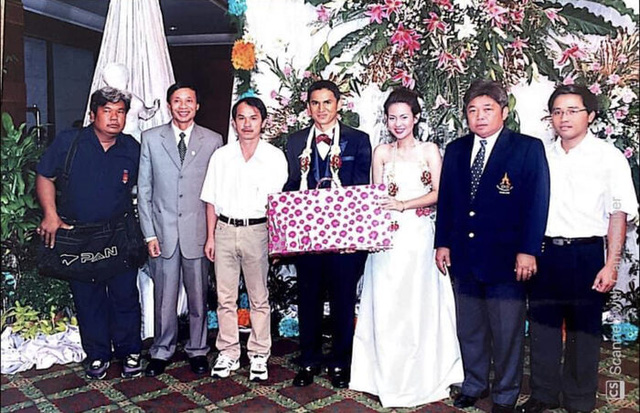 On their 20th wedding anniversary, coach Kiatisak's wife, Asarapa Senamuang, expressed her admiration and respect for Pak Doan Nguyen Duc. He wrote: "On this day 20 years ago, my boss (Bau Duc) came to our wedding ceremony. It was the first time we met him in Thailand and the incredible journey that followed."
The co-trainer from the "land of the golden pagoda" also mentioned 5 things she learned from her "husband's boss". The specifics are: work hard, appreciate the people who work for you, create the best conditions to work, if you want to be loyal, bring sincerity and most importantly, never ask for anything. rewarded.
Kiatisak's wife did not forget to thank the chosen Duc for trusting her husband and giving him the opportunity to shine in his second homeland.
Still writing stories of friendship and conquering the pinnacle of glory…
The return of coach Kiatisak in 2022 has a mission to conquer, to regain a position worthy of HAGL's potential. More importantly, he wanted the "German boss" to find a happy smile again, to see with his own eyes the V.League winning team with the talent he had nurtured and trained himself.
Kiatisak insists, after what he has done for football, Duc deserves more than that.
For more than 20 years pursuing his love of football, the Nui Street manager has spent more than 2,000 billion VND. However, 18 years have passed, HAGL has not been able to return to the V.League championship since the last time he was crowned in 2004.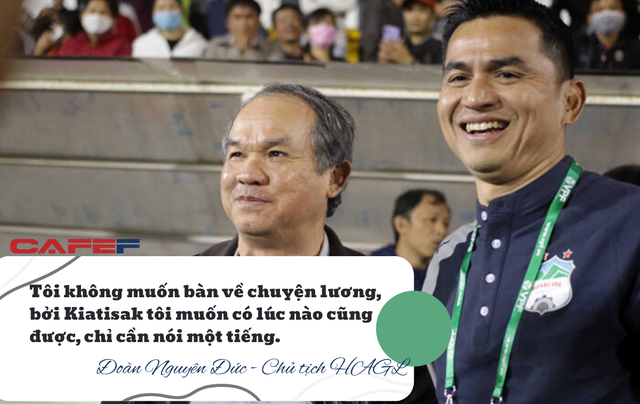 Looking back on last year, Kiatisak insists that he was quite satisfied when he helped HAGL top the V.League standings before the tournament was cancelled. He said he had no regrets.
Mr Kiatisak also set a goal for the 2022 season to conquer glory and award Duc a special prize. It was also what he wanted to give to Cong Phuong, Mr Anh, Xuan Truong, Van Toan… who were at the maturity of their careers.
Apart from the V.League tournament, coach Kiatisak also has big ambitions when he returns to the AFC Champions League after 17 years. It's not an easy competition because we have to face "big guys" like Japan and Korea. Not because it is difficult to back down, this close friend of Bau Duc is determined to lead his players to play their best to bring honor to Vietnamese football.
He hopes to successfully compete with the Nui team in all competitions in 2022.
For a friend who has been with him for 2 centuries, coach Kiatisak said: "I wish Duc always healthy, happy and successful. Another thing I want is Duc always smiling." For Kiatisak, Duc is a very special person. The relationship between the two is not a boss-employee relationship, but a close bond of 20 years of love.
I am an introvert who always values ​​gratitude. So when Duc invited me back to my Plei, I nodded without hesitation. My family also supports me when I come to Pleiku again. That is, the love that chose Duc, as well as the love of Gia Lai fans in particular and Vietnam in general, was too big for me. I have to repay that trust."
synthetic
https://cafef.vn/nguoi-ban-than-20-nam-het-long-pho-ta-bau-duc-dan-dat-hagl-den-voi-nhau-bang-vu-chuyen-nhuong- shake-dong-chau-a-van-luon-tran-tro-de-boss-duc-tim-lai-nu-cuoi-hanh-phuc-20220311140920044.chn
You are reading the article
Coming together with a shocking transfer in Asia, always thinking how the German Boss can find a happy smile again
at Blogtuan.info – Source: cafebiz.vn – Read the original article here