prepare materials
1. Tofu

3 bars

2. Kale, Carrot, Cashew, Broccoli,
3. Cornstarch, salt, black pepper, sesame, scallion, ginger, mirin, soy sauce
Tofu is a popular food in every family meal. Not only easy to eat, tofu also provides many nutrients for the body.
Tofu is quite versatile, so they can easily absorb flavors and make different delicacies. If you're looking for a quick, simple but equally appealing tofu dish, try the tofu recipe below.
This tofu dish is easy to make, the ingredients are available in the kitchen, it's not complicated. The ingredients provide ample nutrition and the teriyaki sauce makes the dish more appealing and makes the rice more appealing.
To make the tofu balls stick better, you should cut the ingredients as small as possible. Mainly to drain the excess water on the tofu. And now, don't wait any longer, let's try making this dish!
How to Make Teriyaki Tofu
Teriyaki Tofu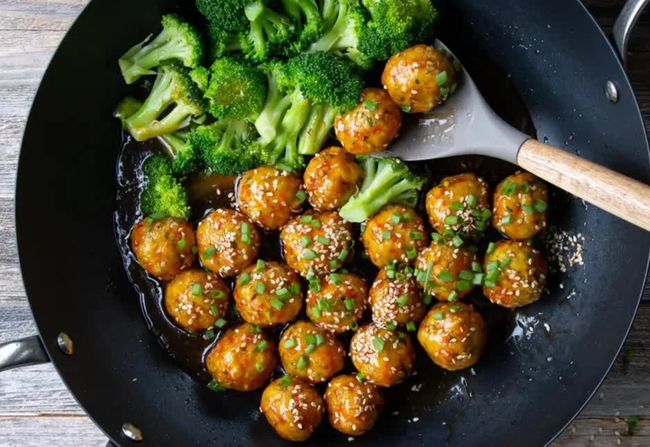 Wash the tofu, put it in a zip pocket. Squeeze the crushed tofu. Squeeze the excess water from the beans. Place the mashed tofu in a large bowl.
Wash kale and carrots, finely chop. Grated cashew nuts. Put in a bowl of tofu, add salt, pepper, a little cornstarch. Stir until everything is mixed together.
Take a spoon to scoop out the dough and balls, arrange them on a plate. Do the same until the end.
Broccoli (broccoli) is washed, cut into bite-sized pieces, boiled.
In a skillet, add enough oil to fry the tofu balls. Fry the tofu balls in hot oil until golden brown. Get out and drain the oil.
In another pan, add a little oil, add chopped ginger and sauté until fragrant. Put soy sauce, mirin, sugar, and cornstarch into a saucepan, then mix well. After the dough has melted, mix it together, then add the fried tofu balls.
Coat the peas evenly with the sauce, and simmer until the sauce begins to thicken. Push the tofu balls aside and add the boiled broccoli.
Sprinkle over chopped scallions and toasted sesame seeds. Enjoy the heat.
Good luck and deliciousness by making tofu Teriyaki sauce here he is!
Is tofu good to eat?
Tofu is easy to eat and can be processed into a variety of delicious dishes. However, not everyone understands the health benefits of tofu.
Good for heart health
Tofu contains plant estrogens that help improve heart health. Studies show that adding tofu to the diet every week has a lower risk of coronary heart disease than people who eat less tofu.
Prevent osteoporosis
In many research documents, isoflavones in soybeans have the ability to prevent osteoporosis. It also helps increase bone mineral density, making bones stronger.
Supports weight loss
Tofu when eaten can make you feel full. Incorporating tofu in your diet will help prevent overeating. Especially those who are doing weight loss, dieting. Tofu contains fewer calories, where the body consumes fewer calories, helping fight obesity.
Provide fiber
Tofu also contains a lot of fiber. These substances can reduce the risk of stroke, better control blood sugar, reduce the symptoms of hemorrhoids and also aid in better digestion.
Reduce cancer risk
In a reasonable diet, eating tofu can prevent cancer cells. Because tofu also contains selenium in large quantities. Selenium has antioxidant properties, which are important in cell rejuvenation and free radical scavenging.
Although tofu has many benefits for the body, there are certain effects if eaten in excess. Moreover, there are groups of people who need to limit the intake of tofu. Therefore, it is necessary to rely on your own diet and health to absorb tofu in moderation.
https://afamily.vn/khong-noi-thi-chang-ai-biet-mon-ngon-nay-lam-tu-dau-phu-de-an-vo-cung-ma-lai-giau-dinh- duong-20220312024058122.chn
You are reading the article
How to make delicious and fast tofu with teriyaki sauce
at Blogtuan.info – Source: Afamily.vn – Read the original article here