Life Style
Musik
It's been a long time since a song leaked social networks and the achievement was thanks to IU's "carrying my back"?
At 4:00 p.m. on March 11, Jay Park back to the music track with single GANDARA combined with "queen of digital music" IU. This is the first song Jay Park has released since he founded his new label MORE VISION, and also marks a rare collaboration between the two "great music giants", IU and Jay Park.
Jay Park – MV GANADARA (Feat. IU)
Despite public expectations, GANDARA considered a romantic and tender love song, making the audience fall from the first pleasure. The song not only conquered listeners' ears, but also quickly dominated digital music charts in Korea.
In particular, after 1 day of launch, GANDARA attracted a total of 332,534 unique listeners (UL: Unique Listeners) on the MelOn chart, becoming the song released in 2022 with the highest number of ULs in the first 24 hours. At the same time, GANDARA also landed at #1 on the Genie and Bugs' Daily Charts, #4 MelOn and #72 on the VIBE system. With this achievement, GANDARA with INVU (Taeyeon) are the two products that debuted directly into the top 10 of the MelOn Daily Chart in 2022.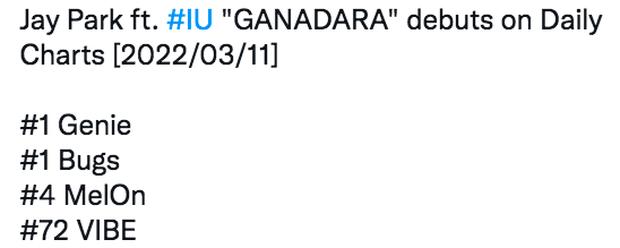 GANDARA's ranking on the Daily Chart after 24 hours of release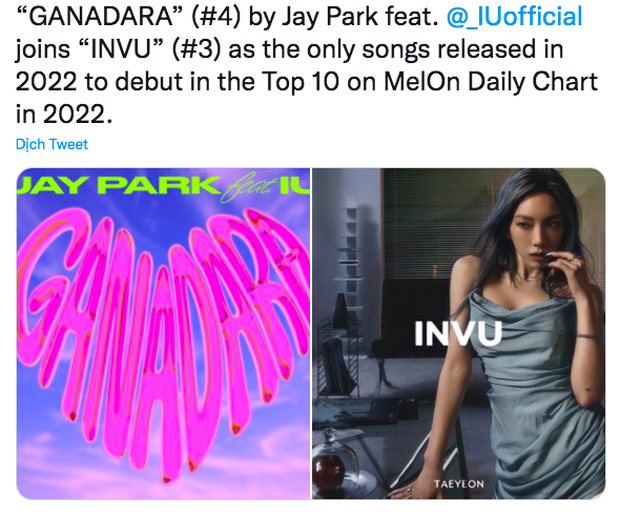 INVU and GANADARA are the only 2 songs released in 2022 that immediately entered the top 10 of MelOn Daily Chart 1 day after their release.
In addition, at 17.00 (Vietnam time), GANDARA officially defeated INVU to close #1 on the MelOn Top 100, getting closer to the All-Kill title as it topped 3/4 of the iChart realtime chart (#1 on MelOn, Bugs, Genie and #4 on FLO).

In just 25 hours, GANADARA has usurped INVU's throne on the MelOn Top 100 chart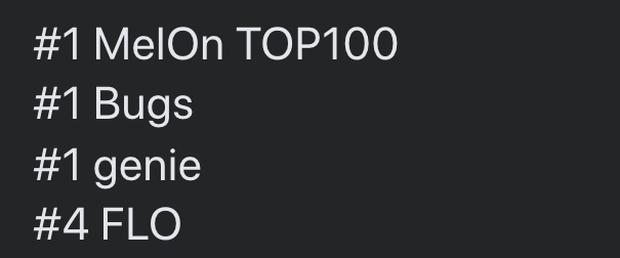 This song is getting closer to achieving All-Kill
In the international market, the collaboration between IU and Jay Park also received a lot of positive reactions. Immediately after release, GANDARA quickly debuted at #27 on the global iTunes chart. In particular, the song took #1 in 7 countries, and entered the top 10 in 4 other countries.
I don't know how long the road will be, but with so many good signs up until now, it's temporarily believable that GANDARA is on her way to becoming a successful product of the Kpop music industry in the first half of 2022. IU is indeed the "queen of digital music" when constantly maintaining her style with every song she releases, including collaborations. . IU's previous comeback with strawberry moon also achieved great success and brought him the 21st PAK of his career.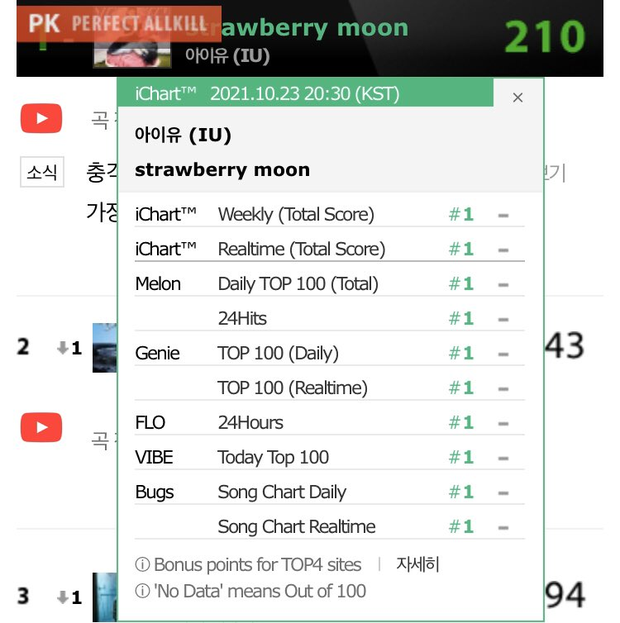 PAK's achievement becomes an "easy thing to do" for IU every time she releases a new music product
On the other hand, not a few commented that Jay Park's achievement this time was only "lucky" thanks to the influence he got from his partner, IU. Jay Park's previous products all had fairly flat digital music ratings. The newest single is To live only at #83 on the top 100 MelOn Realtime Chart. Song All Day (Flexible) previously only landed at #92 on the MelOn Daily Chart, proving that Jay Park has gradually lost popularity on digital music charts over the past few years.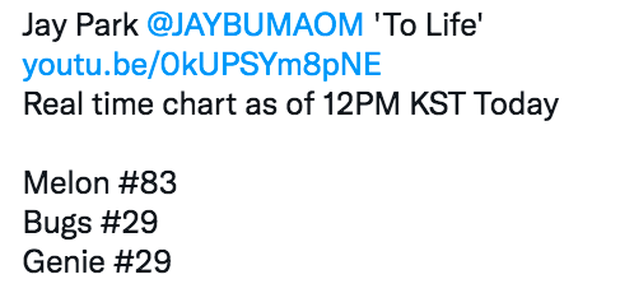 Unlike IU, Jay Park's 2 previous music products were To Life…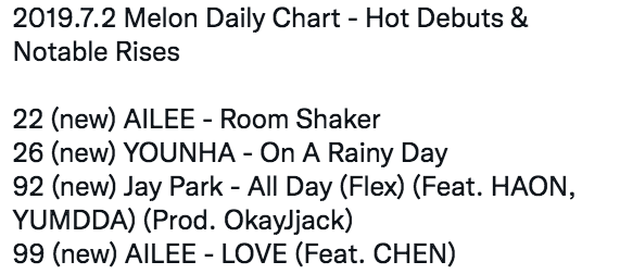 …and All Day (Flex) both have very poor digital music ratings
However, times seem to have changed when Jay Park collaborated with IU to release GANDARA. The guy has a chance to get an All-Kill while the ratings for his new song are still going up. On the MelOn Artists Chart, Jay Park also "jumped" to 26 spots to occupy #2 in the solo male artist segment, just behind "king of trot" Lim Young Woong. Jay Park's name is back in the conversation on social media after months of silence.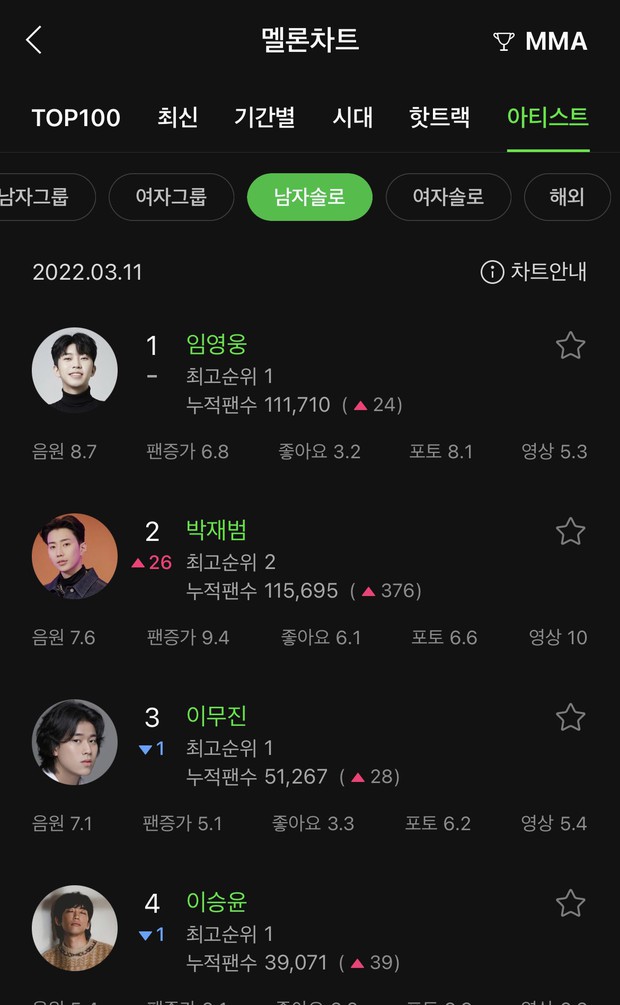 Jay Park jumps to 26 spots to take #2 on the MelOn Artist Chart's male solo chart
But again and again, it can't be said that the public's positive reaction to Jay Park this time is entirely thanks to IU's praise. The song itself GANDARA Must be good and catchy to be liked by many people. From this perspective, Jay Park's musical thoughts, talent in composing and writing lyrics are truly worthy of appreciation.
Netizens think that IU "brought the team" for this collaboration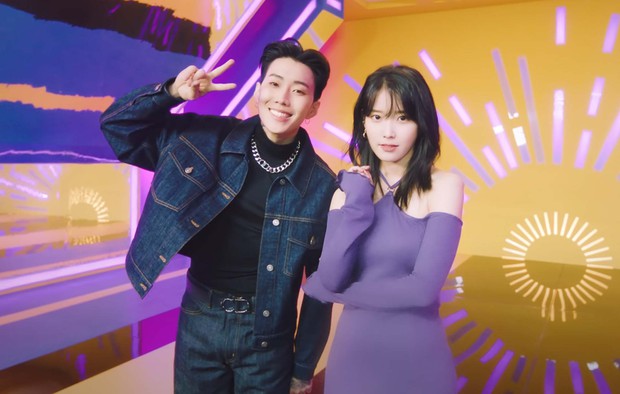 But saying it's unfair to Jay Park, his writing talent deserves recognition too, right?
Photo: Twitter
https://kenh14.vn/buon-cho-jay-park-lau-lam-moi-co-1-bai-hat-pha-dao-the-gioi-ao-ma-bi-cho-la-nho- iu-gal-cong-lung-20220312181458403.chn
You are reading the article
It's been a long time since a song leaked social networks and the achievement was thanks to IU's "carrying my back"?
at Blogtuan.info – Source: Kenh14.Vn – Read the original article here