March 5, 2022 11:45 (GMT+7)
---
Vaccination status in Vietnam
Source: COVID-19 Immunization Portal – Updated at 00:00 March 14, 2022
Number of injections nationally
Two problems after COVID-19 Lung dangers to watch out for
Assoc Prof TS.BS Hoang Thi Phuong – Senior Lecturer, Deputy Dean of the Department of Internal Medicine, University of Medicine and Pharmacy, Hanoi National University, said many people were identified as having post-COVID-19 problems. symptoms, even changes, recur over time.
According to PGS Phuong, the cause of post-COVID-19 syndrome is a virus SARS-CoV-2 causes inflammatory reactions – cytokines – fibrosis – coagulation disorders. In addition, due to residual damage after prolonged hospitalization of resuscitation, residual damage from the underlying disease is accompanied by…
Among the post-COVID-19 problems that F0 may face, Associate Professor Phuong pays particular attention to pulmonary fibrosis and pulmonary embolism. "These are the two most obvious and severe pulmonary sequelae of the post-COVID-19 syndrome with respiratory manifestations usually mild to severe dyspnea; persistent cough, chest pain; decreased respiratory function", warns Associate Professor Phuong.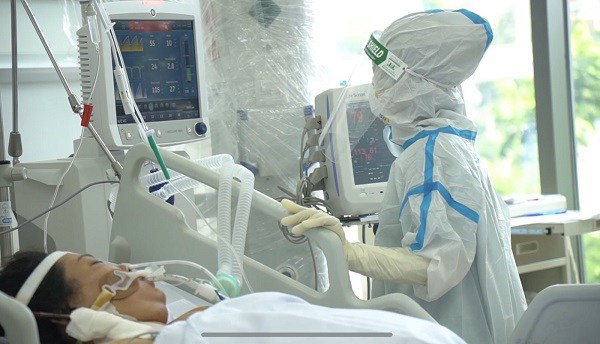 For those who have to use a ventilator, spend a long time in bed for treatment when exposed to COVID-19, while recovering from their illness are susceptible to pulmonary fibrosis.
Pulmonary fibrosis
According to PGS Phuong, groups at high risk of developing pulmonary fibrosis after COVID-19 include: Older people, men, length of hospital stay; Pre-existing comorbidity or interstitial lung disease; critically ill patients.
Most patients with the disorder will have respiratory symptoms (dyspnea, cough) and impaired respiratory function. It should be noted that the risk of pulmonary fibrosis after COVID-19 in patients 4 weeks after being infected with COVID-19 still has the following conditions: Tachypnea, cough, chest tightness, hypoxemia (SpO2 < 95%).
Pulmonary embolism
Pulmonary embolism is a common complication in patients with severe or moderate COVID-19 disease. Acute pulmonary embolism can also turn into mild cases of COVID-19 and occur late in the course of the disease. To diagnose this disease, it is necessary to rely on the results of the high blood D-Dimer test, accompanied by signs of pulmonary hypertension, which is diagnosed by CT imaging of the lungs with contrast.
Associate Professor Phuong said that in order to address this issue, it is very important to restore respiratory function early for patients with post-COVID-19 pulmonary fibrosis. The combination of rehabilitation exercises, combined with medication under the guidance of a doctor will help patients recover more quickly.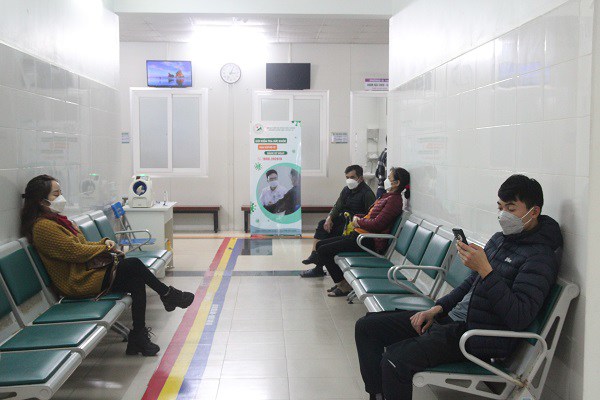 The patient comes to the post-COVID-19 check-up to wait for advice and read the results at Duc Giang General Hospital.
Don't panic, but don't be subjective
Doctor Le Van Dan – Post-COVID-19 Clinic (Duc Giang General Hospital, Hanoi) said that currently the post-COVID-19 issue is attracting a lot of attention, even those who are not medical personnel. F0 also learns because I know that tomorrow I will be infected. It's a good thing for people to learn and actively prevent, but not be too confused and scared at all.
According to Dr Dan, at Duc Giang Hospital, on average around 70-100 people come to the clinic every day because they feel they have post-COVID-19 related problems. After the examination and assessment, more than half of the patients were too worried to go to the doctor, but there were absolutely no problems after COVID-19. The rest are post-COVID-19 related but to varying degrees, not everyone has serious problems.
"From the practice of consulting and examining patients so far, we advise patients not to worry too much, to be very calm after contracting COVID-19. Because not everyone affected by COVID-19 will experience post-COVID problems," suggested dr.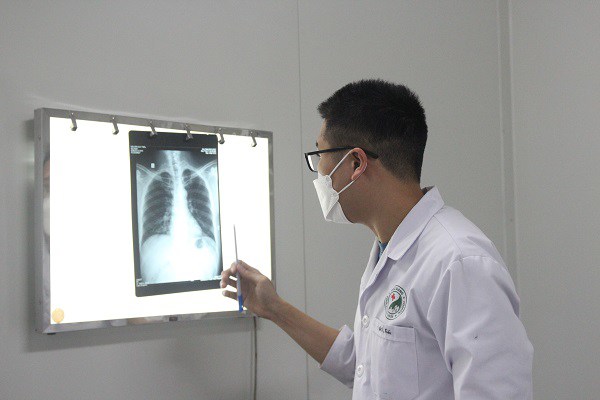 A doctor at Duc Giang Hospital examines a chest X-ray for a patient who comes for a post-COVID-19 check-up.
According to Dr. Dan, post-COVID-19 sufferers will be divided into 2 groups, the first group with lung damage and the group without lung damage. "Patients facing any group need to be consulted and assessed to provide reasonable care. However, for patients with lung damage, especially those with pulmonary fibrosis, it is necessary to immediately treat and treat them," said dr.
Doctor Dan suggested, after recovering from his illness, suspected lung damage should be tested first by measuring SpO2 with a finger. Thus, the patient lies on his back in bed for a few minutes, breathes fresh air and measures with his nails (without nail polish), if the SpO2 is less than or equal to 94%, while the body is not nervous and the hands are not cold, they should come to the hospital. hospital to monitor the sequelae of COVID-19.
Besides that, you can try taking stairs, for example, usually if the patient can climb 5 stairs before infection, but after being infected with COVID-19, he can only go up 3 floors, it is also recommended to see a doctor. .
This doctor also said that people with mild to moderate lung damage can fully monitor and carry out rehabilitation at home without having to be hospitalized for treatment.
Therefore, the public needs to carry out rehabilitation for acute respiratory infections caused by COVID-19 according to the following instructions:
– Lip breathing exercises: Inhale deeply and slowly through the nose. Pinch your lips and exhale slowly until you can.
– Diaphragmatic breathing exercises: Inhale slowly through the nose, while the stomach expands. Exhale, purse your lips, and at the same time draw in your stomach.
– Active cycle breathing technique:
+ Step 1: Breathe controlled, breathe gently for 20-30 seconds.
Step 2: Stretch your chest, inhale deeply through your nose, hold your breath for 2 to 3 seconds and exhale gently. Repeat 2 to 5 times.
+ Step 3: Inhale, take a deep breath, hold your breath for 2 to 3 seconds, and blow your mouth to push the air out. Repeat 1 to 2 times.
+ Step 4: Treatment of phlegm and phlegm: Put the phlegm into a cup filled with phlegm, wipe your mouth with a tissue, then put a towel into the cup. Next, fill with 1% Javen solution and cover.
You are reading the article
Many people experience pulmonary sequelae after recovering from COVID-19, signs of recognition and how to practice recovery
at Blogtuan.info – Source: Eva.vn – Read the original article here