Giải trí
People with billions, people without money
In 2018, businesses in many industries faced difficulties, so there was a significant difference in Tet bonuses. The Tet bonus spot is awesome, the wilting spot shows the business's health is still not very uniform…



Depends on business health
Nguyen Thi Anh, Chairman of the Board of Directors of Song Tien Seafood Joint Company (Sotico), said the company currently has 2 factories with nearly 400 workers. Although export turnover in the seafood industry is not large, because catfish exports in 2018 were positive, the company said it would increase bonuses for workers. Anh's mother said that the average salary of a worker is about 6 million VND/month. "The company will— Bonus for workers the salary is the 13th month, but not 6 million, but 10 million," said Bu Anh.
Mr Huynh Quang Thanh, General Director of Hiep Long Co., Ltd., Deputy Chairman of the Binh Duong Timber Association, said that last year's timber export turnover grew very well (the entire industry reached more than 9.3 billion USD), so In general, revenue and the Tet bonus for workers is also increased. According to Mr Thanh, the factory itself has about 500 workers, the average income last year was 7.5 million VND/month, an increase of about 1 million VND compared to previous years.
Mr Thanh said that last year, the company rewarded workers with a 13th month of salary equal to 1.2 months of average salary. "This year business is better, so we will adjust Bonus for workers with a salary of about 1.4 months, "- said Mr. Thanh.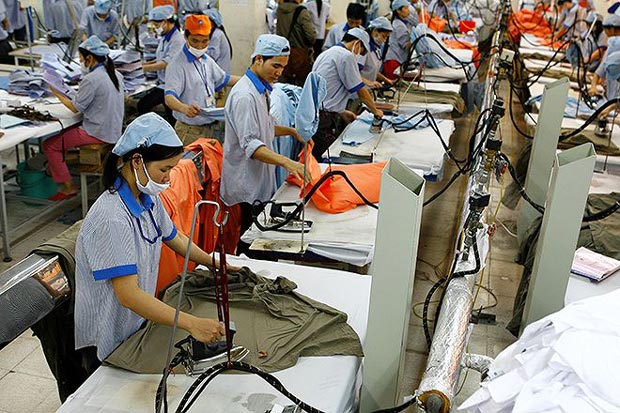 The income of workers in various export sectors such as wood processing, textiles and steel… this year increased thanks to positive exports. Photo: Hong Vinh
Meanwhile, talking to PV Tien Phong, Mr. Tran Ngoc Thuan, Chairman of the Vietnam Rubber Industry Group (VRG), and Chairman of the Vietnam Rubber Association, said that the rubber workers in the Group are about 80,000 people, the average income is about 7 million VND/month. In particular, in 2018, the export of the whole industry was about 1.5 million tons, with a turnover of 2.2 billion USD. "Although the output is higher, because the export price fell by more than 20% compared to 2017, the turnover also decreased slightly compared to the previous year," said Pak Thuan.
The chairman of Khang Land, a subsidiary of Van Khang Phat Group, said the company's 2019 Lunar New Year Bonus plan was launched to encourage employees to continue to make more active contributions until the end of the year.
Therefore, for a management position such as sales director who successfully completes his duties, the company offers a bonus of 1 apartment building worth about 2 billion VND. As for the sales staff who exceed the "spectacular" target, they will be rewarded with an apartment of 1 billion VND.
A representative from CenGroup also said that businesses will spend tens of billions of dong to reward employees during Tet. However, the business leaders have not disclosed the form of bonuses for their employees. It is known, in 2018 CenGroup rewarded employees with shares.
Director General of Hai Phat Land will reward staff from 1 to 5 months salary, depending on the job position. Those who receive 3-5 months' salary are those who have relatively high achievements, and most are rewarded with 1-2 months' salary.
Cao Huu Hieu, CEO of Vietnam National Textile and Garment Group (Vinatex), said that in 2018, Vinatex achieved a total revenue of 48,658 billion VND, profit before tax is estimated at 1,532.9 billion VND. The average Tet bonus for companies under the group is at least 1 month's salary/person", said Pak Hieu.
"We don't just focus on Tet holidays but also pay attention to the daily life of the workers. The lowest unit of the group is rewarded with 1 month's salary and a bonus of 20 million dong. Not to mention that there are business actors who can pay additional dividends in 2018 at a rate of 5% on this occasion," said Mr. Hieu.
For Vietnam Chemical Group (Vinachem), although 2018 was a year with cumulative profits of around VND 609 billion, down VND 33 billion compared to the planned year, it can also be considered an achievement in the context of still struggling. machines that cost trillions of money. A unit leader said that with difficult units, doing business at a loss, the Tet bonus always caused a "headache".
The average Tet bonus is 6.3 million VND/person
According to the Ministry of Manpower, War Disability and Social Affairs, as of January 9, 2019, the entire country had 58/63 counties that submitted reports summarizing salary and bonus data for Tet 2019, with statistics from 25,565 companies (equivalent to 3,853 million employees) . motion). Of these, 20,469 companies (more than 1.9 million employees) have plans to reward New Year's Eve and 25,565 companies (more than 3.3 million employees) have plans to Chinese New Year Bonus.
The average national Tet bonus is around 1 month's salary, equivalent to 6.31 million VND/person, up 11.4% compared to 2018 Tet (5.527 million VND/person). Wherein, a State-owned one-member limited liability company holds 100% of the rental capital, with an average bonus of 5,789 million VND/person; Joint stock companies with dominant capital contribution by the State will award an average of 6,825 million VND/person; The average reward for private companies is 6,445 million VND/person; Foreign investment companies (FDI) pay an average of 6,236 million VND/person…
LE HUU VIET
According to Pham Anh – Ngoc Mai – Pham Tuyen (Tien Phong)
You are reading the article
People with billions, people without money
at Blogtuan.info – Source: 24h.com.vn – Read the original article here