Giáo dục
Life Style
Praised for being exactly like a famous female star, her parents taught her very strictly
Baby Anna, born on June 13, 2018 and is the second daughter of Golden couple in Dancesport village Khanh Thi – Phan Hien. The older she got, the more she made the public go crazy with her beautiful, beautiful appearance and chubby cheeks like two peaches. It could be seen that the girl inherited all the beautiful and delicate features from her parents.
Many netizens also think that Anna looks exactly like Duong Mich – a cult Asian actress when she was young, especially her mouth.
It is known, even though she is the youngest child in the family, Anna is not too spoiled by her parents. In contrast, husband and wife Khanh Thi – Phan Hien raised their children very carefully, rather strictly.
Must teach children to know right, know wrong, can't be spoiled because they are small
In an interview with the press, Phan Hien once shared: "Anna is a tough girl, stubborn and hard to please like his wife. I often joke that Anna is like my wife's "child version" of her personality. If Kubi is Naughty but submissive, Anna is the opposite. Every day, my husband and I are always dizzy from having to mediate between the two children's fights. It's not because Anna is young, so she is liked. I still teach them firmly. Know what is right and what is wrong."
The way Phan Hien raises children is evident in the many clips that he and his wife share on their personal page. Once, the eldest Kubi showed his parents a picture of a flower that he had glued and colored in class. While Kubi happily explains the job, the youngest Anna takes the picture and refuses to return it.
Soon, Phan Hien took his daughter Anna to a separate corner to "fix" with a firm attitude. He taught his children not to take toys with their siblings. Before her father's assertiveness, Anna was quite stubborn, only lowering her head to show her guilt.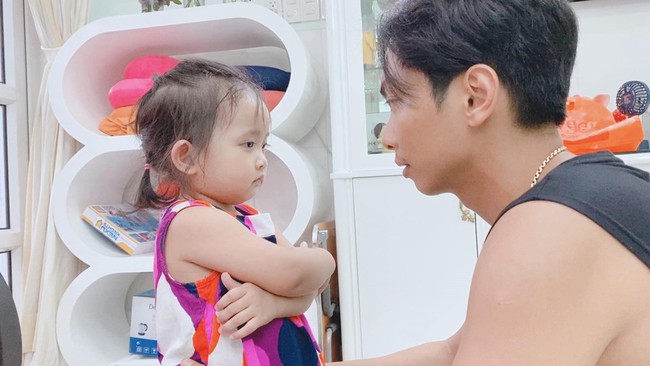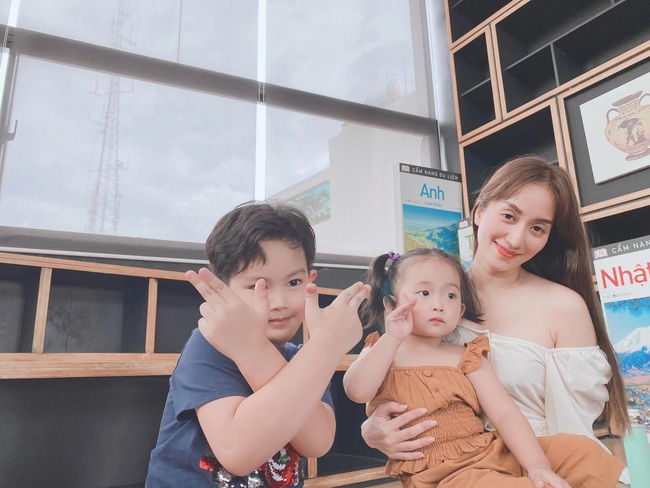 Or once when Anna snatched Kubi's brother's toy, Phan Hien went to talk to his son privately and reminded him about snatching his toys. Although the "little princess" has a very cute expression, everyone is moved to see her, but Phan Hien is still very tough when punishing her child. I say; "Anna looked at her father, crossed her arms. Why don't you take Bi's toy, huh? Next time it won't happen again? If you find out, then hurry up and leave. Remember what Dad told you to answer."
Then he gave the punishment: "Sit still for 5 minutes, face down on the pillow. Meditate on yourself". In front of her father's strictness, the stubborn Anna also lowered her face to show guilt.
Strict but never rude with kids
Although Khanh Thi and Phan Hien were strict whenever Anna made a mistake, this cult couple also had very subtle ways of handling such as calling their children to separate corners to talk and especially never being rude, psychological damage.
About this, Khanh Thi once shared:What Thi wants here is to share with the baby. Thi didn't want to scold the baby, didn't want to scare the baby. The second thing, in front of her husband, Thi wants to educate her children at a moderate level because if the mother bullies her child too much, she will overwhelm her husband.
Thi didn't want to bully her either, but her husband felt it wasn't enough and continued to bully her. It makes the baby more afraid and later mentally stubborn and stubborn by being scolded by the father, scolded by the mother.
The child will no longer be afraid and will remain silent or have thoughts of resistance, completely unaware of how dangerous the action will be in the future.
The female grandmaster once shared, she learned how to grow with her children, learn to be patient and overcome adversity.
https://afamily.vn/con-gai-cua-khanh-thi-duoc-khen-giong-het-1-sao-nu-dinh-dam-ut-it-trong-nha-nhung-bo-me- day to day
You are reading the article
Praised for being exactly like a famous female star, her parents taught her very strictly
at Blogtuan.info – Source: Afamily.vn – Read the original article here