Business
The rise in gold prices is just the beginning?
Gold prices in the last session of the week (March 11) fell after Russian President Vladimir Putin said negotiations on the conflict in Ukraine were making progress. However, during the whole week, the price of gold is still rising. In addition to the global overheating factor, the gold market also saw a new move, as the US scrapped Russia's most favored country status – which is said to have made gold more attractive.
"The Russia-Ukraine crisis will continue to support the outlook for precious metals prices further," as it could mean higher inflation, slower economic growth and slower central bank rate hikes, Saxo Bank analyst Ole Hansen said in a statement. . With US inflation soaring in February, the likelihood that the central bank will raise its benchmark overnight interest rate by at least 25 basis points on March 16 has risen to 94%.
The results of Kitco News' latest survey on the outlook for gold prices next week did not provide a clear majority among market analysts on the near-term price direction. At the same time, optimism among retail investors also eased from last week's highs.
Many analysts say that while gold is expected to rise further, the precious metal's push to near an all-time high, above $2,000 an ounce, could be a sign that gold has cooled down a bit. .
"There's no doubt that gold is in an uptrend and prices are moving higher, but some correction is needed," said Philip Streible, chief market strategist at Blue Line Futures. "You don't want to chase the market in any way. I'd also like to raise (invest) and buy around $1,962 an ounce."
This week, 18 Wall Street analysts participated in a Kitco News survey. Among them, 8 analysts, accounting for 44%, expect a rise in gold prices next week; 3 people (17%) expected a decrease), and 7 people (39%) thought it was neutral.
Meanwhile, 1,013 online surveys were distributed on Main Street. Among them, 634 respondents, or 63%, think that gold will rise next week; Another 223, or 22%, said prices would fall; while 156 people, or 15%, expect prices to be fixed.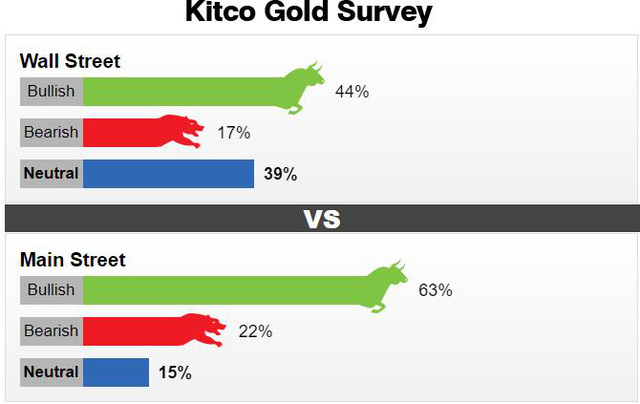 Survey results of world gold price forecasts for the week of March 14-18.
The wars in Eastern Europe should have made conditions worse before they got better. With this uncertainty, it is not impossible for gold prices to return to the level of $2,000. Therefore, many analysts believe that gold is still in a very strong uptrend in the future, and it is only a matter of time before gold continues to rise further, when the "ghost" of stagnant inflation is present.
The longer this war drags on, the worse the economic conditions will be. On Thursday (10 March), the ECB warned of increasing risks of stagnant inflation, raising its inflation forecast for 2022 and lowering its growth forecast. The US also saw an annual increase in consumer prices of 7.9%, the highest level in 40 years. On Friday morning, a report from the University of Michigan said that consumers expect inflation to increase by 5.4% over the next year, much higher than the previous forecast of 4.9%.
For some analysts, as the price of gold rises above $2,000, the price could head towards a new target of $3,000 an ounce, which is the highest inflation-adjusted figure – set in September. In the 1980s, the last time inflation spiked. from control. The most significant difference between now and 40 years ago is that the US central bank has far less room to "break" inflation.
David Madden, market analyst at Equiti Capital, said that although he has a neutral opinion on gold prices next week, he sees a possible increase in prices before the US Federal Reserve's (Fed) monetary policy decision, on Wednesday (16 March). .
Mr Madden said the market continues to expect the Fed to raise rates six times this year. However, Russia's war with Ukraine creates a lot of economic uncertainty as soaring commodity prices increase inflation risks. According to him, any signal that the US central bank is less aggressive in its monetary policy could be good for gold.
"The Fed will raise rates; that's for sure," he said. "But it's possible they hinted at four rate hikes this year instead of six as the market was predicting. The Fed will not accelerate rate hikes given the ongoing conflict in Ukraine."
There may be many twists and turns around the Fed meeting, but overall, inflation remains high and the global political/financial situation remains volatile, which has historically supported gold prices. .
Colin Cieszynski, chief market strategist at SIA Wealth Management, said he is also overseeing the US central bank's monetary policy meeting and he expects it to generate some volatility against the dollar, and the spillover effect is gold prices.
With extreme volatility lurking, strategist Cieszynski, said he is bullish on gold prices next week. "Overall, inflation remains high, and the global political/financial situation remains volatile, which is a favorable condition for gold," said Cieszynski.
Meanwhile, Adrian Day, president of Adrian Day Asset Management, said that he expects the ongoing conflict in Eastern Europe to continue to support gold prices further. "The war in Ukraine is not over and the situation could get worse before it gets better," Day said.
However, some analysts are starting to change their predictions, suggesting that gold prices will fall in the near future.
Mr Darin Newsom, president of Darin Newsom Analysis, said that in the near term, the price of gold will fall, the first target is $1,964.90 to $1,929.70.
Marc Chandler, managing director of Bannockburn Global Forex, also said that he thinks gold prices will drop next week as momentum indicators turn bearish.
Reference: Kitco, Reuters
https://cafef.vn/gia-vang-tang-moi-chi-la-su-khoi-dau-2022031301074709.chn
You are reading the article
The rise in gold prices is just the beginning?
at Blogtuan.info – Source: cafebiz.vn – Read the original article here