Business
Tricked into making money in Thailand, this mother of one was forced to sell sex every day to eat and fled to her homeland.
Born into a large family, Umida (who lives in Uzebekistan) has not forgotten the difficult times of the family. In 2000, the mother died early, leaving her husband with 4 children. Umida's father had to work hard in construction to be able to take care of everything and take care of the children.
"It's hard without mom. Families with two parents earn more," Umida recalls the difficult times.
At the age of 28, Umida was promised by a woman near her home that she would help find a job in Thailand and make a lot of money.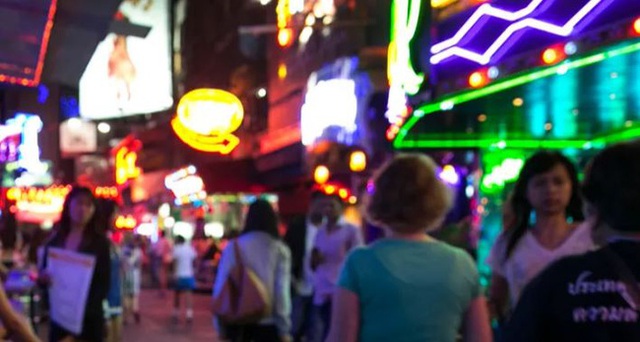 Behind the promise of making a lot of money there may be a series of traps (Artwork).
At that time, Umida didn't know what kind of job it was and what she had to do in a foreign land to earn a lot of money.
However, the promise was too tempting, his family was poor, and thinking about his son who was only 6 years old at the time, he had to leave his hometown, buy a plane ticket to go to a foreign country in Southeast Asia. While stepping on a plane, Umida accepts an exchange away from home in hopes of a better future.
The price to pay for this vague belief in the promise of making big money in Thailand is that Umida accepts the fact that she has been duped. All his letters were burned by the woman who brought him to Thailand.
Only later, when thinking back on everything, Umida realized: "That's a bad woman, she doesn't feed me, has no money. I can only go to work every day".
"Travel" earn money and try to escape
In the middle of a foreign land, Umida goes to the streets to work as a prostitute to earn money. It was something he never thought of when he accepted to leave his hometown with all sorts of hopes for a bright future.
Unable to escape, no money, burning paper, Umida "bites her teeth" to receive guests every day. However, he did not allow himself to learn this job. After a few months, Umida tries to find a way to escape so she can return to her hometown with her son.
During the "guest trip", he was lucky to meet the kind-hearted "player" guest. He asked this man for help and money to buy a plane ticket back to Uzbekistan.
"He gave me a lot of money, I bought some things for my son and then returned to my hometown," Umida recalled to benefactors who helped her when she was on the wrong path. After that, this woman secretly went to the Uzbekistan embassy in Thailand to get papers and passports to be allowed to leave the country.
However, the road back to his hometown was not as smooth as expected. While just dragging her luggage to the airport, a woman approaches and expresses her anger and threatens to scare Umida.
He claims to be a merchant and prevents Umida from returning to her hometown. "He caught me. I had to give him my passport and get back to work," Umida recalled that horrible day.
Returning to her job as a "florist", Umida has to live in an apartment with no bathroom, no food. Sometimes you get money, sometimes you don't.
"I'm starving. When there are guests, I can eat. I go with guests to drink, eat, and then go to a hotel or apartment," Umida said of the days when traveling in Thailand.
The light at the end of the tunnel comes to Umida after meeting Emily Chalke – co-founder of Ella's Home – an NGO that helps women escape exploitation and human trafficking.
After hearing about Umida's tragic fate, undocumented, having to travel to earn money, Emily Chalke devises a plan to free her. The two agreed to meet at a hotel as if Umida was going to meet guests. Taking advantage of the loophole, she was taken by Emily to a taxi to safety.
Emily couldn't help but feel sad when she saw Umida with only a set of clothes on her body and a small notebook with the amount of money to be paid to the merchants around 10,000 USD.
Thanks to the help of Emily and an NGO, Umida was able to board a plane and return to her hometown. The fraud has been reported to the police.
Apart from the merchants, Umida's life returns to peaceful days. Even though he knew his future was unknown, he no longer had to receive guests every day to receive his meager coins in return.
"I stay at home with my son, he goes to school every day, I help my sister bake cakes and take care of the family. After returning, I looked for a place to live for mother and child. I don't want to think about the bad past. bad. I just miss good people who help me and my friends. Life is so good now, I feel happy," Umida shared while living with her 14-year-old son.
Source: Algeria
https://afamily.vn/bi-lua-sang-thai-lan-kiem-tien-ba-me-mot-con-buoc-phai-ban-dam-moi-ngay-moi-co-an-va- thanh-trinh-tron-chay-ve-que-huong-20220313135755483.chn
You are reading the article
Tricked into making money in Thailand, this mother of one was forced to sell sex every day to eat and fled to her homeland.
at Blogtuan.info – Source: cafebiz.vn – Read the original article here