Business
DentalFlow solution for effective dental management problem
In the process of operating the clinic, there are always many challenges such as ensuring the quality of treatment, controlling the customer service process. DentalFlow smart dental management solution goes deep into solving core problems in the clinic such as: Process management and standardization of electronic medical records, Appointment management, Payment management, Situation management customer care. With DentalFlow dental software, the clinic can control professional quality, increase customer satisfaction and optimize operating costs.
Electronic medical records and inter-departmental connection
With the feature that tens of thousands of new patient records are produced every year, the problem of accurately managing each piece of medical information to bring the best treatment results to patients always makes administrators feel better. Reasons of iMed dental concern. "In the past, I had to combine a lot of applications, many rules for coding to save medical records. But if the customer comes back after a few years, finding every detail such as x-ray film, impact force, etc. The current status of day-to-day re-examination is still very time-consuming because everything is stored in one place," shared Ms. Pham Kim Oanh, iMed Dental Manager.
Understanding the problems of clinics with large and very complex records, DentalFlow specializes in dentistry, helping doctors control the entire patient record, history, images, progress and treatment plan Treat each patient in detail. Attached is Protocol, consentform, standardization process for each implant procedure, orthodontic treatment. Revolving around a patient's specific medical record is a list of their appointments, payment habits, and status of care. All systematized on one screen, easy to search after just 1 click.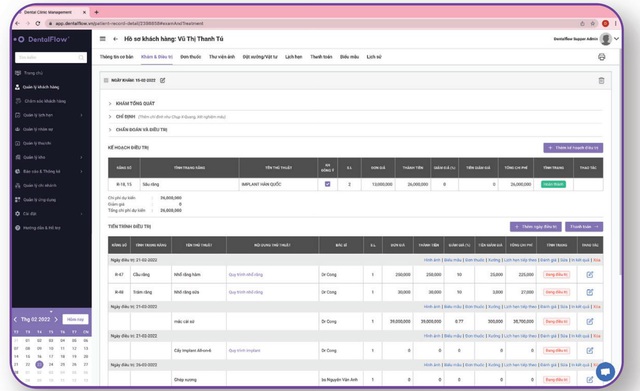 DentalFlow software systematizes dental procedures and detailed medical records
"This software helps me systemize all the information in the clinic, very scientific when I want to find out which patient's medical record, or the list of patients who need to be rescheduled, where the treatment progress is… simple", Ms. Kim Oanh shared her experience after using DentalFlow.
Increase the quality of customer service
Not only improving professional quality, DentalFlow also helps clinics measure customer service and helps clinics improve service quality.
With the front desk department, the software helps to make smart appointments and warn waiting hot spots for the clinic to promptly handle. Thanks to waiting time statistics and patient engagement tracking indicators, the clinic has a basis to improve the quality of service at the counter every day, every week.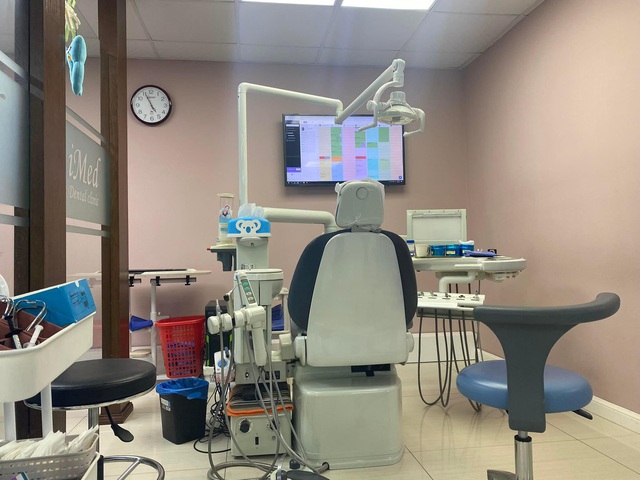 Appointment schedule used by doctors to preview patient information
With the customer care department, the automatic care toolkit via Zalo, SMS, Email is a good assistant. Ms. Minh Trang, staff of Hanh Nguyen Dental Clinic said:
"DentalFlow connects patient records with automated care messages, so I'm very relaxed, no need to manually type each patient message and still worry about "the patient's beard is plugged into the other woman's chin."
More importantly, DentalFlow statistics and reports customer care metrics. From that feedback, the clinic can learn from experience and actively improve service quality, satisfying customers better and better.
Reduce the burden on managers
As a leader, there are always a lot of daily concerns such as revenue, expenses, business situation… In the daily operation perspective, DentalFlow supports the management and control of finances, materials. consumables and personnel. Modules to manage warehouses, suppliers, calculate consumables according to tricks, etc. reduce the pressure on the accounting department from daily problems. Accompanying is the compilation of transparent, clear financial statements, which can be viewed remotely without wasting time aggregating at the end of the day.
From a business development perspective, DentalFlow provides real-time reports on customer growth, revenue from new and old customers. With the volume of data generated by the software, the clinic owner can quickly grasp the big business picture, handle the bottlenecks and make accurate business decisions.
"Instead of making blind or emotional decisions, managers have a certain basis without wasting much time. With DentalFlow we hope to help the clinic increase the number of returning customers and reduce the number of patients. unnecessary costs", a representative of DentalFlow shared.
DentalFlow is dental software that meets 2 security standards HIPAA and ISMS ISO 27001. Service packages range from 199,000 to 499,000 VND/month.
For a free trial, you can contact us at: https://dentalflow.vn/
https://cafebiz.vn/dentalflow-loi-giai-cho-bai-toan-quan-tri-nha-khoa-hieu-qua-20220314174024046.chn
You are reading the article
DentalFlow solution for effective dental management problem

at
Blogtuan.info
– Source:
cafebiz.vn
– Read the original article
here