Not yet surprised when the price of gasoline rose to almost 30,000 VND/liter on March 11, Nguyen Thi Ly, who lives in Dong Da (Hanoi) was "very surprised" when he went to buy a bottle of Simply cooking oil for 65,000 VND/liter and bought 10kg of rice red thai eight for 220,000 VND.
"In the past, I only needed 50,000 VND to fill the 2010 Wave S gas tank. However, after only a few months, it took 100,000 VND to fill the gas tank, cooking oil increased to more than 10,000 VND/liter, rice also rose to 30-40 thousand VND/bag of 10kg, instant noodles also increased from 7-15 thousand VND/barrel/30 packs. Everything is getting dizzy", Mrs. Ly sighed.
Many people are surprised when the prices of consumer goods simultaneously increase.
Mrs. Ly said the biggest increase was rice. Previously he only needed to buy rice 160-180 thousand VND/sack 10 kg Lai Nhat, Tam Thai, Tam Dien Bien, Tam Hai Hau, but now the price of all kinds has increased from 20-40 thousand VND. / bag.
"When we go to the market, the prices of rice, cooking oil and vegetables all go up. Riding the car to work, the price of gasoline rises while the spouse's income remains the same. The salary doesn't go up, but the fees are expensive so it's getting harder," said Mrs. Ly.
Pointing to the pile of things she just bought, Ms. Luong Thi Su who lives in Hoai Duc (Hanoi) also said that his whole family gets dizzy when they go to the market because everyone is "eating" according to gas prices and rising prices.
"Meizan Gold cooking oil, which I previously bought 62,000 VND/bottle of 2 liters, has now increased to 102 thousand VND, up 40,000 VND/bottle; TH True Milk low sugar fresh milk only 320 thousand VND/carton 48 boxes 180ml, but now I have to buy 395 thousand VND/carton, up 75 thousand VND/carton Unfortunately, I switched to low sugar Vinamilk milk, also increased from 300 thousand VND to 340 thousand VND/carton 48 boxes 180ml. Even a box of instant noodles has increased from 80,000 VND to 102,000 VND", Ms. Su.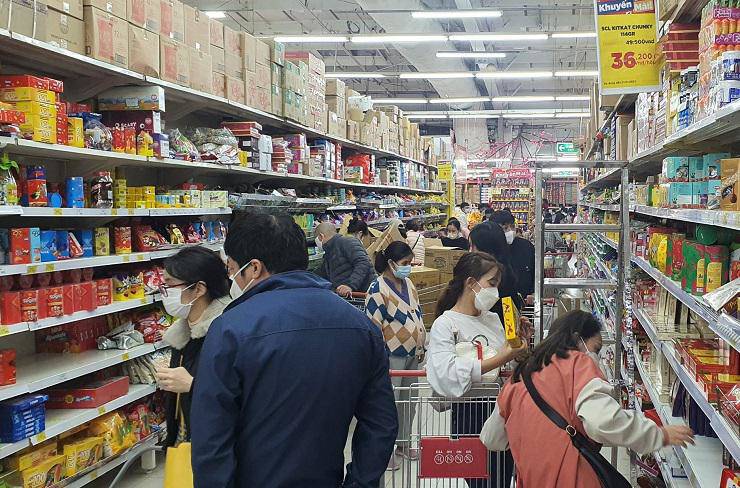 Prices have increased, many people have to "tighten their belts" to support their families.
According to Ms Su, her house was crowded. In the past, when she went to buy cooking oil or toilet paper, she always bought a box at a low price. However, this time the price of anything rose quickly, so he only bought 2 bottles of cooking oil, 2 bags of toilet paper, 1 carton of milk, 1 box of instant noodles, and enough salt and fish sauce to eat.
According to the Vietnam Food Association, Vietnam's 5% broken rice price rose to the highest level since December 2021 at between $410-415 per tonne on March 10, compared to $400./ton in the previous week.
Vietnam's rice export prices have risen thanks to the reopening of trade routes with China, and some traders said that many people had to look for alternative sources of goods due to the Ukraine crisis.
Experts say rice shipments to China are expected to increase as the country opens its borders with Vietnam after lifting Covid-19 precautions. The ongoing crisis in Ukraine could prompt some customers to import more rice from Asia, including Vietnam.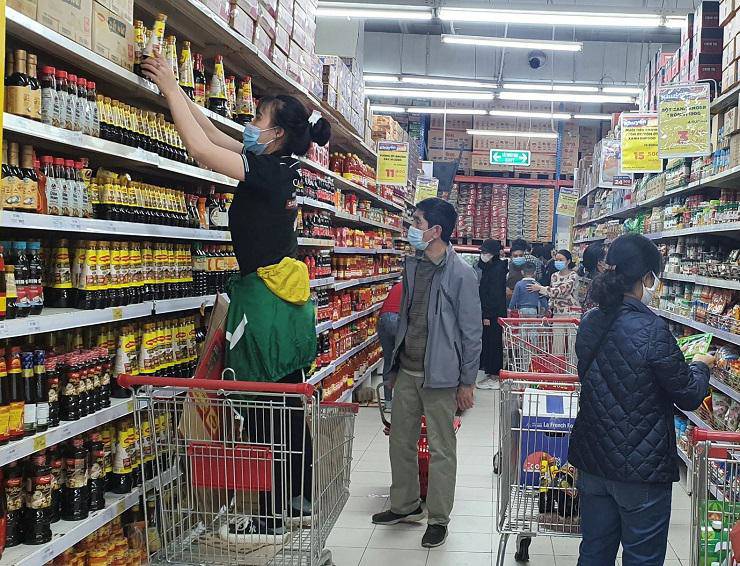 Most of the prices of oil, gas, food or consumer goods have increased.
According to PV research, everything from gasoline, gas, wheat to oil or fertilizers saw prices skyrocket as tensions between Russia and Ukraine reached their peak. Ukraine and Russia are the world's largest suppliers of wheat, corn and barley, exporting more than 75% of the world's sunflower oil. As a result, tensions between the two countries have caused cooking oil prices to continue to rise to record highs.
In addition, cooking oil is also a raw material used in the production of thousands of goods, from chocolate to confectionery and instant noodles. As a result, consumers around the world are paying higher prices for everyday consumer products.
You are reading the article
Prices of rice, cooking oil, and instant noodles all follow the price of gasoline, consumers are stunned
at Blogtuan.info – Source: Eva.vn – Read the original article here