Speaking at a meeting of the COVID-19 Prevention and Control Steering Committee on March 14, Mr. Ho Tan Minh, Head of Ho Chi Minh City Department of Education and Training Office shared a lot of information regarding students' school attendance.
Referring to the rapidly increasing number of F0 cases in schools, which raises concerns for parents, Mr. Minh said that the entire education sector, health care sector and management system of Ho Chi Minh City have made efforts to bring students back to school. In particular, local medical facilities are very supportive of schools in detecting, treating, and identifying F0, F1.
"Currently, schools in Ho Chi Minh City still maintain 2 forms of parallel teaching online and face-to-face. F0 and F1 category students will be arranged to study online separately, to ensure their interest," said Pak Minh.
From February 14 to now, students from grades 1 to 6 have gone to live schools for 1 month according to the decision of the Ho Chi Minh City People's Committee.
The return of this group of students is completely voluntary and they can apply directly to the school or register online at home, even those who do not fall into categories F0, F1 though. Therefore, in the near future, learning will continue to maintain both its current form, parents and students have the right to choose the best option for themselves.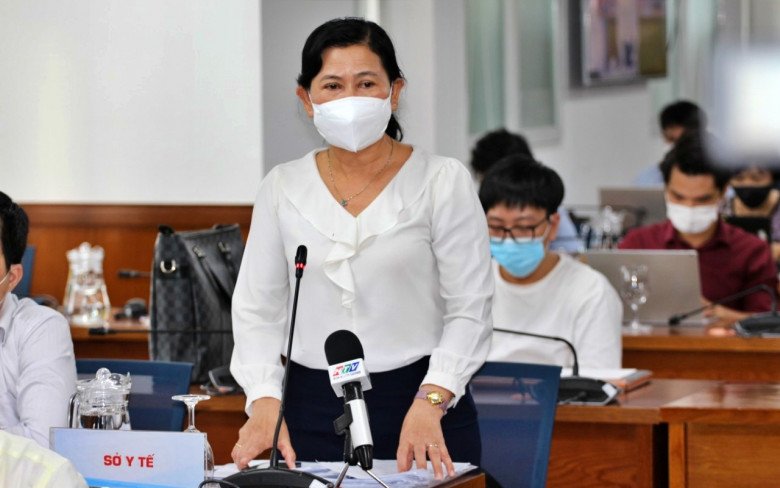 Nguyen Thi Huynh Mai, Head of Ho Chi Minh City Health Department Office, said that the health sector cooperates with the education sector to prevent epidemics for children when primary school students go to school in person.
Meanwhile, Ms. Nguyen Thi Huynh Mai, Head of the Ho Chi Minh City Health Department Office, said that the number of children infected with COVID-19 has increased in recent years as students have returned to school immediately.
Week 7-13 February, there were 449 cases of children with Covid-19; week 14-21 February there were 6,799 cases; the week of February 22-28 there were 18,522 cases; week 1-7/3 had 34,202 cases. Where the number of elementary school students has a higher number of cases compared to other groups of students.
"The health and education sectors have met and carried out activities such as guiding the handling of F0, with response scenarios depending on the situation. The number of children with severe COVID-19 development has not been much in recent times, but the Department has directed its affiliated medical facilities to be ready to receive and treat children with Covid-19", informed Ms. Mai.
Therefore, in order to actively respond to the situation of increasing the number of cases in children, the Ho Chi Minh City Health Department asked hospitals, including Ho Chi Minh City Children 1, Children 2, and Children to increase the number. treatment beds in the COVID-19 department to at least 300 beds, including 50 resuscitation beds. Previously, these hospitals each provided 150 beds for pediatric Covid-19 patients.
District hospitals, general hospitals specializing in children, carry out examinations, screening and treatment for children with COVID-19 in accordance with the guidelines for diagnosis and treatment of the Ministry of Health.
At the same time, medical facilities will be ready to receive and treat children with moderate and mild COVID-19 disease, for children who do not qualify for home isolation, in addition to actively reviewing and standardizing, suffer the number of outpatient beds. stay. In the Covid-19 treatment area, at least 30%-50% of the total beds are reserved for caring for children.
This hospital only transfers if the child shows signs of serious changes, consult a top level pediatric hospital before being transferred. The Ho Chi Minh City Department of Health directed to strengthen the work of remote consultation, professional exchange, referrals according to assigned care groups to increase capacity to care for children.
Source: https://www.nguoiduatin.vn/tphcm-dam-bao-suc-khoe-doi-voi-tre-em-khi-di-hoc-truc-tiep-a…
Source: https://www.nguoiduatin.vn/tphcm-dam-bao-suc-khoe-doi-voi-tre-em-khi-di-hoc-truc-tiep-a546345.html

You are reading the article
COVID-19 March 15: Add 2,000 F/day, local schools for preschool and primary school students not to attend
at Blogtuan.info – Source: Eva.vn – Read the original article here