Tech
Grab, Be, GoJek increase fares, Tiki alone reduces up to 40%
Oil prices skyrocketed due to the conflict between Russia and Ukraine
Petrol prices are one of the hot topics in the world media as well as in Vietnam. Oil price movements escalated violently and no one knew when to stop, when the conflict between Russia and Ukraine was still very tense.
More specifically: Since the beginning of 2021 until now, the price of gasoline in the world and in Vietnam has increased by about 50% – from about 15,000 VND liter to nearly 30,000 VND / liter. For example, RON96, in January 2021 it costs about nearly 17,000 VND/liter, near the end of October 2021, it moves up to the milestone of more than 24,000 VND/liter.
Mr. Bui Ngoc Bao, Acting Chairman of Vietnam Petroleum Association In fact, the current escalation of world prices has "escaped" from the law of supply and demand, and increased mainly due to geopolitical factors and tensions between Russia and Ukraine. After Russia hit Ukraine at the end of February, oil prices began to skyrocket, from VND 26,830/liter in early March to nearly 30,000/liter in mid-March.
The reason for this sudden price increase: Russia exports about 7.8 million bpd – of which about 5 million bpd is crude oil, ranking first in the world. Russia also produces 638 billion cubic meters per year of gas – second in the world after the US and exports about 200 billion cubic meters per year.
Although the West – specifically Europe and the US – are embargoing the Russian economy comprehensively, but fearing the risk of a world fuel crisis, both have not yet embargoed the Russian oil and gas industry.
According to Mr. Tran Quoc Hung – CEO of the Institute of International Finance (IIF) in Washington DC, former Deputy Director of the Monetary and Capital Markets Department of the IMF, if the Russian oil and gas embargo is enacted by the West, the price oil is likely to rise to 150-200 dollars/barrel. In recent days, the world crude oil price has averaged from 100 USD/barrel to 110 USD/barrel.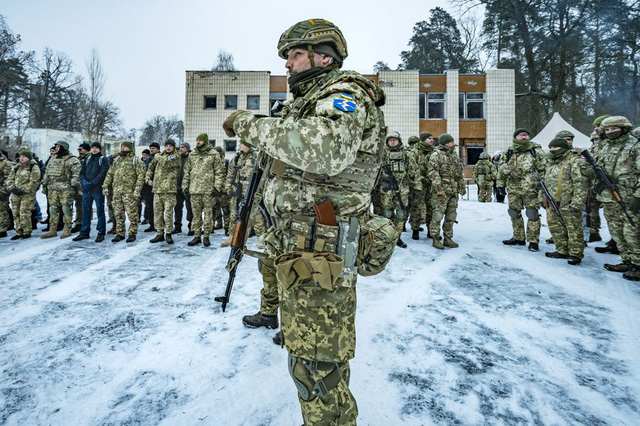 Tensions between Russia and Ukraine escalated, causing oil prices both in the world and in Vietnam to escalate. Photo: VOX
Technology car companies simultaneously increase prices
According to the Hanoi Transport Association, the cost of petrol accounts for 40% of the freight rate structure. Therefore, it is not surprising that many technology car companies such as Grab, Be and GoJek simultaneously raised prices.
Grab has announced a fee increase for all services from March 10. They will increase the price of the first 2km of 4-seat GrabCar service in Hanoi and Ho Chi Minh City to 29,000 VND, 7 seats to 34,000 VND. Both of these levels increased by 2,000 VND compared to the old tariff. Grab also increased the price per kilometer for these two services to 10,000 VND, an increase of 500 VND.
In other provinces and cities, the price of GrabCar service also increases by 2,000-2,500 VND for the first 2km, about 600 VND for each kilometer after that.
A few days later, GoJek also announced that it would increase the price of its services from March 14.
In Hanoi: the minimum fare for GoRide trips increases to 13,000 VND and increases by 700 – 1,600 VND for each subsequent kilometer for trips from 2 to 4 km. Vehicles over 4km have an additional increase of 200 – 1,200 VND for each subsequent kilometer. The minimum price of GoFood food delivery service in Hanoi also increased by 1,000 VND, from 15,000 VND to 16,000 VND.
In Ho Chi Minh City: the minimum fare for the first 2km of the motorbike taxi service is adjusted to VND 11,000 – 13,000 and increases from VND 500 – 900 for each subsequent kilometer. The minimum price of the GoFood service is increased by 1,000 VND compared to the previous old price list.
Tiki alone goes upstream
On the contrary, instead of following us and asking for a price increase, Tiki "plays around" to reduce the price of its own shipping service.
Accordingly, Tiki has officially launched a new shipping tariff, effective from March 8, 2022. Accordingly, the new fee schedule of the floor is adjusted 40% lower than the old fee schedule.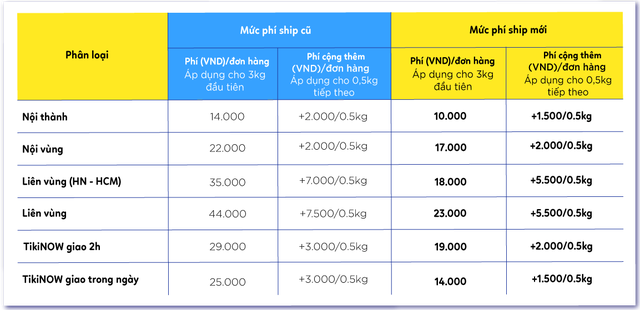 New fee schedule of Tiki.
More specifically: Tiki takes the first 10,000 VND/3kg when transporting in the inner city and adds 1,500 VND for each next 0.5kg; 17,000 VND for the first 3kg in the area and an additional 2,000 VND for each next 0.5kg. TikiNow 2h now costs 19,000 VND / 3kg first, an additional 2,000 VND for each next 0.5; TikiNow Same-day delivery for the first 14,000 VND/3kg, an additional 1,500 VND for the next 0.5kg.
"This fee schedule will be applied in conjunction with Freeship+ policy and free shipping offers from Tiki Rewards program (SEP), in order to bring maximum benefits and outstanding experience to Customers and House for sale, especially in the context of rising gasoline prices.
This is one of Tiki's efforts in constantly improving the system, investing in logistics services as committed.", a representative of Tiki said.
This is an extremely competitive shipping fee at the moment in the e-commerce shipping market – if not the cheapest compared to other exchanges.
Proof: if delivering within the inner city in 3 big cities, Hanoi – Ho Chi Minh City and Da Nang, from 2kg to 4kg, Lazada takes the fee from 20,900 VND to 30,700 VND; In the Southern region, the price is from 43,800 VND to 73,100 VND.
Of course, both sellers and buyers of Tiki exchange extremely welcome their move.
"In the past, I used to give priority to buying on Shopee because the price is affordable, many sellers and goods are delivered quickly at good prices. But after Shopee changed the policy, there were many shortcomings that made me no longer interested in shopping on this site.
Previously, I was both Lazada and Tiki, but with the number of orders and the value not equal to Shopee. But in the near future, maybe the opposite. In particular, when I saw that Tiki had just announced a pretty deep discount. In the past, even though I wanted to buy goods on Tiki to support Vietnamese goods, for many reasons – such as the uncompetitive price, I was still hesitant to stop.", Ms. Khanh Trieu (born 1992) – an office worker in Thu Dau Mot – Binh Duong said.
https://cafebiz.vn/phan-ung-doi-lap-cua-cac-hang-van-chuyen-khi-gia-xang-len-moc-30-ngan-grab-be-gojek-tang-gia- cuoc-mot-min-tiki-jail-toi-40-20220315133846241.chn
https://cafef.vn/phan-ung-doi-lap-cua-cac-hang-van-chuyen-khi-gia-xang-len-moc-30-ngan-grab-be-gojek-tang-gia- cuckoo
You are reading the article
Grab, Be, GoJek increase fares, Tiki alone reduces up to 40%

at
Blogtuan.info
– Source:
genk.vn
– Read the original article
here