Kinh doanh
Open to tourism: Across the country, ministries, thousands of businesses… just waiting for the Ministry of Health
Vietnam officially opened its doors to international visitors from March 15 under new normal conditions, both by road, by sea, by rail and by air; at all border gates. However, the final solution is still waiting for the Ministry of Health.
There is a plan but still have to wait for the Ministry of Health
At a press conference on the afternoon of March 15, Nguyen Trung Khanh, General Director of the Vietnam National Administration of Tourism, said that after the pilot implementation of welcoming international visitors, Vietnam welcomed 49,200 foreign visitors in February 2022. , up 71% over the same period in 2021.
"The tourism industry has been severely affected by the epidemic, but it will recover quickly if there are appropriate and effective solutions," he stressed.
Therefore, the Option reopening tourism activities ensuring safety and efficiency in new normal conditions from March 15, chaired by the Ministry of Culture, Sports and Tourism in coordination with ministries and construction sectors, was announced on the afternoon of March 15, based on Resolution No. 128/NQ-CP of the Government temporarily regulates "Safely adapting, flexibly, effectively controlling the Covid-19 epidemic".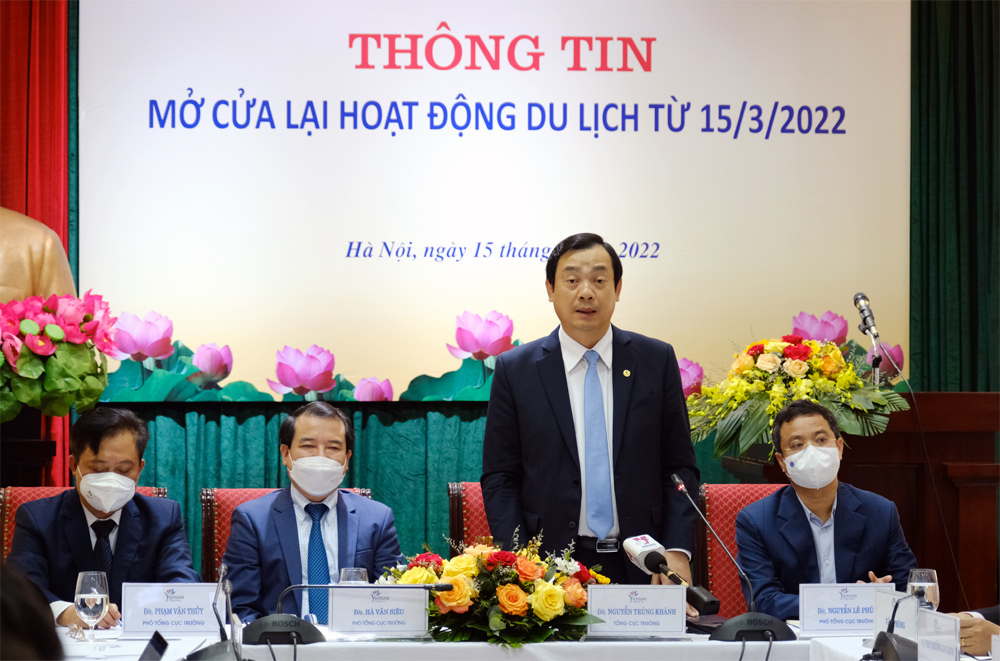 Mr. Nguyen Trung Khanh: Vietnam announced the opening of all tourism activities, both domestic and international (photo by Hong Hanh)
According to Nguyen Quy Phuong, Director of the Travel Department (VNAT), the reopening will be applied to all international tourism activities (inbound and outbound) in compliance with regulations on immigration, medical economy and relevant regulations of Vietnam and other countries and territories, by air, by road, by sea and by railway to ensure safety, in accordance with regulations on epidemic prevention and control.
This option applies to all types of tourists, especially all international tourist markets that meet the conditions on immigration and medical safety can come to Vietnam.
However, Mr. Nguyen Trung Khanh assessed that this option is still waiting for the final document from the Ministry of Health on guidance on entry regulations. On the morning of March 15, the Ministry of Health had a document to consult relevant units, with the provisions in the draft according to Mr. Khanh being quite suitable for attracting and opening the door to welcome tourists.
"We share with those on the front lines of epidemic prevention that the health sector's prudence is necessary. However, up to this point, the context and conditions have changed a lot, the Ministry of Health needs to see. consider promulgating appropriate regulations for people entering Vietnam, including tourists," commented Mr. Nguyen Trung Khanh.
Since then, the Ministry of Culture, Sports and Tourism has soon announced the final plan to reopen tourism activities in detail and fully on the basis of comments from ministries and sectors – Mr. Khanh said. Currently, the issues that need to be focused on when opening are: ensuring safety, aviation (increasing flight frequency, reopening new routes, recognizing vaccine passports) and timely support mechanisms and policies. with businesses and workers in the industry.
Ambition of 5 million international visitors: Need a roadmap
With the reopening of tourism activities, Vietnam aims to attract more than 5 million visitors International visitors60 million domestic visitors, total revenue from tourism will reach about 400,000 billion VND in 2022.
Answering the question of whether the target of 5 million international visitors is feasible in the context that many key markets are facing many disadvantages, Mr. Nguyen Trung Khanh said that the Ministry of Culture, Sports and Tourism has advised and submitted to the Government a development strategy. tourism in the period of 2022-2026, divided into routes.
Vietnam expects to welcome 5 million international visitors in 2022
In which, 2022-2023 is a recovery period that requires a lot of resources and investment support from the State and ministries. The goal is that by the end of 2023, Vietnam's tourism will recover 40-50% compared to before the epidemic (in 2019, with 18 million international visitors) equivalent to 8-9 million visitors. The Director General of the Vietnam National Administration of Tourism admitted that it is difficult to welcome large numbers of tourists, but this is an ambitious goal.
He explained, it is because the main market of Vietnam's tourism such as Northeast Asia is difficult, as China still applies the zero Covid policy, has not yet welcomed guests; Japan and Korea still have barriers, but these countries have started to have more favorable policies for international visitors and people to travel.
In the ASEAN region, Vietnam has reopened to the markets of Singapore, Taiwan, … so the prospect of welcoming a large number of visitors. With the Russian market, Mr. Khanh assessed that the number of visitors will be affected to a certain extent, but it is not large, but in return, guests from Ubekistane, Kazakhstan, … when we officially announce we will welcome guests back, Because people in these countries are not quarantined, they are entering the tourist season.
With the Australian and New Zealand markets, their policies to attract tourists have also begun to loosen. Meanwhile, our 5 Western European countries have just restored their visa policies, and airlines actively promote flight routes, such as Bamboo Airways opening a flight route from Vietnam to Germany, on March 28 to London, .. combine promotion and advertising to attract customers from this market.
Therefore, the commander of the tourism industry said: The number of 5 million international visitors to Vietnam can be achieved, but it is relatively ambitious, it is necessary to have a route to welcome guests, not a day or two.
"It is the service of international visitors to Vietnam from September to March-April next year, the announcement of the opening now is to connect the market and communicate strongly to the markets. But now we are trying our best. make the most of domestic tourism's strengths," emphasized Mr. Khanh.
In 2021, Vietnam's tourism industry welcomed 40 million domestic tourists. Since the end of November, 2021, the pilot program to welcome international guests has welcomed more than 10,000 visitors. Especially, with the trend of tourism recovery, during the Lunar New Year holiday, the tourism industry welcomed and served 6.1 million visitors, exceeding the number of visitors in December 2021.
In the first two months of 2022, the total number of domestic tourists reached about 17.6 million; total revenue from tourists is estimated at 41.38 trillion VND, up 313% over the same period in 2021.
A number of delegations from Singapore, Malaysia, and the United States asked for a tour to Vietnam, but until March 15, they still could not book because there was no specific plan and clear health regulations. This information was said by Mr. Tran Thanh Vu – CEO of Vinagroup Travel.
"Today, according to the plan, we are open for tourism, but tourists are waiting, businesses are waiting, airlines are also waiting," said Mr. Vu.
And Mr. Nguyen Minh Man, Director of Communications – Marketing of TST Tourist, said that Vietnam is in a time of competition with other countries in the region in terms of international opening with open policies. If the current period makes it more difficult for us, it will be more difficult for businesses to attract delegations planning to come to Vietnam. The distinction between international and domestic visitors should be avoided.
From March 30 to April 3, Tuyen Quang province will hold the largest international hot air balloon festival ever with representatives from about 20 countries attending. This is an activity in the series of events in Tuyen Quang tourism year 2022.
Only 15 days left until the main festival, without a consistent opening policy, the number of visitors to this international event could not be as expected of the organizers. Thus, the special activities of the festival will depend on domestic guests.
On the airline side, Vietjet Deputy General Director – Mr. Nguyen Thanh Son said that Vietjet will re-operate all domestic routes in May and international routes in June. According to Mr. Son, to restore tourism schedule in the shortest time, airlines and travel agencies need to shake hands to carry out the programs. It takes good conditions and prices to pull customers back. When guests return, they will experience the travel service again. If there is still hesitation, it is very difficult to recover and develop long-term tourism.
Previously, a representative of Vietnam Airlines also informed that, in order to stimulate tourism demand, the airline will offer even lower prices to ensure that in the early stages of recovery, it can bring customers back to Vietnam.
Tran Chung
Ngoc Ha
You are reading the article
Open to tourism: Across the country, ministries, thousands of businesses… just waiting for the Ministry of Health

at
Blogtuan.info
– Source:
vietnamnet.vn
– Read the original article
here