It is because of the benefits of green ticks that many social network users (mainly artists, celebrities, business people…) want their facebook to have. Taking advantage of that, subjects cheat promised to help them ask for a green tick to take over the Fanpage to blackmail or sell it to others for profit…
Recently, the police of Duy Xuyen district, province Quang Nam arrested Nguyen Van Manh (SN 1999, residing in Son Vien village, Duy Nghia commune, Duy Xuyen) for using computer networks, telecommunications networks and electronic means to appropriate property.
Through the work of grasping the situation, Duy Xuyen District Police discovered that many individuals and businesses were scammed by an object in the area through the service of applying for a green tick, so they actively reviewed and used professional measures to Fight.
The investigating agency determined that in March 2021, Manh actively became acquainted with Ms. N. who is the owner of a plastic surgery site in Ho Chi Minh City, then promised to help get the green tick, increase interaction for the account. Ms. N's personal facebook and business fanpage. After Ms. N. transferred 15 million VND to Manh to help him get the green tick, Manh appropriated it to use it and did not perform the agreement.
By October 2021, Manh used many different accounts to message Ms. T., residing in District 3, Ho Chi Minh City to offer a facebook service package, then took advantage of Ms. T's trust, Manh love request to transfer nearly 8 million dong to do services.
Manh changed the security information of Ms. T.'s facebook account (with personal documents provided by Ms. T. for Manh's service to get a green tick) and appropriated her account and business fanpages. Ms. T. Not stopping there, after Manh gained access to her account, Ms. T contacted her to ask for her account, and Manh offered a ransom of 20 million dong.
With the same trick, Manh cheated many other victims… In addition, Manh also created many virtual facebook accounts, ran ads for icloud jailbreaking services with the aim of appropriating jailbreak deposits from many people. needs on social networks.
At the police station, Manh confessed, often targeting famous people such as singers, artists, business people, when they see their facebook page, they see a lot of traffic, they will try to approach and ask questions. , promising to do a green tick service for them. In fact, only promised to let them believe, but did not make a green tick for anyone.
"In order to get the facebook green tick, the first problem is to have the official document information, so I ask them to provide full personal documents of the owner. Once we have the information and documents as well as the transfer deposit, we will cut off contact and change, taking over the admin rights of the facebook account", Manh confessed.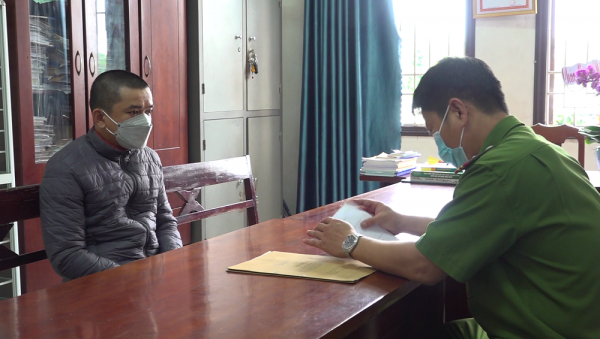 Subject Nguyen Van Manh at the police station.
Major Nguyen Xuan Hoang, a police officer of Duy Xuyen district, said that the green tick on facebook represents the recognition and verification of ownership of facebook for personal accounts and fanpages.
The green tick represents an individual or a brand that has an impact on the community, so many people want their facebook to have a green tick, especially artists, celebrities, business people… With the promise to help they ask for this green tick, the crooks get their personal papers, thereby taking over their Fanpage to extort money or sell it to others for profit.
In fact, due to gullibility and ignorance, many people have revealed their personal documents, leading to the loss of their facebook account. "Most of the victims are deceived due to ignorance and gullibility, green ticking for facebook accounts requires strict conditions, only the facebook service provider appraises, censors and issues green ticks. when the required conditions are met. Meanwhile, the facebook account itself, who went to contact the service to make a green tick, did not get a green tick, how can it be done for others.
Particularly for the investigation work, there are also many difficulties because most of the victims operate in cyberspace and are far away, so it is very difficult to access and collect evidence for investigation. Therefore, people need to be very wary of new fraudulent tricks of criminals to protect themselves," said Major Nguyen Xuan Hoang.
You are reading the article
Scam to make facebook green tick to appropriate property

at
Blogtuan.info
– Source:
Soha.vn
– Read the original article
here