Sức Khỏe
10 warning signs that need to be checked after Covid-19
The post-Covid-19 sequelae is a matter of great concern. So what symptoms and when should the patient go to the hospital for examination?
F0 who has recovered from the disease may still experience symptoms and sequelae post-Covid-19 Prolonged symptoms such as fever, cough, shortness of breath, fatigue, heart palpitations, muscle pain, hair loss, endocrine disorders, etc.
Some symptoms can go away on their own, some complications after recovering from Covid become worse, requiring hospitalization for treatment, affecting health and finances.
BSCKII. Tran Minh Thao, Deputy Head of the Department of On-Demand Examination, Bach Mai Hospital, said: "In patients after being infected with covid, there are many symptoms that affect the health of the patient. health mentally and physically". Also according to BSCKII. Tran Minh Thao, the most common symptoms include:
Neuropsychiatric disorders:
– Restless, anxious, emotional, having trouble sleeping or sleeping less
– Heaviness in the head, memory loss
– Fatigue, cold limbs, sweating
Damage to the heart and blood vessels:
– Tachycardia, arrhythmia. More dangerous are myocarditis, pericardial effusion, blood clot formation causing coronary artery occlusion, myocardial infarction and heart failure.
– The most common vascular sequelae are blood clots causing pulmonary embolism, cerebral stroke.
Respiratory:
– Shortness of breath, short of breath
– Bronchopneumonia
There are many cases of patients with post-covid-19 symptoms but late arrival to the clinic worsens the situation, increasing the hospitalization rate, especially in groups with underlying medical conditions such as cardiovascular, respiratory, neurological, and muscular diseases. musculoskeletal, endocrine…
After recovering from the disease, if any of the following symptoms are present, the patient should seek a post-Covid doctor. In particular, for patients with underlying medical conditions suffering from one of the above symptoms, they must go to the hospital for examination immediately.
1. Mild fever
2. Difficulty breathing
3. Chest tightness
4. Cough lasts
5. Tired
6. Muscle pain
7. Arrhythmia
8. Digestive disorders
9. Unstable blood pressure
10. Hair loss…
In order to reduce the rate of hospital admissions caused by post-covid, people should proactively check their health within the first 1-3 months after recovering from the illness.
– It is necessary to go to the doctor immediately after recovering from the disease with the following groups:
+ Have an underlying medical condition
+ Age > 60 years old
+ When having Covid disease, had to be treated in the emergency department, intensive care
+ Other subjects with severe or unusual symptoms must seek medical attention immediately.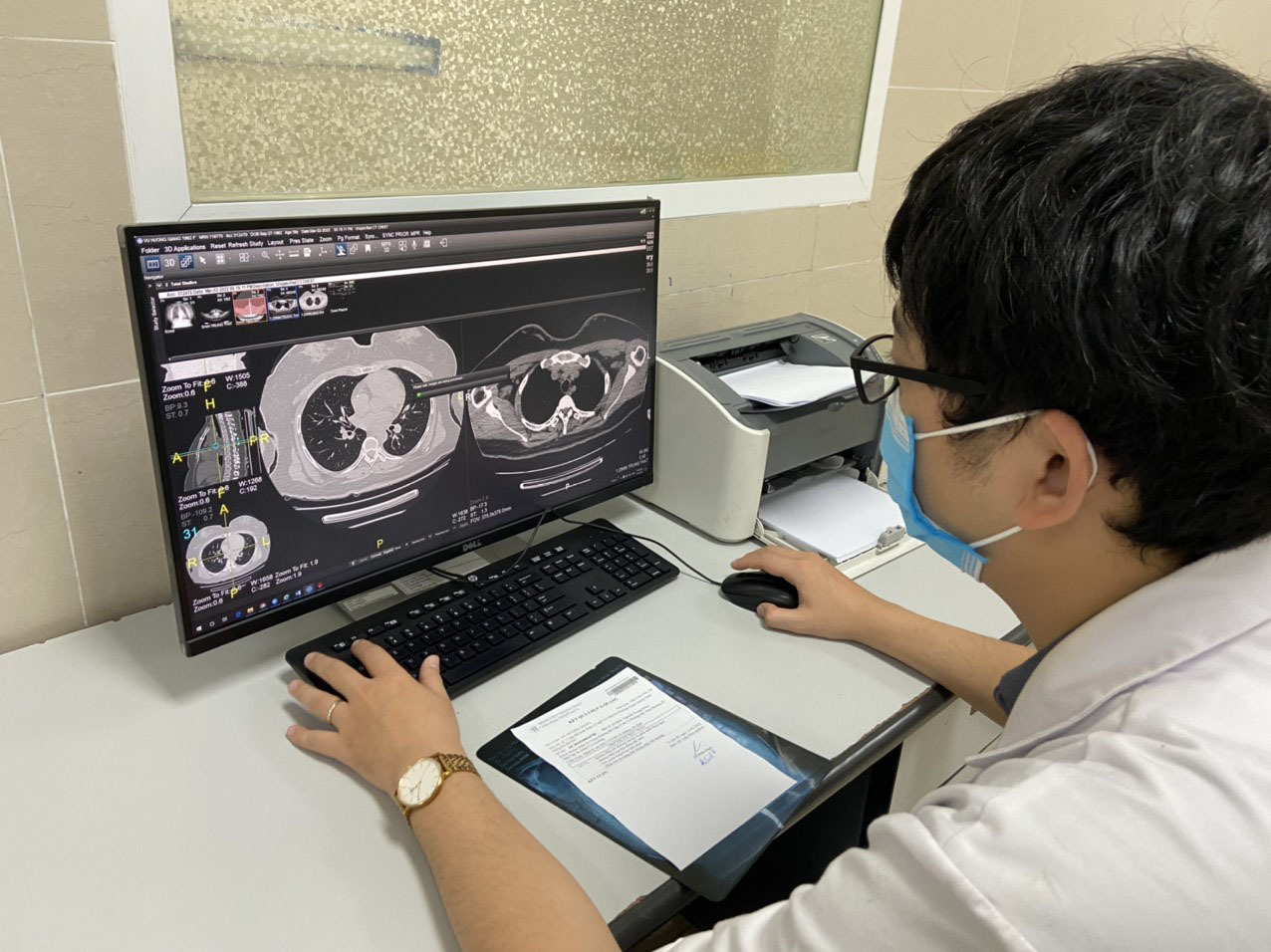 Film image of a patient with lung damage caused by Covid-19. Photo: Thanh Nhan Hospital
After the examination is completed, the doctor will order appropriate tests to make a diagnosis, depending on each specific case. Usually, the patient will have basic tests such as: blood, urine, electrocardiogram, chest X-ray, echocardiogram, and some further investigations if necessary (eg, lung CT).
BSCKII Nguyen Thu Huong – Head of the Covid-19 Prevention and Control Unit, Thanh Nhan Hospital, also said that many F0 cases recovered from the disease and had certain injuries after being discharged from the hospital. Most of the patients who come to see the sequelae of Covid-19 are over 60 years old, have underlying medical conditions, common symptoms are fatigue, shortness of breath, shortness of breath, reduced physical strength, loss of concentration, sleep disturbance, etc. some people have digestive disorders…
According to Dr. Huong, Covid-19 causes multi-organ damage, sequelae can be severe if not examined and treated promptly. Therefore, the doctor of Thanh Nhan Hospital recommends that F0 people who have a history of underlying medical conditions and have taken anticoagulants and anti-inflammatory drugs should pay attention to re-examination to prevent post-Covid-19 problems.
Ngoc Trang
You are reading the article
10 warning signs that need to be checked after Covid-19

at
Blogtuan.info
– Source:
vietnamnet.vn
– Read the original article
here