Giải trí
4 interesting things on Apple Watch Series 7 but few iFan know-Hi-tech Fashion
There are many useful functions on the Apple Watch Series 7 that have yet to be discovered by users.
In addition to fitness and sleep tracking features, overall health, Apple Watch Series 7 can do even more.
Apple Watch Series 7.
Here are 4 extremely interesting features available on Apple Watch Series 7 but not everyone knows.
1. Watch YouTube videos on Apple Watch
In fact, the experience of watching YouTube videos on the watch is quite strange, this device only has a small round screen and quite short battery life. With the Apple Watch Series 7, users can connect to both Bluetooth, cellular and WiFi or iPhone.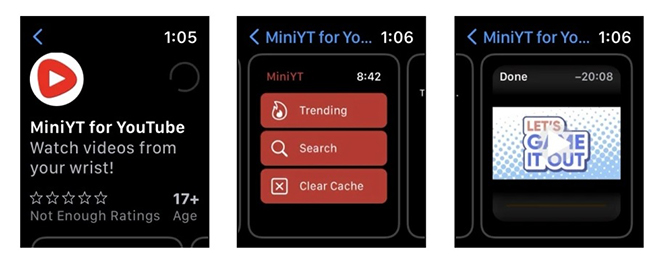 Illustrated photo.
To watch YouTube videos, you'll have to buy an Apple Watch app called MiniYT. This is a pretty easy way to watch videos on the wrist!
2. Get the "File" app: Store and play videos, music, and other files directly on your Apple Watch
If you are an iPad or iPhone user, iFan will surely be excited when Apple has finally released the Files app for those devices. Just like the Windows Explorer or Finder apps on MacOS, users can create folders, store and move files, share, rename or archive them, and even convert to a variety of formats.

Illustrated photo.
Currently, there's no Files app for Apple Watch yet. However, users can download the free application – USB Disk SE. With this app, you can transfer your iPhone or iPad files directly to your Apple Watch. Then, open USB Disk SE on Apple Watch. You can even play MP4 videos right from the app on your watch or read text files!
3. Surf Twitter and Instagram right on Apple Watch
Aside from the ability to watch videos on the Apple Watch, socializing on the watch is even more of a hassle, but it's still doable!
To surf Twitter on the Apple Watch, users can use a free app, called Chirp. With this app you can like, post, follow and unfollow people, see the latest tweets from the people you follow,… Even videos support loading and running fine on the app this.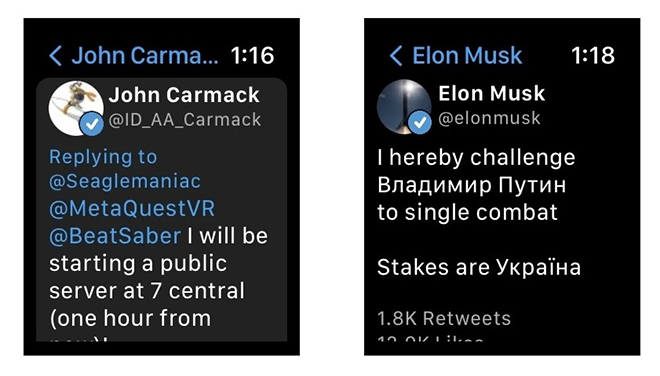 Illustrated photo.
And yet, you can also use Instagram from your Apple Watch through a third-party app – Lens. The experience is quite similar to the Twitter app! There's also a first-party Facebook Messenger app for Apple Watch now. So texting on the wrist has become very convenient.
4. Use the "hidden" web browser on Apple Watch (via Siri)
Apple doesn't include Safari or any web browser on the Apple Watch, so tech fans have to find their own way to access websites from their wrist. Users can use the "hidden Apple Watch web browser" without downloading anything.

Illustrated photo.
To do this, summon Siri on your Apple Watch and say, for example, "oppen PhoneArena.com". The smart assistant will reply: "I've found this on the web" (I found this on the web) with a link to the website. Users just need to scroll down and press "Open Page" to see PhoneArena.com right on Apple Watch.
However, this browser will not display any images or any videos. The "hidden" Apple Watch browser will only display text, usually a black background. Similarly, if you need to open a web page, just ask Siri – which will usually suggest opening a browser window.
You are reading the article
4 interesting things on Apple Watch Series 7 but few iFan know-Hi-tech Fashion

at
Blogtuan.info
– Source:
24h.com.vn
– Read the original article
here