March 16, 2022 18:24 (GMT+7)
Recently the Ministry of Health has licensed the circulation and use of a number of antiviral drugs for the treatment of COVID-19, when these drugs are used they must be with a doctor's prescription, meeting certain specified conditions.
However, in addition to licensed drugs, in the marketplace and on social networks, many people are still offering some drugs without permission with an introduction such as: "Whoever takes it will recover from COVID-19". . Many people trust them to buy and use them and have to bear the consequences for their health, including small children.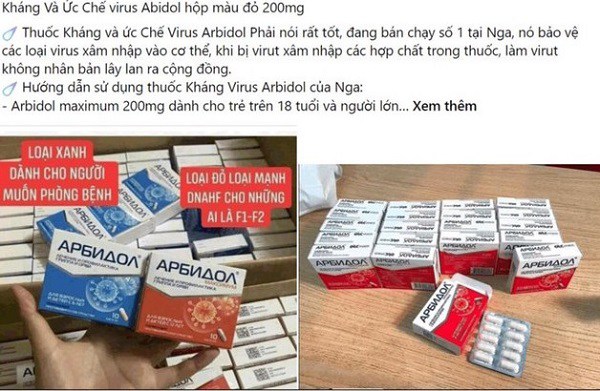 Unlicensed drug, for sale online with introduction: Anyone can take it.
TS.BS Duong Van Trung – Head of Department of Urology (Post Hospital), who consulted many F0 in Hanoi, said that recently, doctors received the case of an 8 year old boy who suffered from facial edema after the family bought antiretroviral drugs . believed to have originated in Russia (also known as blue medicine, red medicine) to treat COVID-19.
According to the family, the boy had COVID-19 for 2 days, had a fever of 38-39 degrees Celsius, did not respond to fever-reducing drugs, and was taking more Russian antiviral drugs. After drinking, the boy's face was swollen, so his parents called Dr Trung for advice.
When asked: Why carelessly give antiretroviral drugs to children? The boy's father said that because his brother's son, who was only 2-3 years old, had contracted COVID-19, took this medicine and all recovered, the family bought it for him.
"I asked the family to stop giving the baby medicine immediately and suggested taking him to the hospital for examination. The use of antiviral drugs for young children is very dangerous, especially drugs of unknown origin, unlicensed.
This is a particularly dangerous problem when antiretroviral drugs are drugs You need a prescription or doctor's advice to use it. But people like to buy ones that are ready to be stored at home to drink to prevent disease or treat COVID-19. It is also worth mentioning that many people buy drugs of unknown origin, origin, fake medicine, very dangerous for health …", Trung doctor warned.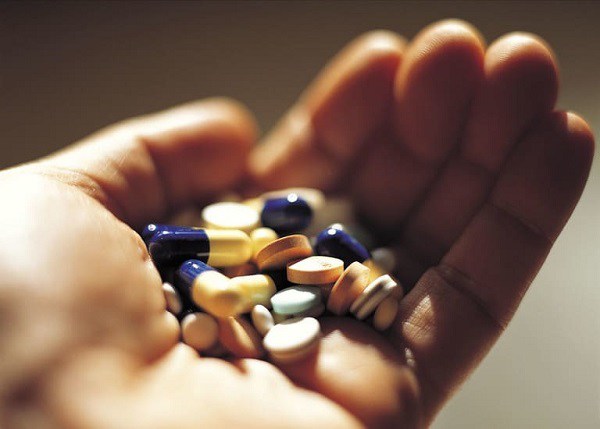 Not only F0, but when suffering from COVID-19 taking any medication, it is necessary to consult and prescribe a doctor. Illustration.
According to Dr. Trung, antiretroviral drugs are drugs that are completely new, with some adverse side effects that are not good for the body, especially children. Therefore, the doctor himself must weigh the benefits of using the drug against the harm it causes to each particular patient.
Pharmacist Ha Quang Tuyen – Dean of the Faculty of Pharmacy, Hanoi Medical University Hospital said, recently, he continues to receive many calls for advice on "portable" COVID-19 treatment drugs from Russia and China. This drug is advertised by the seller "with few side effects, drink smoothly for the elderly, take early to prevent post-COVID-19 factors". Frequently asked questions by pharmacists among others: "What medicine is this", "How does it work", "Should I buy the product", "Buy green or red medicine"…
According to pharmacist Tuyen, all drugs that do not have a permit from the Ministry of Health should not be used at all. Antiviral drugs are indicated in certain COVID-19 patient populations. Therefore, users of this drug must follow the doctor's instructions. This drug also has many contraindications, requiring the user to follow the instructions for use and monitor side effects.
According to the new Ministry of Health guidelines on home management for people with COVID-19 which was just published on March 14, the recommended medicines to be prepared during F0 treatment at home include:
Antipyretics: Paracetamol for adults: 500mg tablets, sufficient amount for 3-5 days. Paracetamol for children (depending on weight and age): powdered sachets or nuggets mixed with oral suspension or tablets containing 80mg, 100mg, 150mg or 250mg, 325mg, 500mg, an amount sufficient for 3-5 days.
Electrolyte balancing solution: Oresol, rehydration pack, other electrolytes. Cough medicine (depending on symptoms): herbs, or cough suppressants alone, or cough suppressants combined with antihistamines…, the dose is enough for 5-7 days. Pay attention to the indications, contraindications and warnings, be careful when using the drug.
nose drops: 0.9% sodium chloride, enough for 5-7 days.
Drugs to treat the underlying disease according to the prescription are being used for the patient (if necessary, enough for 1-2 weeks).
You are reading the article
8-year-old boy's face gets swollen after taking COVID-19 medicine advertised "Everyone will get better"
at Blogtuan.info – Source: Eva.vn – Read the original article here