Nguyen Thanh (33 years old, Nam Dinh) shared that after years of renting a house in Hanoi, his family had collected and borrowed VND 800 million from relatives to find and buy land to stabilize the residence. Thanh said this was the second time his family had returned to buying land after failing to buy it in 2020.
Thanh said that in April 2020, with nearly 400 million VND in hand, she and her husband once went to buy land in the Dong Mai, Bien Giang, Yen Nghia (Ha Dong) area. Looking to buy land in this area, she and her husband have accepted jobs from 13 to 16 km away. However, currently, the cheapest land introduced to him by land owners and intermediaries was over 500 million VND.
Thanh also said that among the plots of land that were introduced for viewing, there was a plot of 40 square meters that was offered for 14.1 million dong by the landowner. She and her husband really like this land, but at a price of up to 564 million VND, making her and her husband hesitate because they have to borrow almost 200 million more, while buying land, they still have to rent a house.
After some time of deliberation, the family gave up planning to buy land and hoped the land prices would come down so they could find a place to live with the money in hand.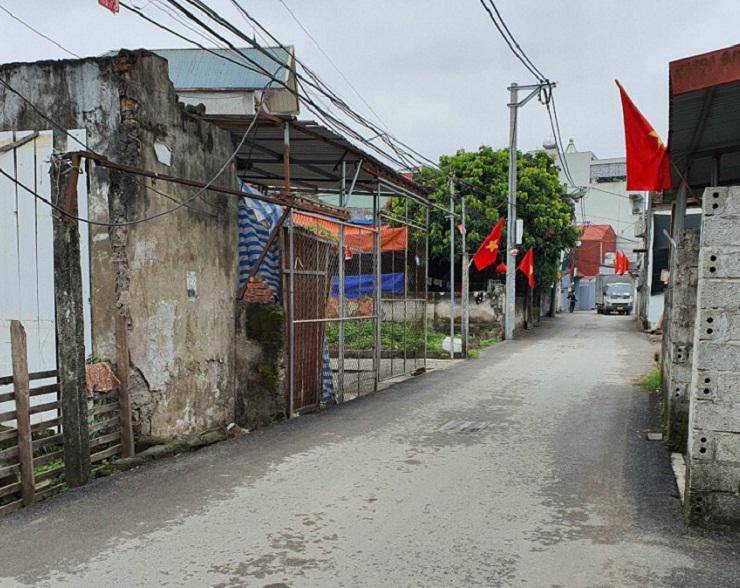 Thanh admits that with the current rise in land prices, he doesn't know when his family will find a stable place to live that fits their current finances.
Although she has temporarily stopped planning to buy land to settle down, she and her husband have been monitoring information about real estate transactions in the area they plan to buy. However, he was very surprised when many business activities were badly affected by the Covid-19 outbreak, land prices in many places increased, making his family impatient.
In the early days of March 2022, after reviewing savings and the ability to borrow money from relatives and friends, Thanh and her husband returned to plans to buy land to stabilize the residence.
Now, instead of looking for a plot of land which cost around 400 million VND like the first time, his family is increasing the plan to search for the land to 700-800 million VND.
Thinking that they would find land that suited their financial needs, when in practice, Thanh and her husband were surprised by land prices in the places surveyed previously.
Ms Thanh said that when contacting a broker to inquire about a problem, many people said that when there was a product at a suitable price, they would call again. Meanwhile, going back to the area you surveyed in 2020, land prices here are skyrocketing too.
Specifically, a 33 sqm plot of land close to the location of a 40 sqm plot of land which had received an offer of 14.1 million VND/m2 in 2020 was offered by the landowner to be 33.4 million VND. Thanh said that this was the lowest price introduced by landowners and brokers in the search area when he returned to buy land this time. Meanwhile, with a larger plot of land, a better location, he was offered a price of between VND 1.2 to 2.5 billion by the landowner, this price once again far exceeding the financial capacity of the older sister's family.
With the 800 million dong earned from savings and loans, the family still lacked about 300 million dong to be able to buy land at the lowest price the landowner offered. This 33-year-old office worker admitted that he was surprised by the current land price even though the area of ​​the area has not changed much in terms of population compared to when he first came to buy land in 2020.
Thanh shared that if in 2020 they tried to borrow money to buy a plot of land that the couple loved so much, today they could save up to half a billion dong. "With land prices in many places rising so rapidly now, I don't know when my family will be able to find a piece of land that fits their financial means without having to borrow a lot," Thanh said. .
According to a market research report in February 2022 from a major real estate website, the interest rate in land sales increased by 17% compared to January 2022; Sales of project land also increased 15%. Both the number of posts in these two categories increased and increased by 8% and 6% respectively.
Supply and demand for land seeking/purchasing and land plots increased in most provinces, with Hanoi's interest in soil types increasing by 8% and the number of posts increasing slightly by 1%; Ho Chi Minh City had interest rates and number of listings for land sales increased by 18% and 6%, respectively; Da Nang had search queries and the number of listings for land sales increased by 32% and 25%, respectively.
However, experts say that today's real estate buyers need to have reasonable financial problems because using bank leverage at this stage is very risky. Especially when people's incomes are precarious due to the impact of the epidemic.
You are reading the article
Bring 800 million to buy land to live in, this young couple was surprised by the increase in land prices after 2 years
at Blogtuan.info – Source: Eva.vn – Read the original article here