Bất động sản
Fixing the law to quell the riots and blowing the price to close a deal to pocket billions of money
The Government agreed to amend the Law on Real Estate Business (Real Estate) in which it is noted that a careful assessment of business conditions, exchange transactions, real estate brokerage, credit, taxes, fees, … to regulate market.
Building a game of land fever ""pinning the stake" is like running away from the enemy
On February 21, social networks stirred up clips of leaders and employees of real estate companies continuously running, fixing the land price. Accordingly, the clip is about 4 minutes long, recorded in an empty lot, next to the road with dozens of cars parked. Some employees of the real estate company wearing vests holding leather briefcases and certificates of land use rights (red books) ran back and forth to announce the deposit closing with an MC.
The staff of the real estate company continuously ran from the tent area to the MC and said "Lot 4, Lot 5, Lot 13, Lot 19, 29… the customer has paid a deposit"; "Lot 26.27 piles always"… Then MC announced again on the speaker that the lot had locked the stake.
The scene of "locking" the pile caused a stir in Loc Ninh district, Binh Phuoc province (Photo cut from the clip)
It is known that the land plot for sale on the site belongs to group 5, Doi Da hamlet, Loc Khanh commune, Loc Ninh district, Binh Phuoc province.
Meanwhile, a representative of Loc Ninh district leadership confirmed that in Loc Khanh commune, there have not been any residential projects licensed for sale. The fact that the group of people of the real estate company introduced as "Loc Khanh Project" to sell land to people is not true to reality.
After the government got involved, the People's Committee of Loc Ninh district issued a decision to administratively sanction Nam Khuong Real Estate Company with VND 100 million for violating the business of real estate brokerage services.
According to the decision on sanctioning administrative violations of the People's Committee of Loc Ninh district, Nam Khuong Real Estate Company Limited (Binh Duong) by Mr. Vu Van Khuong as Chairman and Director has committed the administrative violation "Translation business". real estate brokerage service, at the same time as a broker and a contract performer in a real estate business transaction".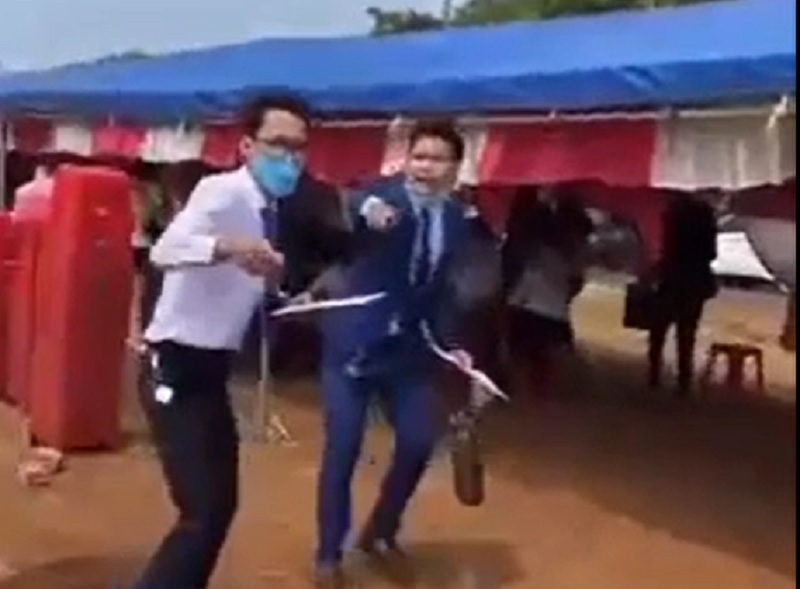 According to real estate experts, the "peg" clips are just a way to attract ignorant buyers, creating a virtual market (Photo cut from the clip)
After noisy brokers running like enemies to secure land in Binh Phuoc, recently a clip of hundreds of people gathered in a plot of land in Ha Xa village, Trieu Ai commune, Trieu Phong district, Quang Tri province to "fix". Land appeared on social networks, continuing to stir up public opinion.
In this clip, many people gather on a concrete road, located deep in a low hilly area, dotted around with tombs and forests, next to an empty land that has been leveled and marked with concrete stakes. cardboard. Rows of motorbikes and cars were parked all over the road.
Then a broker read aloud: "Hello, lot 479…" and then paused to wait for someone to close. Then, every few minutes, readers bid again, the highest is 790 million VND/lot and the lowest is 650 million VND/lot. And quickly after just over 2 hours, all 12 plots of land were closed.
According to a resident in Ha Xa village, most of the people present in the clip are "land storks" who want to buy land to resell and benefit quickly.
Exchange with VietNamNetMr. Le Hai – Chairman of Trieu Ai Commune People's Committee said that the land area above 1,500m2 was granted a land use right certificate in 1999 for a household in Ha Xa village, including long-term residential land and garden land. This land plot was then converted to residential land and divided into 3 parcels, transferred to many people.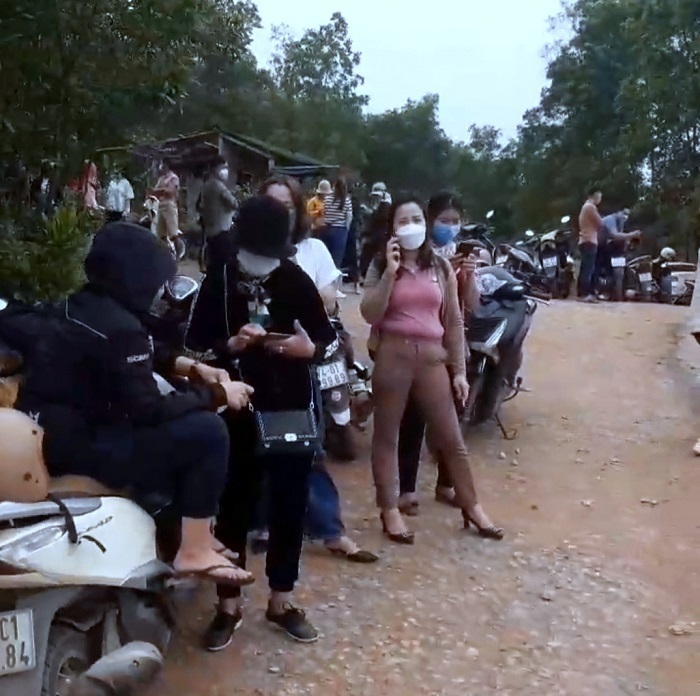 Buying and selling land is like a festival in Quang Tri (Photo cut from clip)
"Recently, the land users leveled the ground, planted stakes to demarcate the boundary, the distance between the stakes is 5-6m along the road, numbered from 1 to 12. The law does not prohibit people from buying. , selling land with legal papers but arbitrarily dividing plots, selling plots without completing the procedures for plot separation is against the regulations. We are contacting 3 land owners registered in the Land Use Right Certificate issued by the competent authority to clarify the case", said Mr. Hai.
Fixing the law of storks, all the doors are in chaos
According to real estate experts, the clip closing a stake in Binh Phuoc or Quang Tri is just one of the ways to attract ignorant buyers, create a virtual market, and entice gullible investors.
In addition, it can be seen that the trick of the land stork is to buy ready-made land near the area to be auctioned, then participate in the auction, paying a very high price, several times the starting price to create a new price ground. As soon as the auction is over, they sell the plots of land they bought before, then put down the deposit.
In some provinces such as Ha Tinh, Nghe An, Quang Tri, etc., in the past time, land fever is raging, including the phenomenon of land storks blowing prices, creating virtual waves in real estate prices, causing turmoil in the market.
Discussing this issue, Mr. Nguyen Manh Khoi – Deputy Director of the Department of Housing and Real Estate Market Management (Ministry of Construction) said that the land fever situation has many causes, including brokerage price stimulation, pushing prices up. to "warm up" the market.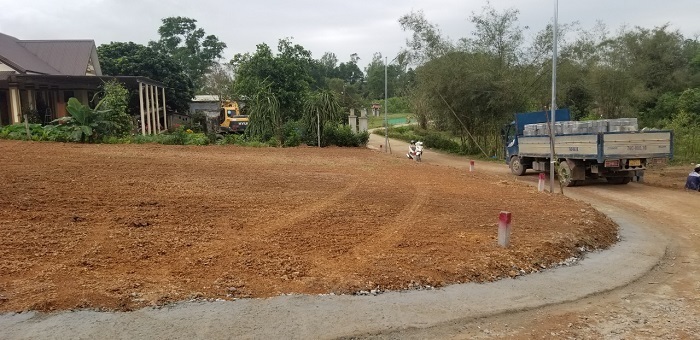 12 plots of land in the countryside of Quang Tri were divided by the investor and sold the ground "closed" after just over 2 hours
"Understanding the above situation, the Ministry of Construction has sent many documents to localities. From there, it is recommended that localities strengthen inspection, supervision and handling. In order for brokers not to take advantage of heating up the market, must disclose information in a timely manner", Mr. Khoi emphasized.
According to Mr. Khoi, brokers often take advantage of unclear and inaccurate information to stimulate prices. Therefore, it is necessary to speed up the provision of public information, to ensure that people and customers can access accurate information, know where to do the right thing, where there is a legal basis, where to do it wrong. .
Recently, Decree 16/2022/ND-CP (referred to as Decree 16) "Regulations on administrative sanctions on construction" officially took effect from January 28. Decree 16 replaces Decree 139/2017/ND-CP (2017) of the Government and Decree 21/2020/ND-CP (2020) of the Government amending and supplementing a number of articles of Decree 139 which stipulates a series of brokerage violations real estate be administratively sanctioned, and the handling of violating brokers will be increased.
According to Mr. Khoi, the Ministry of Construction is submitting to the Government to amend Decree 117 on construction, management and use of information systems on housing and real estate market. In which, there are regulations for localities to provide information on how to communicate from localities to the Ministry, thereby providing more timely and accurate information.
"The most important thing is that the information must be quickly. In which at least there is information about project planning, projects are eligible to be sold. Along with that, there will be stricter management regulations than brokers. ", Mr. Khoi emphasized.
Recently, the Government agreed to develop the Law on Housing (amended) and Real Estate Business Law (amended), will be submitted to the National Assembly at its Fourth Session, October 2022. In particular, for the Law on Real Estate Business, the Government requires perfecting policies on real estate business to ensure market principles, avoid arising procedures and costs for real estate transactions, in which, pay attention to carefully evaluate business conditions, exchange transactions, real estate brokerage, credit, taxes, fees, … to regulate the market, avoid creating more procedures, intermediaries, influence Regarding the business autonomy of enterprises, the ownership rights of people have been protected by law, creating a legal framework for the healthy and stable development of the real estate market.
Land plots are showing signs of 'virtual price fever' and speculation
Commenting on Vietnam's real estate market in 2022, Mr. Le Hoang Chau, HoREA Chairman said that this year, the real estate market will be directly affected by political instability and international trade disputes. Our country's economy is increasingly integrating deeply into the global economy.
Notably, right in the first two months of 2022, the phenomenon of "virtual land price fever" coupled with "speculation" activities has shown signs of returning. Therefore, HoREA recommends that localities should pay attention to drastic and timely handling of "traders", "land storks", "house storks", "dishonest" businesses to prevent negative consequences. to the healthy, stable and sustainable development of the real estate market.
Conveniently style
You are reading the article
Fixing the law to quell the riots and blowing the price to close a deal to pocket billions of money

at
Blogtuan.info
– Source:
vietnamnet.vn
– Read the original article
here