Công nghệ
For the first time, a Vietnamese enterprise consults on digital transformation for a foreign country
FPT has signed a cooperation agreement to promote national digital transformation and digital workforce training for Sierra Leone – a country in West Africa.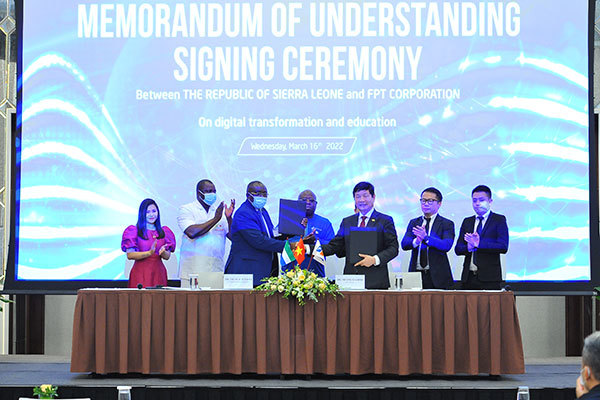 FPT has signed a cooperation agreement to promote national digital transformation and train digital human resources for Sierra Leone.
On March 15-16, 2022, during his official visit to Vietnam, the President of the Republic of Sierra Leone Julius Maada Bio visited and worked at FPT, discussing the policy of promoting cooperation in the field of transformation. number. At the same time, Mr. Jacob Jusu Saffa, Minister and Chairman of the Office of the President representing the Government of Sierra Leone and FPT Chairman Truong Gia Binh signed a cooperation agreement to promote national digital transformation and digital human resource training. for Sierra Leone.
With the focus of cooperation is consulting on total and comprehensive digital transformation of the socio-economy and improving the quality and diversification of digital human resources. FPT hopes to contribute to the goal of helping Sierra Leone become a stable developing country like the Mid-term National Development Plan for the period of 2019 – 2023.
On the morning of March 16, 2022, FPT signed a digital transformation consultation agreement for the Government of Sierra Leone. This is also the first time that FPT has signed a cooperation agreement to promote national digital transformation for a country outside of Vietnam.
Sharing about the cooperation agreement, Mr. Truong Gia Binh, Chairman of FPT, said, it can be said that the Republic of Sierra Leone and Vietnam have a special friendship relationship. The two countries went through the same war. With innovation, Vietnam has risen, striving to become a digital, stable and prosperous country, pioneering in experimenting with new technologies and having many things that it can cooperate and share with Sierra Leone in many aspects. this.
Mr. Binh also emphasized two aspects in which Vietnam can cooperate and support the Republic of Sierra Leone, namely, high-quality education and training, and solving agricultural problems with technology. This is a great opportunity for technology enterprises and agribusinesses of Vietnam.
Under the cooperation agreement, FPT will coordinate with the world's leading consulting firms to consult the Government of Sierra Leone on socio-economic development strategies and digital transformation strategies. At the same time, FPT supports the Government of Sierra Leone in building a digital government, digital economy, and digital society. In the field of human resource training, FPT will provide high-quality Bachelor of Technology programs in Vietnam to talented students selected and funded by the Government of Sierra Leone.
As a country in West Africa, Sierra Leone has an area of ​​71,740 km2, GDP per capita in 2020 is 484.52 USD. This is also a country that has many similarities with Vietnam in terms of natural conditions and war injuries. Therefore, with 34 years of experience in developing key information technology systems in many important socio-economic fields and sectors of Vietnam and experience in implementing large global projects, FPT hope can make an important contribution to the stable development of this West African country by technology.
The Government of Sierra Leone's Medium-Term National Development Plan 2019–2023 sets out short- and long-term development goals with a commitment to a stable democracy. According to this plan, within the next 5 years, the Government will place top priority on free training programs to provide a solid basis to enhance human resource development and facilitate the promotion of human resources. transformation of the economy. The country's Digital and Innovation National Strategy for 2019-2029 focuses on delivering the best value to all Sierra Leones. Sierra Leone's digital and innovation national strategy focuses on three key pillars: digital identity, digital economy and digital government.
As a pioneering technology corporation in the IT field, rich in experience in consulting and implementing digital transformation projects, for many years, FPT has been accompanying to promote overall and global digital transformation. representing the Government, leading organizations and businesses on a global scale.
In Vietnam, FPT is consulting and supporting 40 provinces and cities for comprehensive socio-economic development through consulting on socio-economic development planning, digital transformation strategy, training on change of perception. digital transformation on a large scale….
In the world, for the first time after nearly 15 years of opening an office in Singapore, FPT has just signed a contract with a scale of 40 million USD in 2 years, focusing on digital transformation projects of the government sector to develop the international model. increment.
In the field of training, FPT Education Organization – FPT Edu has expanded to all levels of education with the recognition of training quality coming from the ranking tables and prestigious international education evaluation organizations. such as QS Star, ACBSP, Eduniversal, CDIO, ASOCIO…
FPT Education Organization – FPT Edu has contributed to providing high-quality human resources for the domestic and foreign human resource markets. Along with a system of training facilities located in 10 provinces and cities nationwide, FPT Edu also cooperates with 180 international partners from 40 countries around the globe.
According to research by the World Bank, in order to improve the socio-economic situation, the Government of Sierra Leone, a number of measures that need to be prioritized for structural reform and economic diversification are digitization of the economy. economy, improve the business environment, strengthen governance and institutions, improve agricultural productivity, etc.
Research by Fitch Solutions expects Sierra Leone to record 4.8% GDP growth in 2022, thanks to measures to limit the impact of Covid-19 and the consolidation of labor market conditions, boosting labor market conditions. boost household consumption.
Nguyen Thai
You are reading the article
For the first time, a Vietnamese enterprise consults on digital transformation for a foreign country

at
Blogtuan.info
– Source:
vietnamnet.vn
– Read the original article
here