Giải trí
Xem ăn chơi
Head back to Quang Nam to try 8 amazing signature dishes, many of which have been praised by international newspapers
kuang noodles
Quang Noodles is the most famous dish in Quang Nam. There is no street, no corner that does not sell Quang noodles. It's a shame that tourists don't enjoy this dish when they come here.
The noodles are made from rice paper sliced ​​into fibers, soft and chewy. Various broths, processing many different ingredients such as: chicken, eel, cork fish, frog, beef, shrimp, crab … Eat Quang noodles are indispensable for grilled rice paper, chili, lemon, peanut, cup Pure fish sauce, side dish Raw Vegetables. The raw vegetables are elaborately prepared, requiring up to 9 kinds of raw vegetables: split kale, bean sprouts, spicy cabbage, banana… Maybe so, when eating noodles, there is no boredom or dryness even though there is a little broth, Quang's bold taste, delights tourists .
Cau Mong pot
The "Cau Mong veal" brand was built over a very long time, and has existed and thrived until now because of its unmistakable taste and bold central identity. The calf selected for spinning should be a young calf, weighing around 25kg – 35kg, it is especially important to choose calves raised in plains grazing on grass. When boiling beef over charcoal fire, it should be cooked over medium heat so that the inside is tender and sweet, and the outer skin is yellow, so the meat is crispy and tasty.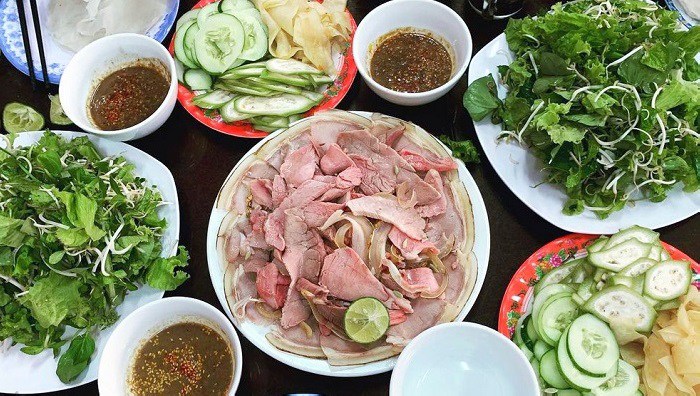 The veal is cut into thin slices, evenly arranged on a large round plate. Veal is served with soft rice paper rolls like pork rice paper rolls, besides that it is also served with rice paper (rice paper). The main ingredients that determine the success of Cau Mong beef are the sauce and raw vegetables. The dipping sauce should be made from premium female fish sauce made from anchovies and scad caught on the central coast. After the body is poured, strain the water and add the chili garlic, ground ginger, roasted sesame, lemon … according to taste. The raw vegetables for rolling rice paper with beef slices are also quite sophisticated, all kinds of rustic by the river.
tam ky chicken rice
Anyone coming to Tam Ky should not miss the chicken rice dish. The dish is prepared and served from rice and meat. Rice can be served as white rice or fried rice, fried rice and chicken are usually served as chicken thighs or wings.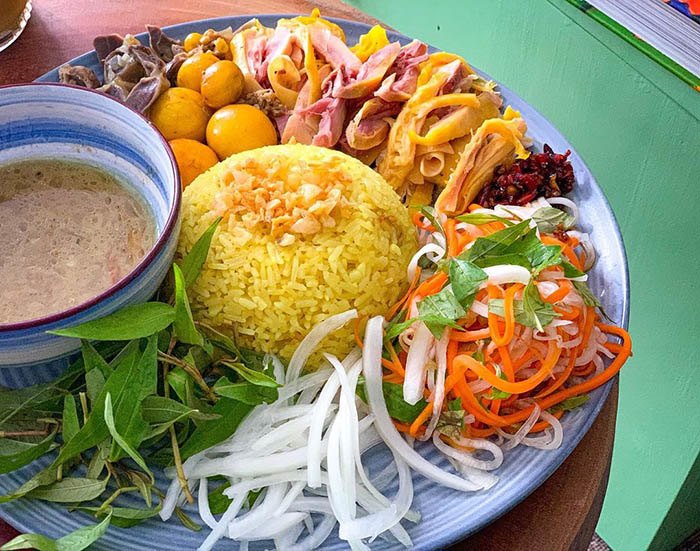 With culinary ingenuity and artistry, this place has crafted a delicious, spicy and spicy chicken rice dish typical of the Quang region that every visitor who tries it will always praise. And to process chicken rice in the Tam Ky area, the cook has to choose the chicken that we graze in Tam Ky, it's just that this type of chicken has soft, fragrant and fatty meat.
High floor
Cao Lau Hoi An has some similarities to Quang noodles but is processed more complicatedly. The heart of the Cao Lau dish is the sophisticatedly processed crispy golden noodles, must use cooked ash from Cu Lao Cham to soak the rice. Cao Lau doesn't need broth, but meat, drizzled sauce, and beefy prawns. The raw vegetables served with Cao Lau were very simple, consisting of only 2 types of young cabbage and bitter vegetables. To add flavor to the dish, people add a bit of pork rind or a piece of dry box fried Cao Lau. Also, to get a bit of a Quang noodle-like taste, people add some crushed peanuts. When you eat Cao Lau, you will feel the crunch of the noodles along with the sweet, sour, spicy, bitter and spicy taste of raw vegetables mixed with crunchy fat shrimp.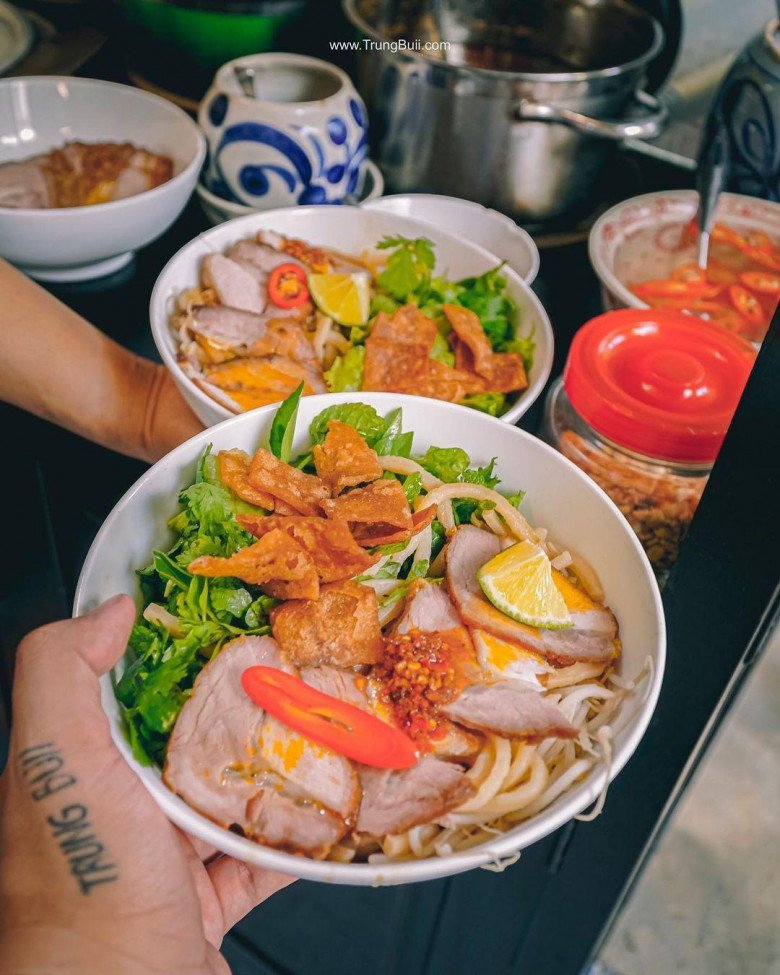 There are many places to sell upstairs, but only Hoi An can keep the old center taste. Cao Lau is like a part of holding the ancient soul of Hoi An, is a signature dish that every visitor should try when coming here.
Hoi An pounded rice paper
Paper rice tumpeng is a rustic dish that many people love. The ingredients are as simple as the name suggests, a combination of crispy thin rice paper, then spread the thinly layered leaf noodles on the rice paper, before eating, we have to lightly tap these two things with our hands. dipping sauce is the fish sauce itself that creates a unique flavor to the dish.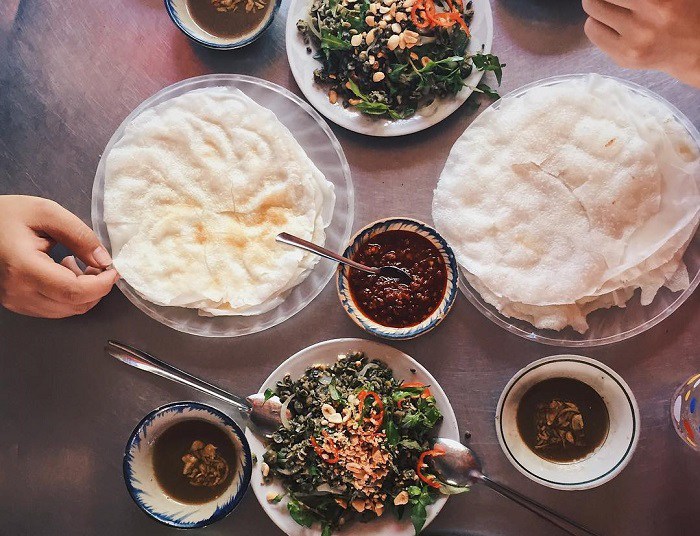 Two layers of thin, crispy rice paper are sandwiched between a layer of moist cake and a cylinder about 10cm in circumference. Don't rush the cake, but use your fists to beat the cake so that the baked rice paper crumbles and sticks to the wet cake layer. Because of this clarity, rice paper in Cam Nam village (Hoi An) is called mashed rice paper.
Sorry Hi An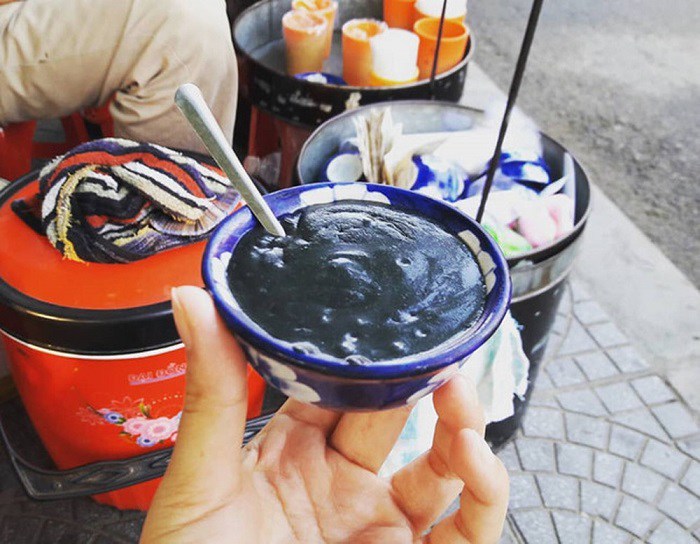 In Hoi An, people here are no strangers to "Xi ma" (also known as black sesame tea), an old town delicacy that you shouldn't miss. Strong tea with a distinctive aroma of black sesame mixed with medicinal leaves. Not only that, but it is also considered a natural remedy, very good for the digestive system. The toilet is kept in small bowls, but only spooned in the back so that the meal is not boring. Spooning a small spoonful into a hot toilet bowl and enjoying the sweetness sinking to the tip of the tongue is a feeling that there is nothing more wonderful.
Hoi An bread
When you come to Hoi An, start your day with a specialty bakery. The bread here is famous everywhere that every visitor should taste. Hoi An bread is unlike bread in other regions, rather long, flat and pointed at both ends. So when you put in the filling, the filling swells, the sandwich doesn't finish, making the bun look puffy, attractive and very eye-catching. Where, vegetables, avocado sauce, and Hoi An chili sauce are considered as ingredients that give the cake a delicious taste.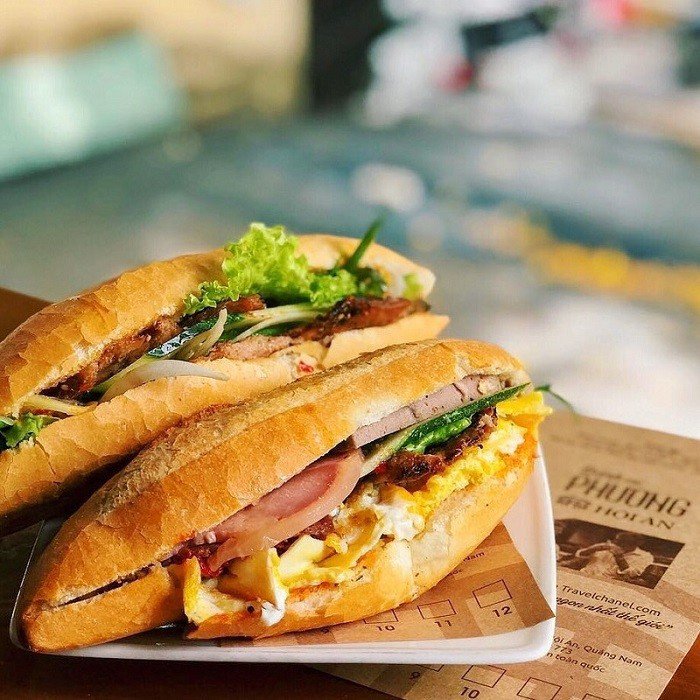 There's a famous bakery here: Madame Khanh, Phuong bread whose delicious taste has resonated far from the S-shaped country, which tourists pass by. It would not be wrong to say that Hoi An bread is rated as a favorite street food and the best bakery in the world.
Que Son cassava noodle soup
Many tourists who come to Quang country often find their way to Que Son, visiting the famous cassava noodle village in Que Thuan, Que Chau, Que Long, Que Phong, Dong Phu city… After harvest, cassava is peeled. slices to dry and use all year round.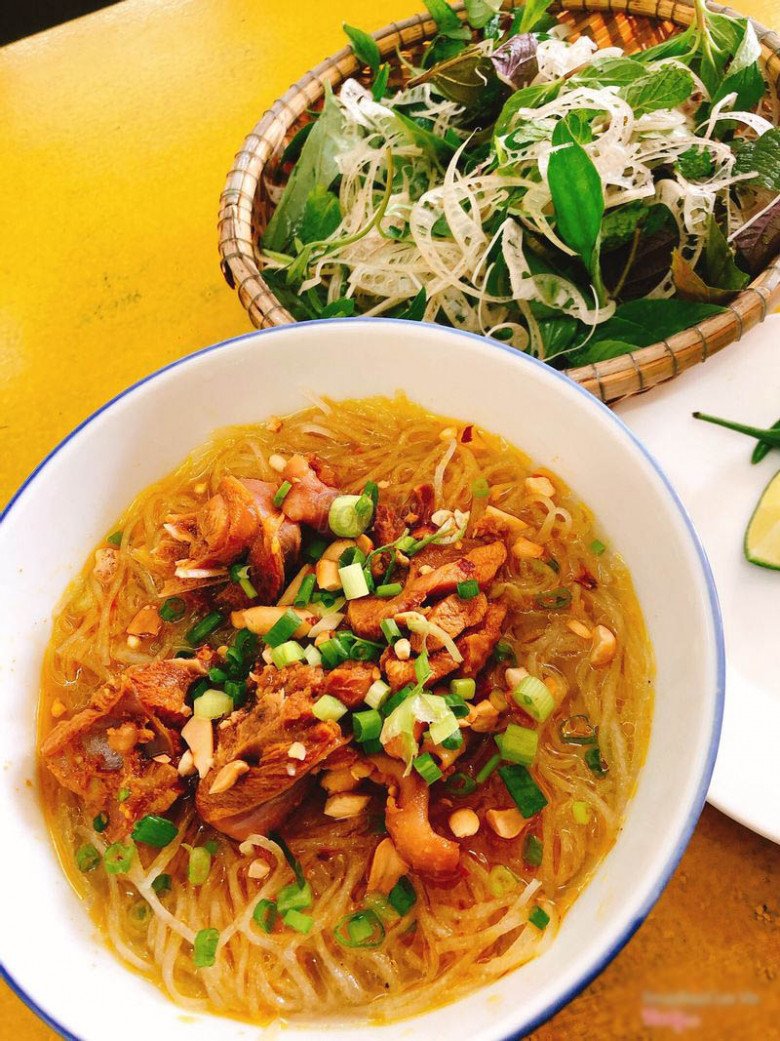 Que Son's cassava noodle soup is delicious, hard to confuse with a souvenir from the countryside as the ingredients are distilled from the essence of the cassava plant. From cassava soup, Que Son people can prepare many interesting dishes, where the unique recipe is a mixture of pho. The mixed cassava soup noodle has many different ways of processing, sometimes it is mixed with a few pieces of lean meat, fresh prawns and some seasonings; When you just need to soak the pho while it's soft, it's good enough with a lemon chili fish sauce and a dash of banana.
But the best is still the noodle soup. Chewy and fleshy taste of pho noodles; the sweet taste of snakehead fish; crunchiness of young banana vegetables; aromas of basil, cinnamon, perilla; The spicy taste of green peppers and peanut butter… All blend together to create a slightly distinctive taste.
You are reading the article
Head back to Quang Nam to try 8 amazing signature dishes, many of which have been praised by international newspapers
at Blogtuan.info – Source: Eva.vn – Read the original article here