Pháp luật
Husband poured gasoline to burn his wife alive before the divorce court date
Begging Ms. D. not to get a divorce, the 48-year-old man poured gasoline into his arms, hugged his wife, and then lit a fire to die together.
The People's Court of Son La Province has just opened a first-instance trial against defendant Tran Van Hoc (48 years old, living in Na Nguu commune, Song Ma district, Son La province) for the crime of "Murder".
According to the prosecution, despite having two children, between Mr. Hoc and his wife, Mrs. Pham Thi D., there were often conflicts and arguments because he suspected that his wife had another man.
Too suffocating, in March 2021, Ms. D. unilaterally applied for a divorce, and Mr. Hoc also moved out of the house.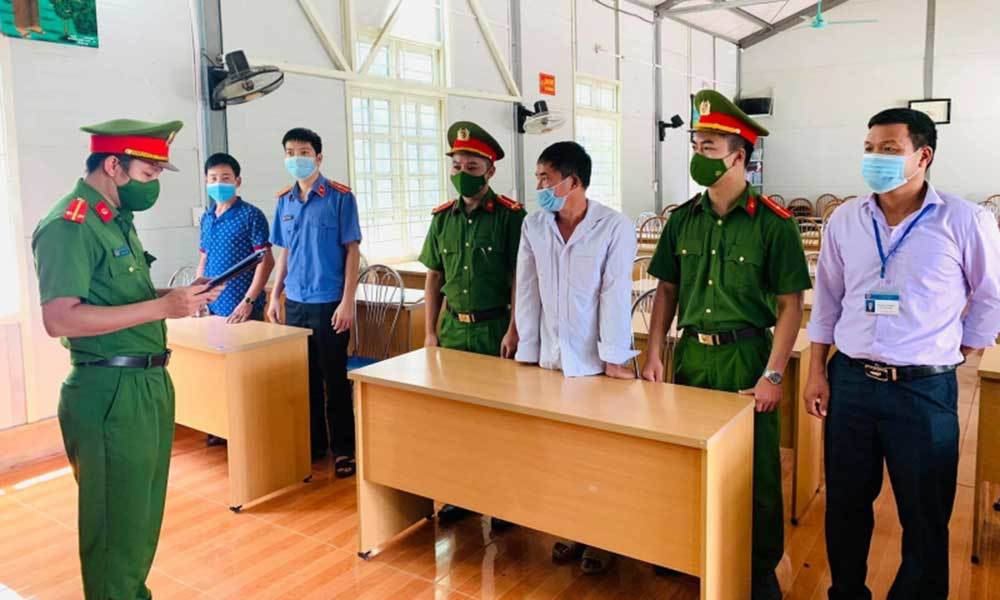 Defendant Tran Van Hoc when he was arrested. Photo provided by the police
Around 5:00 p.m. on April 4, 2021, this man went to buy about 25 liters of gasoline and put it in a can with the purpose of bringing it back and pouring it into the multi-purpose machine to dig the garden. On the way back, when he passed the house, Mr. Hoc saw his wife and grandson N. (shared child) at home, so he stopped by.
Seeing her husband, Mrs. D. turned around and said, "Tomorrow, I will be at the Court to deal with the divorce, the court has called", then went into the room to get some clothes to bring to Mr. Hoc.
At this time, Mr. Hoc said that he went to his grandparents' house to play so that his parents could talk to each other.
Only Ms. D. was in the room, Mr. Hoc asked his wife not to divorce, but his wife did not agree and ran out. Therefore, this man had the intention of dying with his wife, so he ran after him, hugged his wife's stomach with both hands and pulled him close to the motorbike.
Holding his wife with one hand, the other hand pulled the gas can, opened the lid and poured all the gasoline on the yard and lit it on fire. Next, this man used his hands to hold her tightly to prevent Mrs. D. from escaping. The two sides struggled, causing both of them to fall into a puddle of burning gasoline, Mrs. D immediately called N: "N.
Hearing his mother's cry for help, N. ran back, rushed in to pull his mother out, but was also burned by gasoline. Seeing that, Mr. Hoc released Mrs. D. and then swam across the river back home. Then, this man cut the wire to his head and committed suicide, being electrocuted and unconscious.
Discovering the incident, Mr. Hoc's brother and local people took this person and Mrs. D.'s mother and daughter to the emergency room. Fortunately, she still managed to keep her life, but Mrs. D. suffered severe burns and lost 78% of her health.
At the police station and at the trial, Mr. Hoc sincerely confessed his crime.
Considering that the defendant has a good character, has no criminal record, sincerely declares, repents, and has voluntarily agreed to compensate and remedy the consequences for the victim, the victim also has an application. Mitigating criminal responsibility for the accused, the trial panel sentenced the defendant to 14 years in prison.
Thanh Phuong
You are reading the article
Husband poured gasoline to burn his wife alive before the divorce court date

at
Blogtuan.info
– Source:
vietnamnet.vn
– Read the original article
here