Losing hundreds of millions in a blink of an eye
Luong (26 years old, in Nam Tu Liem district, Hanoi) is an office worker. Recently, Luong's job is quite comfortable, she has a lot of free time, so she wants to find another job to increase her income.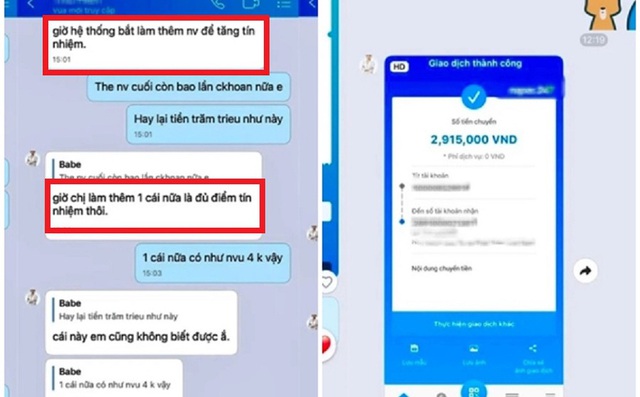 Seeing on Facebook that there is a post "recruiting collaborators for Shopee e-commerce site", the average salary is 4-8 million/month, Luong sent personal information to "consultant" named Thu Hien to register an account. . After that, Luong performs the task to receive a commission.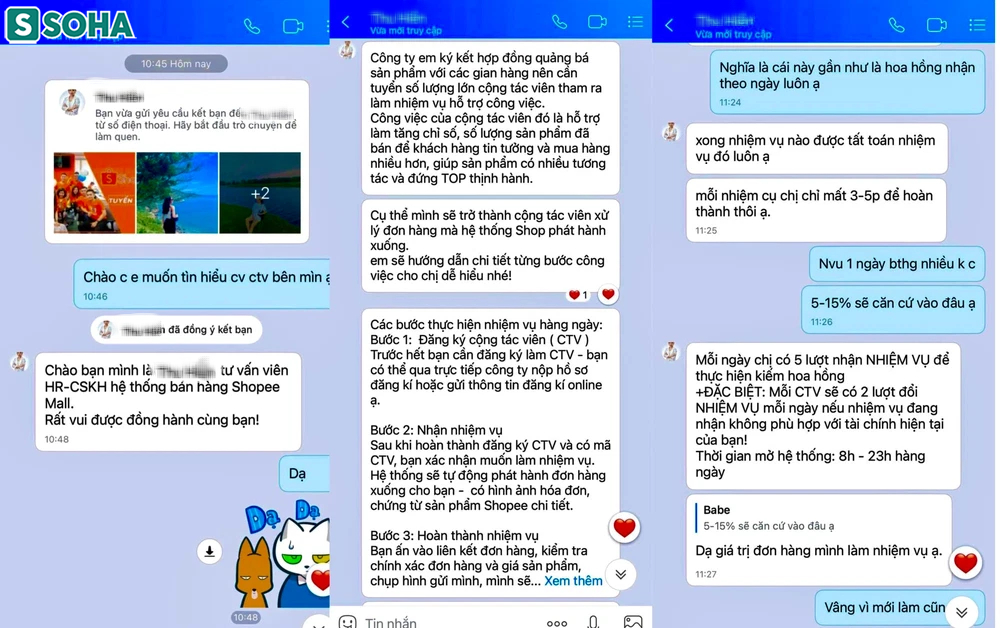 A person pretending to be an employee of Shopee advises on being a collaborator for Luong.
Every day, Luong is assigned 5 orders by the tour guide to pay and receive 5-15% of the single value. These applications are random, can be dresses, shoes or watches, perfume, value from 400,000 VND to 3-4 million. Or there are units worth nearly 30 million VND such as sofa sets, vacuum cleaners, motorbikes, …
"They sent me a link, this link is any product. I click on the link, then I have to pay, send it to a strange account. For example, the item is worth 30 million VND, I 30 million is deposited into their account," said Ms. Luong.
Ms. Luong sends money to the account number provided by the tour guide. Minutes after payment, they refunded, including principal and commission, some 5%, 10%, 15%,…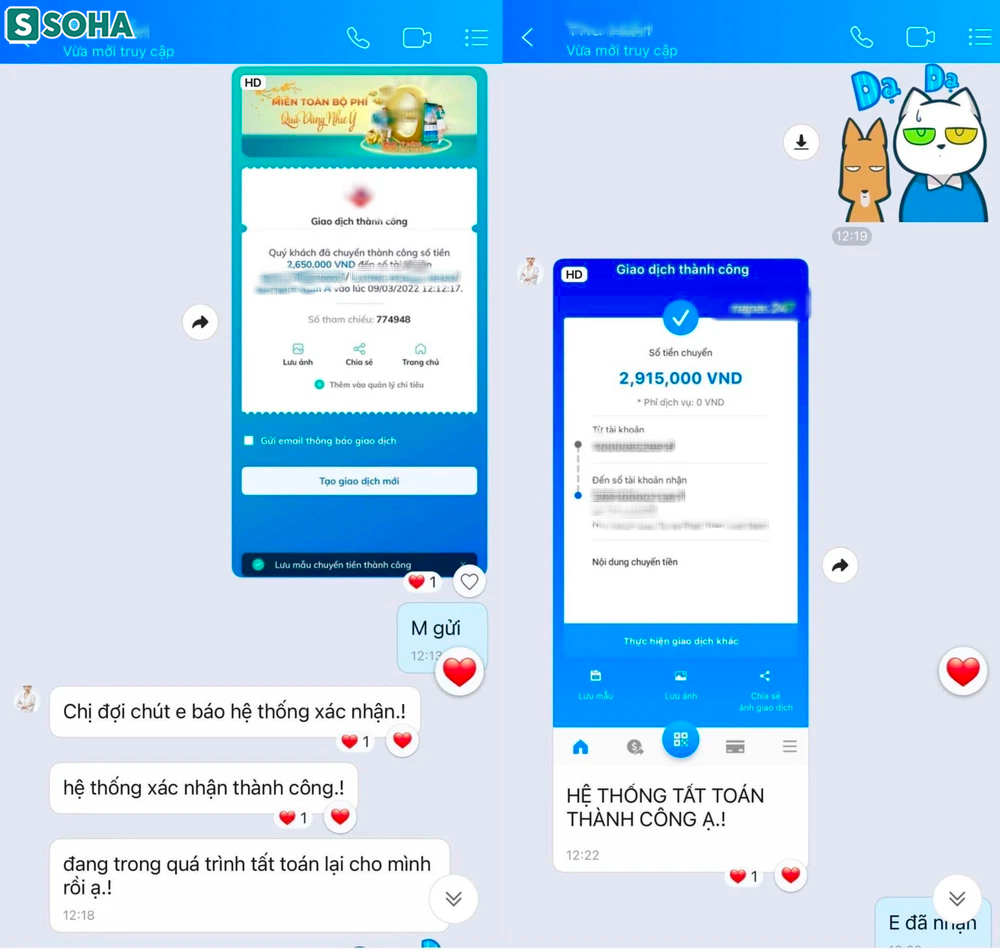 The first three times, Ms. Luong was refunded both principal and interest by the "fake Shopee" staff as committed.
"I paid the first 3 orders with low value and was refunded immediately after, earning a few hundred thousand profit. Seeing prestige should want to do more.
However, from the 4th order, the order value was getting higher and higher, the tour guide forced me to pay 3 orders at once, one for nearly 4 million, one for more than 20 million and one for more than 62 million, totaling more than 86 million. ", said Luong.
Ms. Luong now sells credit, but still tries to withdraw all the money in her savings account to complete the task. After she sent more than 62 million at this payment, the tour guide refused to return the principal and commission to her because "wrong content, the system cannot accept". Ms. Luong is now on fire because she lost 62 million in a flash.
The tour guide then asked her to continue to pay 62 million to be refunded. "If you skip the mission, you will have your deposit withheld. After 12 months, she went to the company's headquarters with papers to receive her money back, "said the instructor.
Lo lost everything, Luong borrowed money from friends and colleagues to continue sending back the 62 million, hoping to be repaid more than the previous 86 million. But after transferring the money, the tour guide said she could not be refunded because of "not enough credit". If you want to complete it, you must continue to do higher value quests.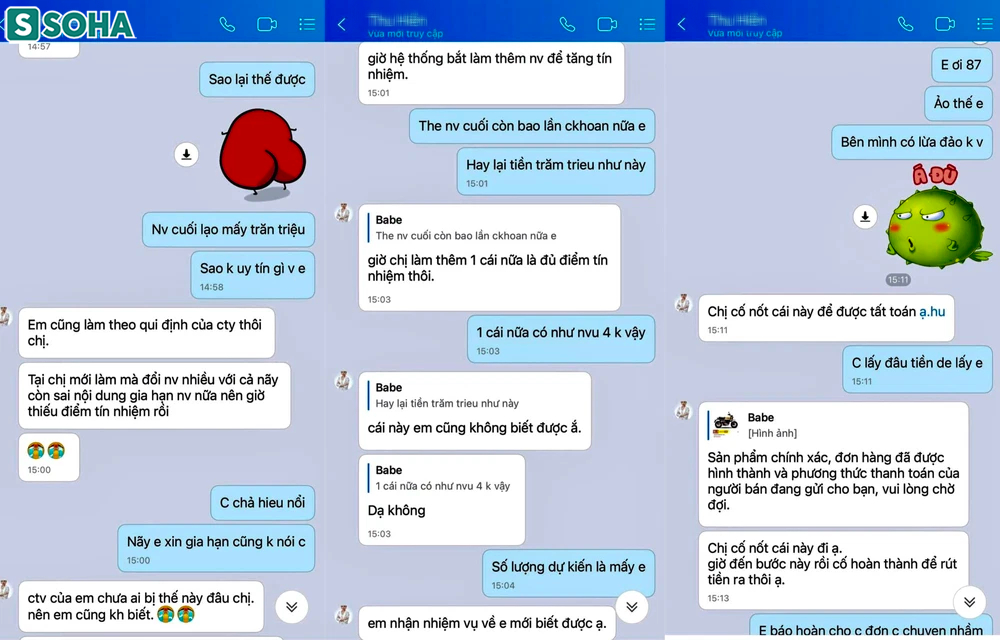 Ms. Luong was surprised when she was not refunded more than a hundred million because of "lack of credit score".
Knowing that he was cheated, Luong went online to warn everyone. According to Luong, at first, she thought they were from the "real Shopee" side, because they also sent the "business registration certificate".
"After that, I rushed to work, and even borrowed money from friends and colleagues for up to hundreds of millions. Just because of a temporary lust and then left with consequences I couldn't imagine. Money was lost, certainly impossible. I couldn't sleep all night, thinking about the debt I had in my head but didn't dare to tell anyone. Why are they the same people, but they are so virtuous?", wrote Ms. Luong.
Many people like Ms. Luong have fallen into this trick of people pretending to be people of Shopee.
Before that, on March 1, Ms. A (21 years old, in Hanoi) also received an invitation to be "Shopee's virtual order payment collaborator" and was promised 10% commission for each order. .
Ms. A. paid 5 orders, she was informed by the tour guide that the transfer was incorrect and asked to be fined to pay 2 more orders before she could withdraw the money. The total amount that Ms. A has paid is more than 50 million VND. When the tour guide asked for a fine of 67 million VND, Ms. A suspected that she had been cheated and went to the Police Department of Chuong Duong Ward, Hoan Kiem District, to report.
Trick "light work with high salary"
Currently on Facebook, there are many posts about recruiting collaborators to work from home with low salary. In which, there are many subjects impersonating famous e-commerce sites such as Tiki, Shopee, Lazada, and Sendo to post job vacancies.
In addition to posting on social networks, this group of scammers also texted people's phone numbers, claimed to be Marketing directors or employees of the above sites, recruited collaborators to participate in virtual purchases on websites. fake web.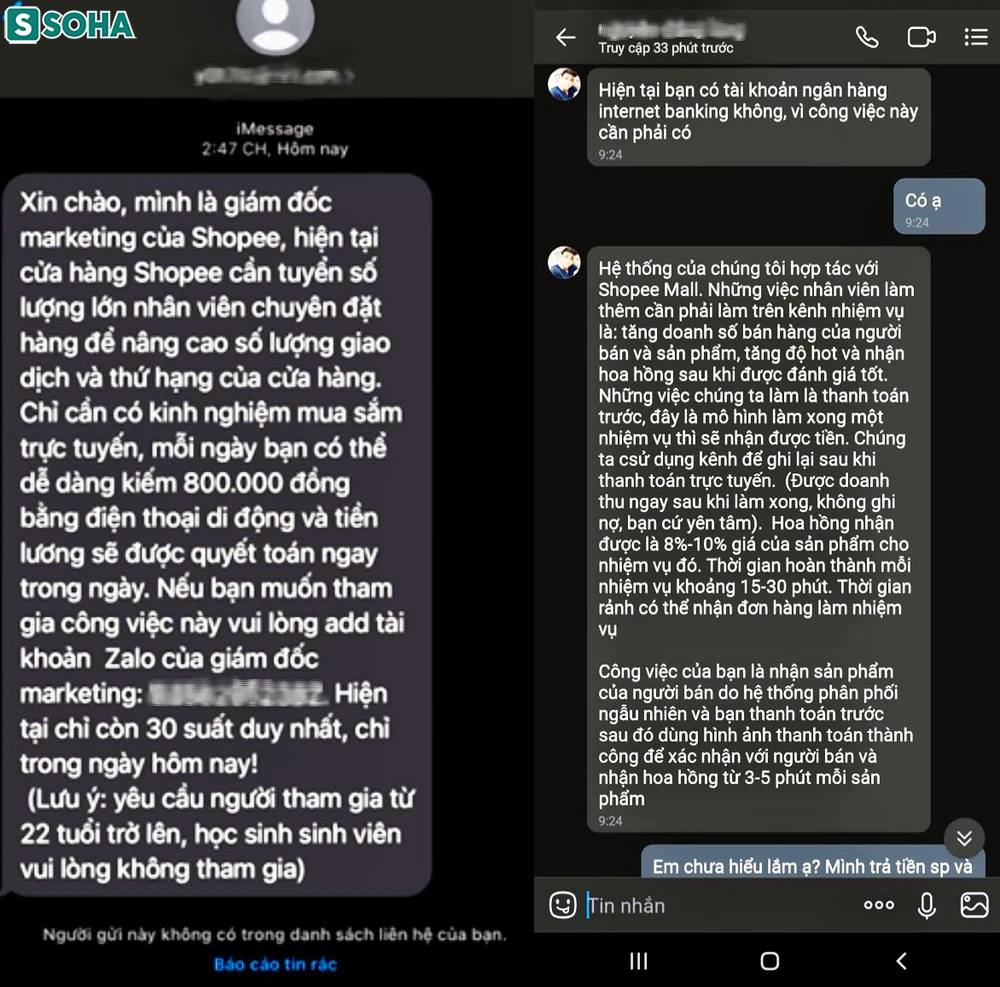 The fake Shopee employee message was sent to many people.
Participants must order the specified products and pay for them. According to the promise, after 3-5 minutes, the collaborator will be refunded the amount paid and rewarded with a commission.
At first, participants are refunded the bonus as advertised, but for tasks that need to deposit large amounts of up to tens and hundreds of millions, both principal and interest cannot be refunded. Some victims are refunded, but only the amount shown on the virtual account that cannot be withdrawn.
Talking to PV about this incident, the Shopee representative confirmed that there is no program to recruit collaborators.
"Objects pretending to be employees of the exchange to commit fraud. More sophisticatedly, they also forged seals and signatures of the executive director in commitments to pay commissions, business registration licenses, etc., in order to gain the victim's trust to take advantage of any real advantage. main.
The e-commerce platform has warned users about fraudulent cases of depositing and receiving commissions. Accordingly, users need to be careful about suspicious messages containing content impersonating recruitment.
We recommend that users quickly report to Shopee or the police when they notice suspicious activity. We are currently working closely with relevant parties to handle many similar impersonation cases," said the Shopee representative.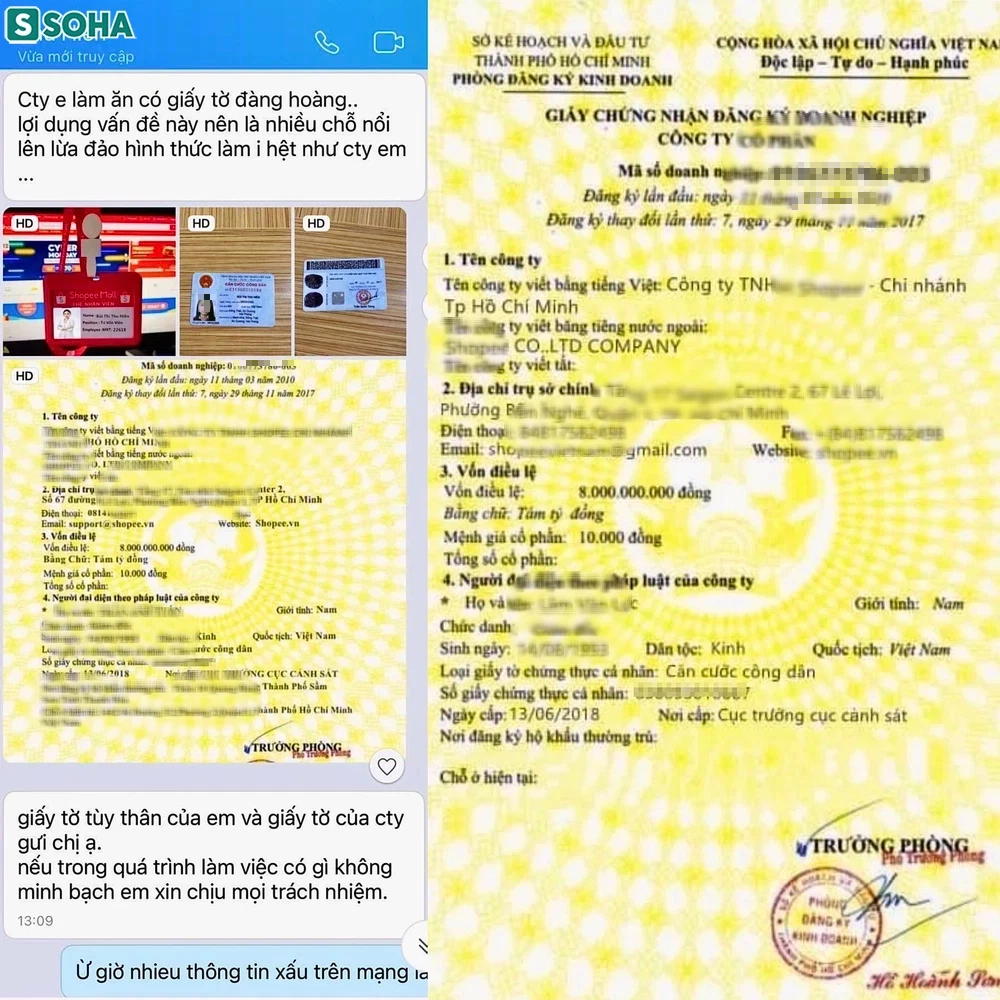 Scammers often send fake documents to gain people's trust.
Hanoi police have warned many times
Previously, on March 12, Hanoi City Police warned about scams in the form of recruiting collaborators to pay orders on Shopee. The police agency has repeatedly warned consumers to avoid "losing money" but this situation still recurs.
"The object's tricks are to impersonate employees of e-commerce platforms such as Shopee, Lazada, Tiki… and post advertising information to find online sales collaborators on social networks. Then the subjects fall in love. requires the collaborator to pay the order in advance to the company and will receive the principal back plus a 10-20% discount. However, after transferring the money to the company, the collaborator will not receive the money back. , Hanoi police said.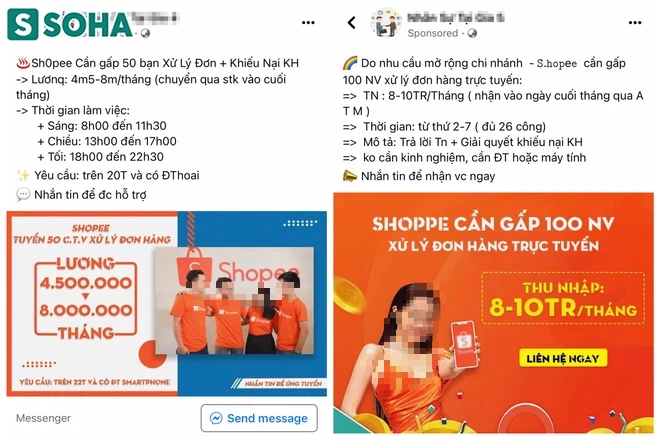 Many information find fake collaborators on social networks.
With the "bait" of attractive commissions, many victims have fallen into the trap, especially women who are raising small children, currently at home without a job, or who need to sell online to earn extra income.
In order to actively prevent crime, the Hanoi Police Department asked people to raise their vigilance. When working as collaborators for companies, businesses, goods and service suppliers, people need to clearly check the information about goods and suppliers through many different sources, to verify. accuracy. When detecting cases of fraud, people should immediately report to the police agency to quickly verify, prevent and handle violators in accordance with the law.
"The maximum penalty is life imprisonment"
Talking to reporters, lawyer Phan Ke Hien, Bao Tin Law Firm said that bad guys often hit people's desire to make quick and easy money to cheat.
"Taking advantage of the epidemic situation, the difficulty and awareness level of some people, the bad guys have been deliberately committing fraud with sophisticated tricks through social networks, causing many people to lose money. .
In case people have already joined the scam system and know they have been scammed, please stop transferring more money to any account. After that, people should collect and copy documents, transactions, account statements, messages, or calls made with the scammer to bring to the competent authorities to report," the lawyer said. Hien said.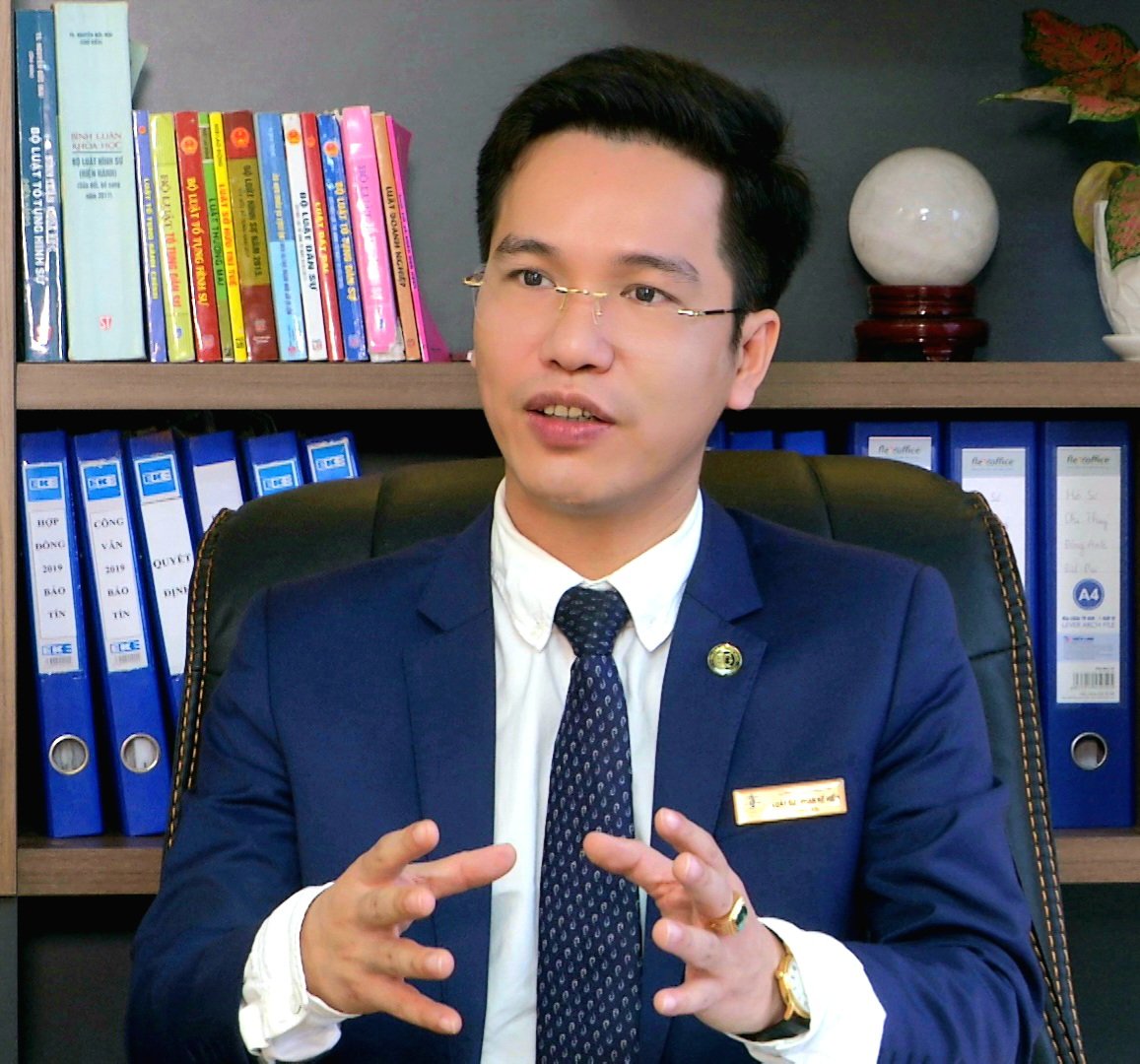 Lawyer Phan Ke Hien, Bao Tin Law Firm.
Regarding the sanction, depending on the amount of money appropriated by the object, there is a corresponding administrative or criminal penalty frame.
With the sanction of administrative violations, according to the provisions of Clause 1, 2, Article 15 of Decree No. 144/2021/ND-CP, anyone who uses deceitful tricks to cause damage to the property of the organization Other organizations and individuals will be fined with a minimum of 2 million VND and a maximum of 5 million VND.
Regarding criminal handling, fraudsters can face non-custodial reform for up to 3 years or imprisonment from 6 months to 3 years, according to Article 174 of the 2015 Penal Code as amended and supplemented in 2017. If the property value is 500 million VND or more, the penalty frame is from 12 to 20 years or life imprisonment.
https://soha.vn/co-gai-o-ha-noi-bi-lua-hon-100-trieu-chi-trong-nhay-mat-toi-khong-the-tuong-tuong-duoc-20220314141552529. htm
https://soha.vn/co-gai-o-ha-noi-bi-lua-hon-100-trieu-chi-trong-nhay-mat-toi-khong-the-tuong-tuong-duoc-20220314141552529. htm?fbclid=IwAR1nZCuYUfVyndCpkYeAJ0kHE7Kcr8imPE1QIBGuywSCjYvxH5QM0Q4EC4Q
You are reading the article
I can not imagine!

at
Blogtuan.info
– Source:
genk.vn
– Read the original article
here