Games
Mobile & Social
In the hands of Dark Nemesis, the dark universe brings revolution to the MMORPG series
Before being officially released, Dark Nemesis had already attracted more than 2 million pre-registrations. Besides, with a series of great rewards waiting for gamers on the occasion of Open Beta, it is also a great gratitude gift for the community when starting the adventure journey in the dark universe of Dark Nemesis. The game's Open Beta rewards will include: Class A Spirit; Type A Symphony Wings… when gamers complete the Open Beta series of tasks such as operating for 7-14 days in a row…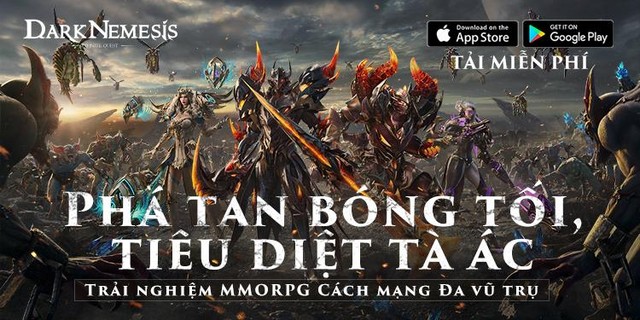 One of the factors that made Dark Nemesis so attractive to gamers in the early days of its launch was the extremely valuable rewards. In which, it is impossible not to mention the Video Content and Lucky Wheel events. Specifically with the Video Content event, you can follow Dark Nemesis' facebook page for more information.
There are three prizes for this Event: Favorite Prize, Organizer Award and Lucky Prize. By enhancing your experience in the game, everyone has a chance to win great prizes.
The Popularity Award is chosen based on the video's count of each experiment * YouTube views and topic relevance;
Organizing Committee Award selected by the Event Organizing Committee according to the criteria of creative features, quality and effects of the video; and the Lucky Prize selected at random by the organizers.
Players who win the Popularity Award and the Organizing Committee Award will receive a real-life gift card, plus a chance to win S+ Servants and Diamonds!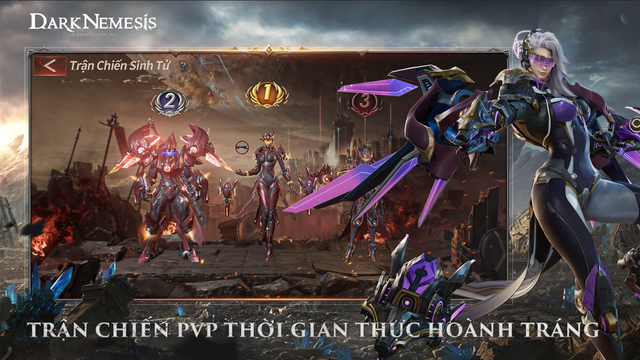 About the Lucky Wheel event: During the event, users can get Crystal Shards by completing the Quest Login, viewing Quests, Tracking Quests, Sharing Missions, and submitting completed Quests. At this event, the sequence of Lucky Wheel tasks is also very simple. Gamers only need to perform activities such as logging in to the event page, watching and liking the event video on YouTube; Like the game's Fanpage; Share events and invite friends… can get from 1 to up to 10 Crystal Shards.
About activity rewards. When reaching a certain number of active days, rewards in Dark Nemesis will be given to the player including many valuable items: Spirits, Wings and Servants. Specifically:
7 Days Carnival: Free Sphinx (Type A Spirit)
Active for 7 consecutive days: Class A+ Symphony Wing)
Active for 14 consecutive days: Free Imp (A + Servants).
Dark Nemesis – The perfect combination of plot, graphics and sound
Dark Nemesis: Infinite Quest officially reached Vietnamese gamers on March 15, and gamers can completely experience this Western mythological role-playing game for free.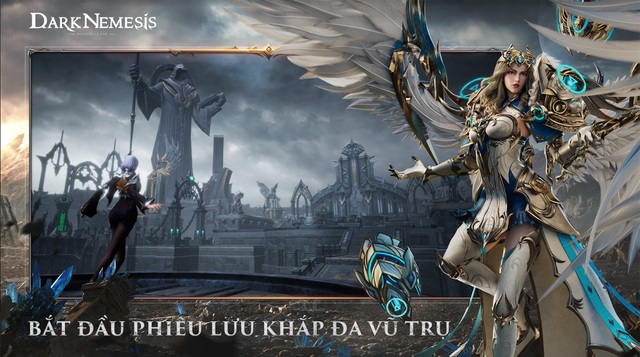 In Dark Nemesis, there is a deep storyline, each branch of the universe creates different directions for gamers to explore. In that multiverse world, players will have to face countless challenges and good and bad relationships, creating a diverse and rich ecosystem. Do not forget that the role-playing gameplay with bold action style is also a huge plus point of this game. This game is the sequel to Legacy of Discord – Furious Wings and especially the music was created by famous musician Neal Acree who worked for World of Warcraft, StarCraft II, Diablo III before.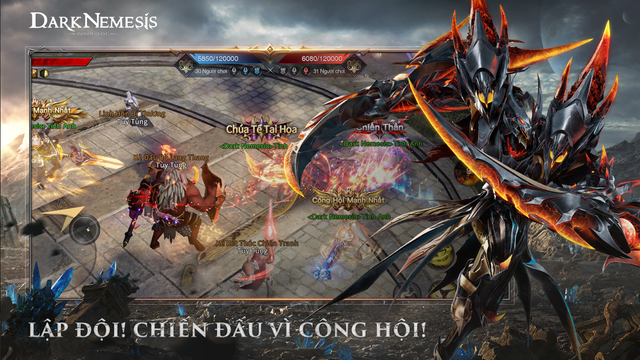 Adventure in the multiverse – The concept that seems only on the screen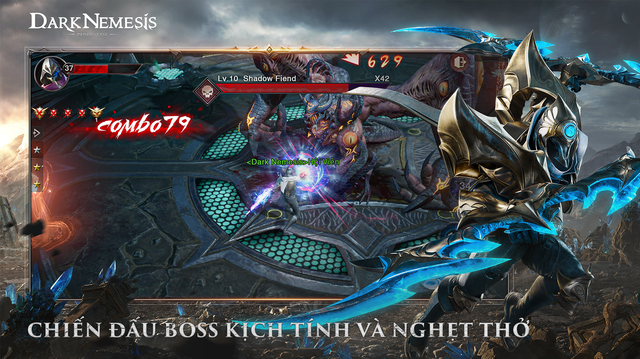 As an MMORPG product, of course the PvP modes are the element that gamers expect the most. The mortal battles in Dark Nemesis are held in real time with a large player system that will bring a sense of drama to players. And yet, Dark Nemesis also offers a diverse gameplay ecosystem when a limited-time Battle Royale survival mode has been released and is waiting for players to take on the challenge! In addition, features such as Team Building, Guild, Boss Fight… also contribute to the richness of Dark Nemesis' gameplay.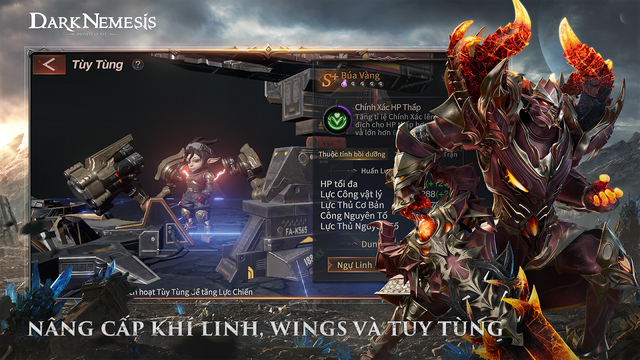 In the world of this game, gamers will role-play into four classes with four different roles including Warrior, Gunsinger, Assassin, Mage. Each role will own unique skills and promote specific advantages in combat. Along with that, the diverse equipment system will help gamers get a sense of sublimation when personalizing themselves into each of their characters.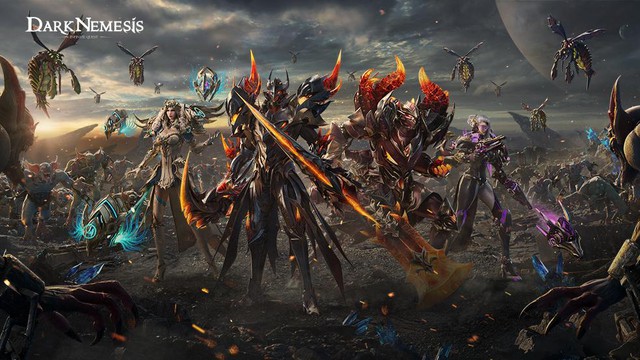 An interesting detail called Spirit will appear in Dark Nemesis, a special equipment system only available in Dark Nemesis. When the Air Spirit is in its original state, it is used for riding to increase movement speed. At the same time, the Spirit can also transform into a weapon, depending on the role of the player, the Spirit will transform accordingly.
summary
It is not an exaggeration to say that this game brings the role-playing genre to a different level in terms of plot content, graphics and gameplay. What for many years thought that the Vietnamese role-playing game village had entered the rut with the simple swordplay and fairy tale genre. From the dark multiverse, excellent 3D graphics, diverse character system and equipment to the exclusive Spirit … has really created a quality and popular role-playing product in the Vietnamese game market for months. early 2022.
For more detailed information, users can learn at:
Download Now: https://wings.onelink.me/g9xA/b733e514
Official Website: https://darknemesis.hhgame.vn/
Facebook: https://www.facebook.com/DNInfiniteQuestVN
Facebook Groups: https://www.facebook.com/groups/2047892508678240
Youtube: https://www.youtube.com/c/DarkNemesisInfiniteQuest/videos
Twitter: https://twitter.com/DarkNemesis_iq
Discord: https://discord.gg/JQju2djwMJ
Reddit: https://www.reddit.com/r/DarkNemesisIQ/
Whatsapp: https://chat.whatsapp.com/BFLnL9z4yCr2IuhdXLrtNe
Instagram: https://www.instagram.com/darknemesisiq_official/
You are reading the article
In the hands of Dark Nemesis, the dark universe brings revolution to the MMORPG series

at
Blogtuan.info
– Source:
gamek.vn
– Read the original article
here