Kinh doanh
Large ship lying ashore, helpless fishermen look at the 'gold mine on the seabed'
The high price of gasoline causes each ship to go to sea to make up for a loss of hundreds of millions of dong. Many ship owners in Nghe An do not dare to leave the port, accepting to lie on the shore for a long time and wait at the seaport.
VIEW CLIP: The ship owner shared about the high oil price
These days, from Cua Hoi fishing port to TX port. Cua Lo (Nghe An), everywhere is packed with boats and fishermen's boats as if avoiding the rainy season. This is not a common natural storm, but a "gasoline price storm". Many ship owners who set sail for 1-2 trips at the beginning of the year had to cover a loss of hundreds of millions of dong in fuel costs.
The 41-year-old fisherman who has been clinging to the sea does not dare to go to sea
Mr. Tran Van Luong (SN 1970), a native of Quang Ngai, anchored at Cua Hoi port, said that his two ships were built in Nghe An in 2018, with a capacity of 1,300 CV, worth 15 at that time. billions dong. From the day it was launched until now, his fishing vessel has never had to make up for losses. Most of the sailing ships are profitable from the "undersea gold storehouse" of shrimp and fish with full compartments returning to shore.
At the end of January, two of his ships and 15 crew members went out to sea fishing. After 10 days of returning, each ship he had to compensate for a loss of 80 million dong in oil, excluding crew wages.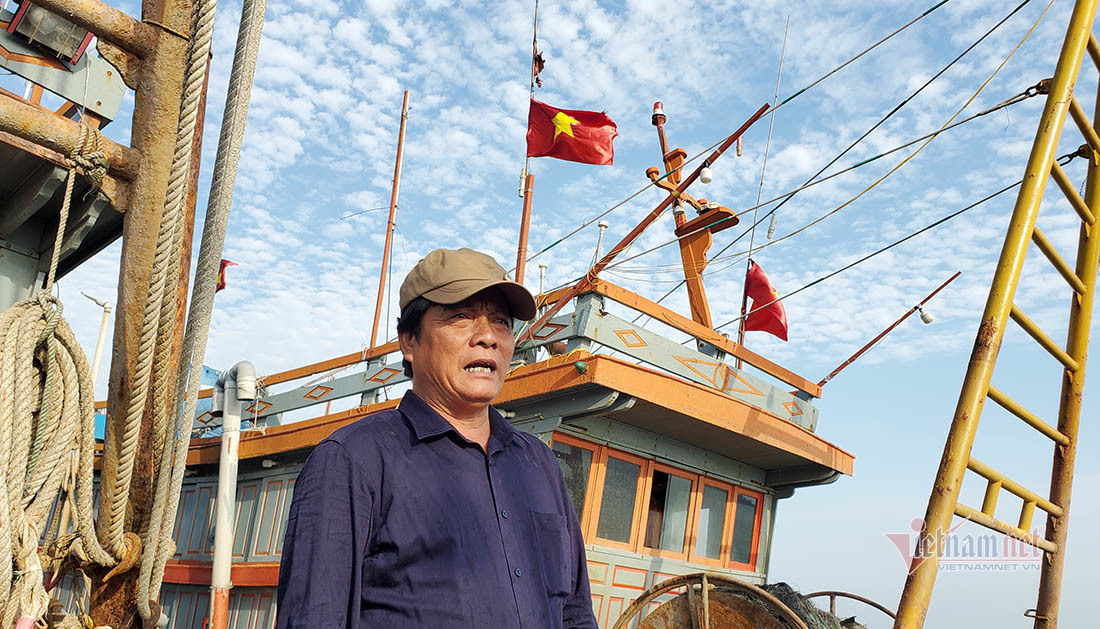 Mr. Tran Van Luong is worried when oil prices are high. Photo: Quoc Huy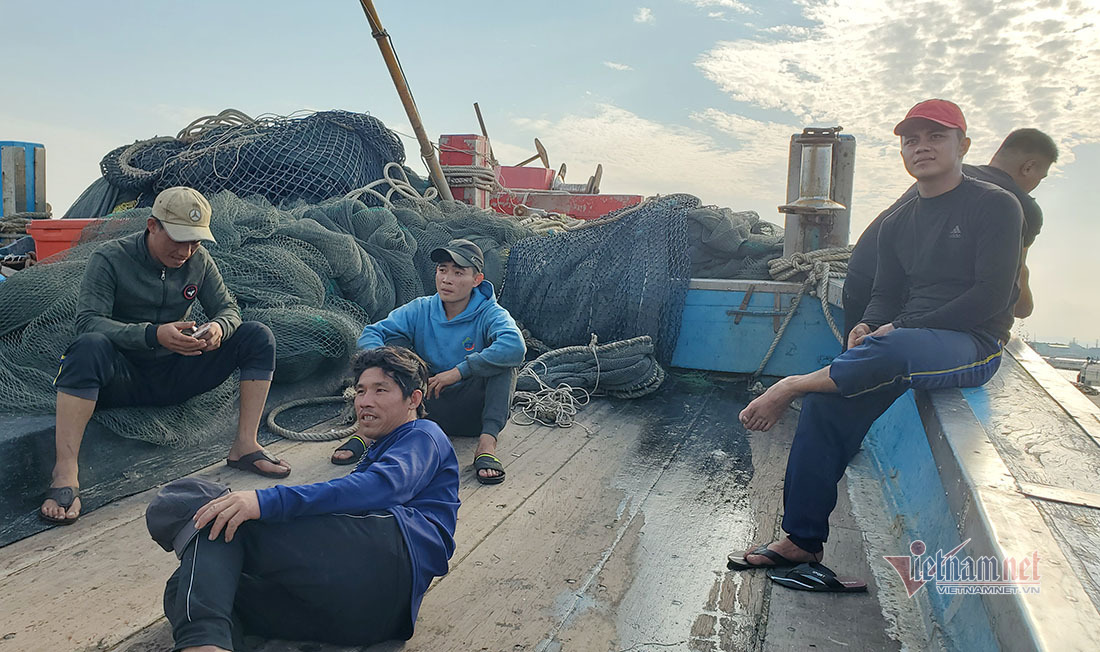 The crew members sat on the fishing boat
Every day moving at sea, his two ships consume about 2 tons of oil. Compared to 2021, the price of oil has increased by more than 4,000 VND/liter. It is calculated that every day, the ship owner has to compensate for the loss of 8 million VND. High oil prices greatly affect the income of ship owners and crew members.
"This season there are many jellyfish, so it is difficult to catch all kinds of fish. With current oil prices, a fishery economic crisis is certain. I have been in the industry for 41 years, but the price of oil has never been so high. Compared to 2014, the price of oil increased by 3,000 VND/liter, but at that time there were too many fish, which could make up for the loss, "- Mr. Luong recalled.
Currently, ships with large capacity and long sea voyages do not dare to leave the port. Most ship owners who go out to sea pay for the oil in advance to sell fish and pay later. In 10 days of traveling at sea, Luong's fishing boat consumed about 450 million VND of oil and nearly 100 million VND of other expenses.
"Each ship that only runs in and out of the fishing area has consumed 70 million dong of oil. Running away costs oil, the products we make in and out of the water can't be sold. Our ship decided to lie down. Back to Cua Hoi port, wait for the goods to rise to a stable price before going to sea," he confided.
Mr. Luong hoped that the State would take measures to compensate for losses for sustainable development of fisheries. For the past two years, the Covid-19 epidemic has made it impossible for goods to be exported. Meanwhile, the bank's interest has not decreased, if not supported he will have to hand over the ship to the State.
Income is affected
Crew member Nguyen Thanh Len (SN 1983) said, with 16 years of following a fishing boat at sea, there has never been a year where the first boat trip was as hard as it is now. The source of income of the brothers decreased due to the high oil price, while the family, wife and children were counting on this source of money.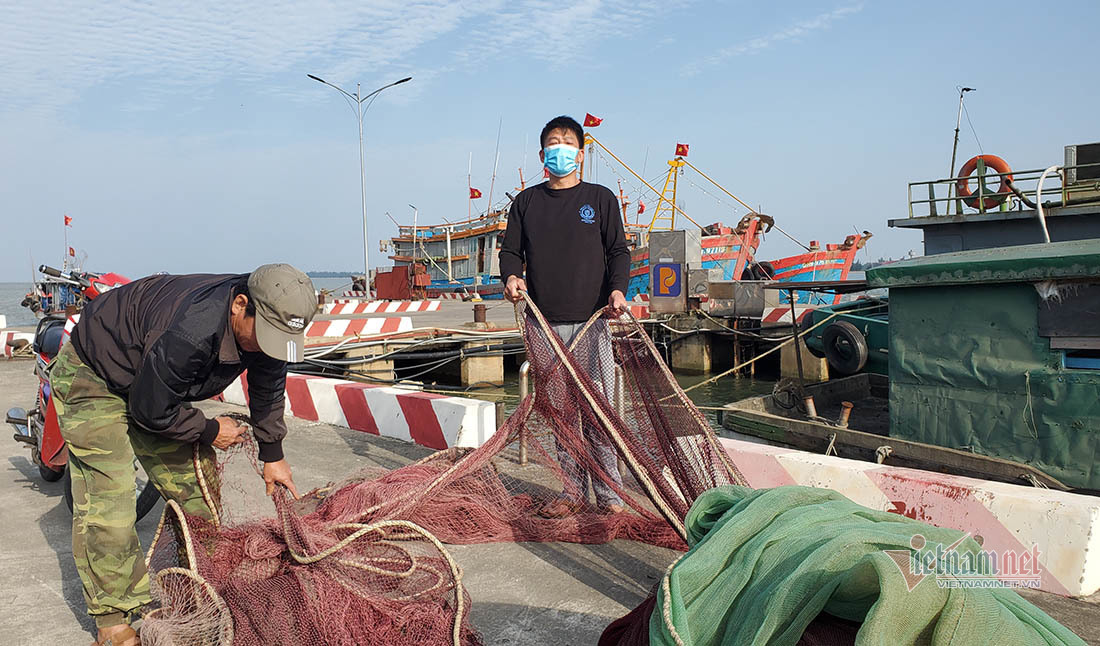 Boats do not dare to go to sea before the storm of gasoline prices
Many ships with large capacity in Nghe An have to stay ashore because of high oil prices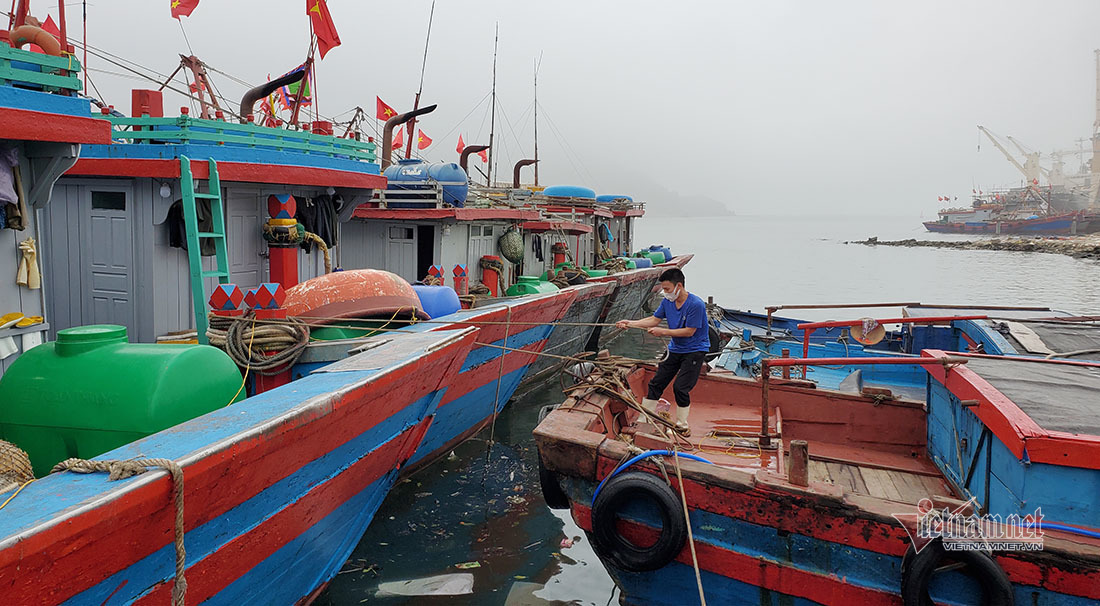 Fishermen do not dare to go out to sea because the source of seafood is not enough to pay for their expenses, but they also have to make up for their losses. Photo: Quoc Huy
The owner of the fishing boat Mai Van Hai (SN 1967), residing in Nghi Thuy ward, Cua Lo town, was concerned that the price of oil would increase, while the source of seafood at this time was not in the official season. Therefore, every trip to sea must compensate for losses of tens of millions of dollars in oil, so large-capacity fishing boats can only wait on the shore.
According to the Chairman of the Farmers' Association of Nghi Thuy Ward (Cua Lo Town) Nguyen Tien Loi, the whole town of Cua Lo has nearly 50 large-capacity fishing boats, of which 44 vessels have a capacity from 800CV to 1,500CV. Nearly 10 days ago, fishing boats of fishermen all docked at ports because of high oil prices.
"The price of gasoline around the world increased, so the domestic price also increased and other commodities also increased. I just hope that the central government has policies to support fishermen to continue to go out to sea, "- Mr. Loi said.
Talk to PV. VietNamNet, Mr. Phan Xuan Vinh – Vice Chairman of the People's Committee of Dien Chau district – informed that due to high oil prices, fishermen can't afford to catch seafood, so most boats have to stay ashore. Only small capacity boats, fishing near the shore, still operate in moderation.
"The whole district has nearly 300 ships with large capacity, from 90CV to more than 800CV, which have been operating for a long time at sea and have to stay ashore. Oil prices are too high, so it is necessary to have policies to support fishermen who go offshore and develop their businesses. economy and clinging to the fishing grounds of the sea and islands" – Mr. Vinh shared.
The whole province of Nghe An has about 3,400 large and small boats, of which more than 1,000 ships with large capacity for offshore fishing have been heavily affected by high gasoline prices. With more than 17,000 employees working at sea, in the past 2 years, fishermen who have faced difficulties due to epidemics are now facing an oil price crisis.
Quoc Huy
You are reading the article
Large ship lying ashore, helpless fishermen look at the 'gold mine on the seabed'

at
Blogtuan.info
– Source:
vietnamnet.vn
– Read the original article
here