Ô tô - Xe máy
Lowering the age for granting motorbike licenses: Parents worry about "drawing roads for deer to run"
Before the proposal to lower the age to be granted a class A1 motorbike license, many parents in Hanoi and Ho Chi Minh City. Ho Chi Minh City expressed very different opinions.
The proposal for 16-year-old students to take the A1-class motorcycle license exam was raised by Mr. Ngo Duy Hieu, Vice President of the Vietnam Confederation of Labor at the seminar "Scientific and practical arguments for building construction projects". Law on Road Traffic Order and Safety" (taken on March 14). The reason, according to Mr. Hieu, is to match the current realities and needs of the young generation.
If approved, high school students from 16 years old will be able to take the A1 class license exam to drive motorcycles from 50-175cc like adults.
Recorded this morning by PV VietNamNet in Ho Chi Minh City. Ho Chi Minh City and Hanoi show that many parents with children of high school age have mixed opinions.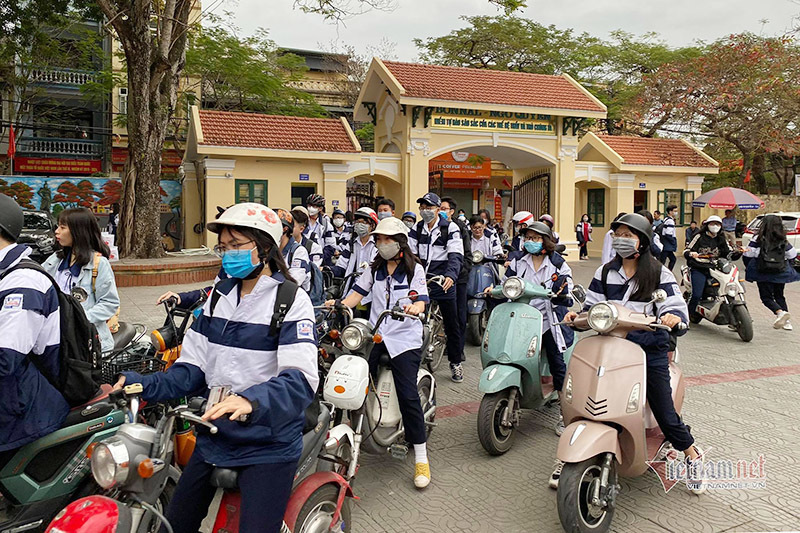 The demand for traveling by motorbikes and electric cars of high school students is very large
Mr. Nguyen Duy Khang (residing in District 3, Ho Chi Minh City) said that students now have to move a lot of places by themselves to study the full course, take extra classes, etc. While most parents are quite busy, they cannot regularly pick up and drop off, or for some reason being late will affect their children's learning.
"Students using motorbikes to go to school are a real need. Allowing students to use motorbikes will help them be much more active. This not only helps to reduce the density of traffic on the road, but also contributes to reducing traffic jams in the hours after school," Khang said.
And Mr. Dinh Van Truong (residing in Dong Da district, Hanoi) also said that now high school children are tall and healthy as adults. If you study law and pass the test, you will be able to drive a car well.
"Every family now has a motorbike in the house, it's always good for the children to use it when needed because not everyone is ready to buy more money for their children to buy a car under 50cc or an electric car to go to school," he said. Shared school.
With a more objective perspective, Ms. Phung Thao (resident in Thu Duc city, Ho Chi Minh City) who has a child to study in New Zealand said that she also agrees with the reduction of the age to get a driver's license, however, it is necessary to have a driver's license. Measures must be taken to tighten the examination regulations to ensure safety.
"In my opinion, tightening exam regulations to improve quality is more important than the current age factor. My child who is abroad has had to study and take the driver's license exam very seriously. If your children are 16 years old and have been tested to get a motorcycle license, it is also necessary to tighten the testing process so that which children are really eligible to drive, " Ms. Thao expressed her views to VietNamNet.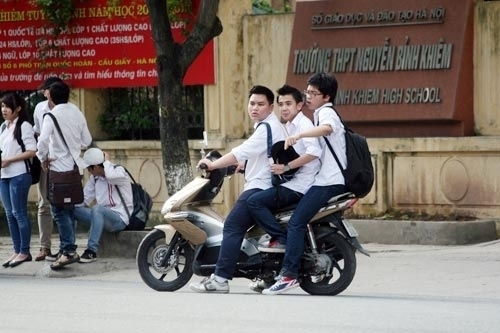 Although it is not allowed, it is very common for high school students to use models over 50cc. (Illustrated image)
However, in addition to agreeing opinions, many parents expressed concern when high school children were allowed to use motorcycles with a capacity of up to 175cc.
Citing many cases of "monsters" gathering to race, swerve, and pick up their heads recently, most of them are middle and high school students, Mr. Hoang Minh Thanh (Hoan Kiem district, Hanoi). To share: "Motorcycles of 100 cc or more have terrible speeds. Currently, many children are not allowed to drive those vehicles but still dare to bring cars to races, without helmets,…so if "open" for use, they do not know the situation of order and security. How bad is it?"
"Don't use the fact that it's convenient for your children to go to school as an excuse because students can ride buses, motorbikes under 50cc, electric bicycles or even bicycles. Children who are under 18 years old can drive a car. having a large cylinder capacity is very dangerous, not only for yourself but also for other road users."Mr. Thanh frankly expressed his opinion.
Agreeing with the above opinion, Ms. Le Thi Hong Anh (Ha Dong district, Hanoi) raised the question that people under 18 years old do not have enough rights and certain obligations before the law. So, if it is allowed to issue a license to these subjects, in the worst case scenario, who will be responsible?
"At the high school level, students all learn about the Road Traffic Law as well as the situations on the road in extra-curricular classes, but still a lot of children in this age group blatantly violate it. I think , should increase awareness education and tighten punishment instead of drawing a road for deer to run like that"Ms. Hong Anh expressed.
According to the current Law on Road Traffic, people aged 16 and over are allowed to ride motorbikes under 50 cc (without a license) and from 18 years of age or older can study and test for a class A1 license to ride motorbikes from 50 years old. -175 cc.
However, this evening, according to Resolution No. 37 of March 16, the thematic session on law-making, signed and promulgated by Standing Deputy Prime Minister Pham Binh Minh, the Government decided "not to change the management agency for training, testing and issuance of driver's licenses; reviewing and proposing handling of relevant legal documents, ensuring consistency and synchronization with the legal system; reporting to the Prime Minister new problems arise".
Hoang Hiep – Minh Khoi
What is your opinion on the above proposal? Please share the article about the Department of Automobiles and Motorcycles by email: otoxemay@vietnamnet.vn. Appropriate content will be posted. Thank you!
You are reading the article
Lowering the age for granting motorbike licenses: Parents worry about "drawing roads for deer to run"

at
Blogtuan.info
– Source:
vietnamnet.vn
– Read the original article
here