Alo bác sĩ
Giải trí
Often cough with COVID-19 does the virus attack the lungs? Signs you need to go to the hospital immediately
March 16, 2022 2:20 p.m. (GMT+7)
---
Vaccination status in Vietnam
Source: COVID-19 Immunization Portal – Updated at 00:00 3/15/2022
Number of injections nationally
Not every viral cough attacks the lungs, but it shouldn't be subjective
Although newly established, the clinic dedicated to F0s (still positive) at Thanh Nhan Hospital has received many patients with various symptoms such as shortness of breath, cough, difficulty breathing. ..
Minh Nguyet (37 years old, in Hoang Mai, Hanoi) was diagnosed with COVID-19 on March 13th and had a profuse cough, other than that there were no other symptoms.
Nguyet said that before going to the hospital, he used many types of herbal syrup, and then smoked roasted ginger and honey . . . but his cough still didn't help. After researching, this woman was worried that the virus would spread to her lungs, so she went to the pharmacy to buy antibiotics to use.
"I bought antibiotics, but I was afraid to take them, so I went to the hospital to see if the doctor had prescribed them. I'm most worried about the virus hitting the lungs, so I cough a lot," Nguyet said.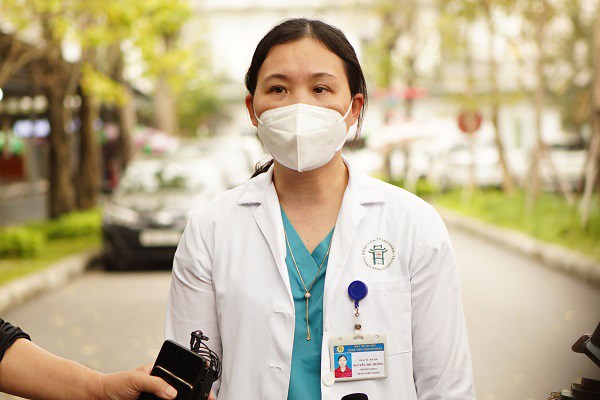 Dr Huong said not every COVID-19 patient had a cough that caused lung damage.
Specialist Doctor II Nguyen Thu Huong – Head of the COVID-19 Prevention and Control Unit, Thanh Nhan Hospital said, currently with case F0 being treated at home, doctors still recommend any symptoms, then treat those symptoms, and at the same time should not too panicked, worried. Do not carelessly use antibiotics, anticoagulants, corticosteroids… without instructions or indications.
For information on multiple F0 coughs and concerns about affecting the lungs, Dr. Huong said: "This is wrong information. Not every cough affects the lungs. It's not a cough where the virus attacks the lungs.".
According to Dr. Huong, coughing when infected with COVID-19 has many causes, such as gastric reflux, sore throat, etc. There are also cases of patients with heart and lung damage, such as blood stasis in the heart, and lung irritation, coughing. Therefore, people need to pay attention to the signs of coughing to determine when to see a doctor.
"Patients who have a severe cough and sore throat for several hours or cough a lot but do not interfere with daily activities, have no other symptoms, do not need to see a doctor, can be monitored at home. .
In case of F0 dry cough, making it uncomfortable to wake up in the middle of the night, coughing with difficulty breathing, it is very important to go to the facility for examination.", said Doctor Huong.
There are cases of lung damage but antibiotics are also ineffective
Regarding the use of antibiotics when coughing or not, Dr. Thu Huong said excessive use of antibiotics when coughing was wrong. Because even in cases of lung damage, particularly pulmonary fibrosis leading to coughing, or coughing due to gastroesophageal reflux, antibiotics are ineffective.
"COVID-19 patients only take antibiotics when they have an infection and follow their doctor's orders. If F0 coughs a lot, any symptoms need to see a doctor, check and give a prescription, don't buy antibiotics carelessly. Antibiotics are a double-edged sword, otherwise the infection is ineffective, even causing allergies, liver enzyme damage, kidney function.", suggested Doctor Huong.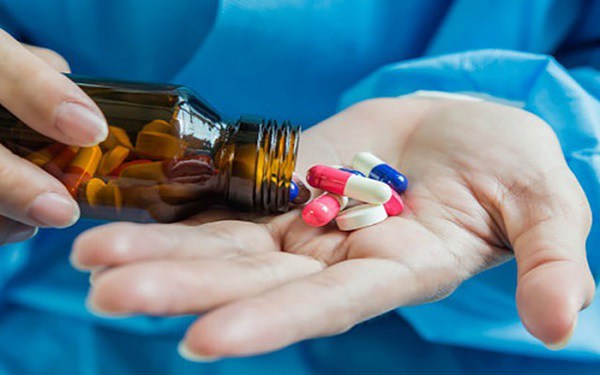 The use of antibiotics not only does not affect the virus, but also harms the body. Illustration.
Doctor Nguyen Huy Hoang, a member of the group of military doctors who supports home F0 treatment, said that COVID-19 is a viral disease, so antibiotics will not work to kill the virus. Therefore, indiscriminately using antibiotics without a doctor's prescription is very dangerous.
This doctor also reminded that the condition of some patients coughing for an unknown cause but still taking antibiotics that were prescribed by other people together. "Excessive use of antibiotics is not as deadly as anti-inflammatory corticosteroids, but will burden the liver and kidneys, while the body is exhausted from viral attacks.", said Dr. Hoang.
According to Doctor Thu Huong, COVID-19 is a progressive disease that can go away on its own after 5-7 days without treatment. Therefore, when infected with COVID-19, patients only need to take medication according to their symptoms.
Where it is necessary to prepare a group of drugs to treat the common cold with drugs such as: Paracetamol is an antipyretic drug, pain reliever and symptomatic treatment; Antihistamines help relieve cold and flu symptoms. The rest of the drugs other than the group of drugs mentioned above need to be taken according to the doctor's instructions and prescriptions.
You are reading the article
Often cough with COVID-19 does the virus attack the lungs? Signs you need to go to the hospital immediately
at Blogtuan.info – Source: Eva.vn – Read the original article here