Of the consequences of Covid, if any, lung damage is the most worrisome.
Associate Professor Hai took the example of a patient being treated at Covid-19 Hospital Hoang Mai, Hanoi. Female patient, 80 years old, has high blood pressure, is infected with Covid-19 and has not been vaccinated. The patient was intubated in a city hospital and had a very high mortality prognosis with 2 white lungs. He was transferred to the Hospital to treat Covid-19 patients in a fragile hope.
Assoc. Hai shared "She was mechanically ventilated, given intravenous antiviral drugs, corticosteroids, anticoagulants, antibiotics to treat superinfection, and other active resuscitation measures. The instrument was tried to remove the tube 2 times but both failed, we tried the 3rd time and it was successful.
After 2 weeks at the Covid hospital, he was transferred to Hanoi Medical University Hospital when the Covid-19 test was negative and continued to be treated for 2 weeks at Hanoi Medical University Hospital and then discharged without oxygen.".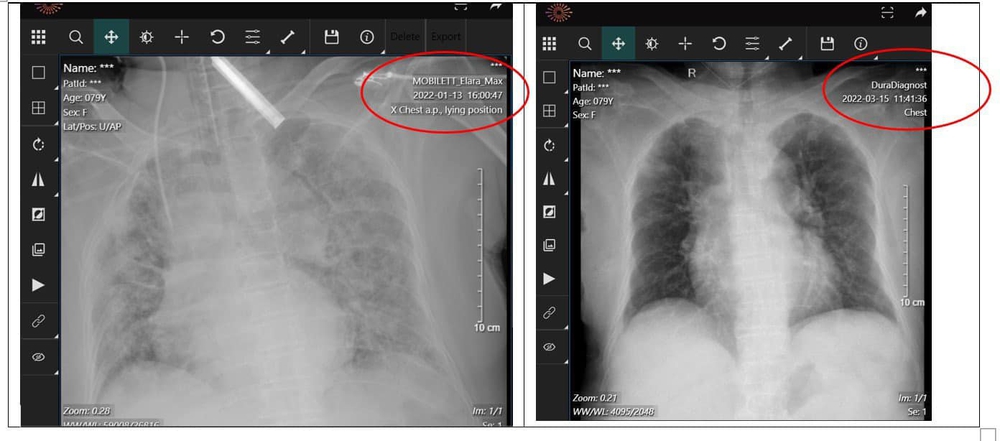 The patient's lungs were infected with Covid-19 and recovered after 2 months.
One month after being discharged from the hospital, ie 2 months from the time of infection, the patient came back for a follow-up examination with a much brighter lung image.
The so-called "Post-Covid" in the "Omicron era" combined with vaccine coverage cannot be equated with the "time" of Alpha, Delta and no vaccine. Compared to this case, mild, asymptomatic cases of Covid-19 have no reason to worry or panic.
Assoc. Hai himself is also tired because relatives, friends or family are too worried about post-Covid-19. On March 15, a young family of 4 people with mild symptoms of Covid-19 came to the doctor after 4 days of negative symptoms and insisted on taking a chest X-ray because of concerns after Covid-19.
Assoc. When they enter the body only in the pharynx and do not reach the lungs, they cannot damage the lungs.
Associate Professor Hai said that Covid-19 makes people panic. The information is not very oriented. People need to understand that there must be damage to the lungs in the first place before there are consequences. Like the patient above, the lungs are affected from the beginning, the lungs are white but the patient is still recovering, the lungs are still getting better, healthy people only have sore throat, cough, fever, no need to worry too much.
Covid-19 can be considered as a cold, after recovering from the disease, you may still feel tired, sometimes cold, but it will go away after 3 months, so there is no need to worry too much about such symptoms.
When to see a child?
Dr. Du Tan Quy – Head of Infection Department, Children's Hospital 1, HCMC – said that after recovering from Covid-19, most people with Covid-19 make a full recovery. However, according to scientific studies, about 10%-20% of patients with symptoms will appear abnormal symptoms, these symptoms can last for many months without clearly explaining the cause. called the "post-Covid-19 syndrome".
According to Doctor Quy, the patient has symptoms of post-Covid-19 infection syndrome including:
• General symptoms: fatigue, aches and pains.
• Respiratory symptoms: shortness of breath, cough.
• Cardiovascular symptoms: chest tightness, chest pain, symptoms may increase with exercise.
• Neurological symptoms: decreased concentration, headache, sleep disturbance, peripheral nerve symptoms (stinging sensation, numbness), dizziness, abnormal movement, visual impairment.
• Digestive symptoms: abdominal pain, nausea/vomiting, diarrhea, weight loss, poor appetite.
• Musculoskeletal symptoms: joint pain, muscle pain.
• Otolaryngology symptoms: tinnitus, ear pain, sore throat, loss/decreased hearing or taste, stuffy nose.
• Psychiatric symptoms: symptoms of anxiety, depression, post-traumatic stress disorder.
• Children can develop multi-system inflammatory syndrome (MIS-C) with symptoms of fever, evidence of inflammation, and involvement of at least two organs about 2-6 weeks after the acute episode of Covid-19 . Parents should be aware of this form of disease due to its high morbidity and mortality rates.
However, doctor Quy said that it is not necessary to go to the post-Covid doctor for all children. Post-Covid-19 examination is only necessary when the child has abnormal symptoms of the post-Covid-19 syndrome and has the above symptoms.
https://soha.vn/pgd-benh-vien-covid-19-hoang-mai-omicron-vac-xin-hau-covid-khong-con-dang-ngai-20220316083817057.htm
You are reading the article
Omicron + vaccine = post-COVID no longer a concern

at
Blogtuan.info
– Source:
Soha.vn
– Read the original article
here