Giới trẻ
Parents are excited because of their son's essay "Pregnant", but the teacher praises: So wonderful!
The boy's essay made many adults feel ashamed of themselves!
Someone once said that every child is an artist, because children have extremely rich imaginations. Especially elementary school students with their immaturity and innocence in thinking, the sentences and poems they wrote became hot topics of discussion on social networks.
In grades 1 and 2, many teachers will ask students to keep a journal or write essays. In addition to the purpose of improving children's scores, teachers also hope that through words, they can understand more about emotions, ways of thinking as well as how children perceive the world around them.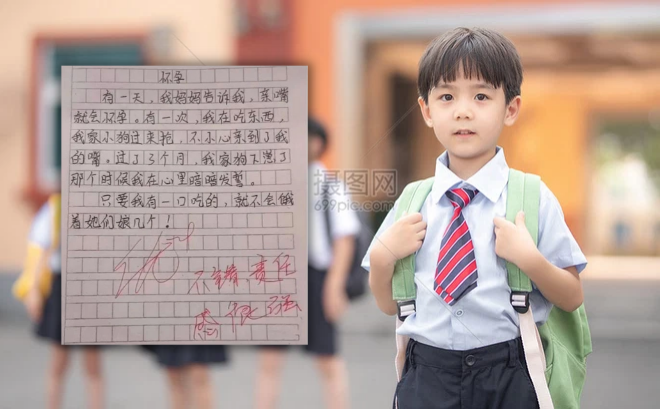 Illustration
Recently, Chinese netizens are sharing an essay by an elementary school boy with the title "Pregnant". This article was posted by the boy's parents on social networks and expressed their frustration and panic at the son's way of thinking. But what surprised this couple the most was the absolute score and the teacher's criticism.
The article "Pregnant" writes that:
"One day, my mother told me that kissing on the lips can get pregnant. Once, while eating, the dog ran to me to get food, while fighting, I accidentally kissed him on the mouth. After 3 months, my dog ​​will give birth, at this time I secretly swear in my heart that as long as I have food, his mother and child will never go hungry."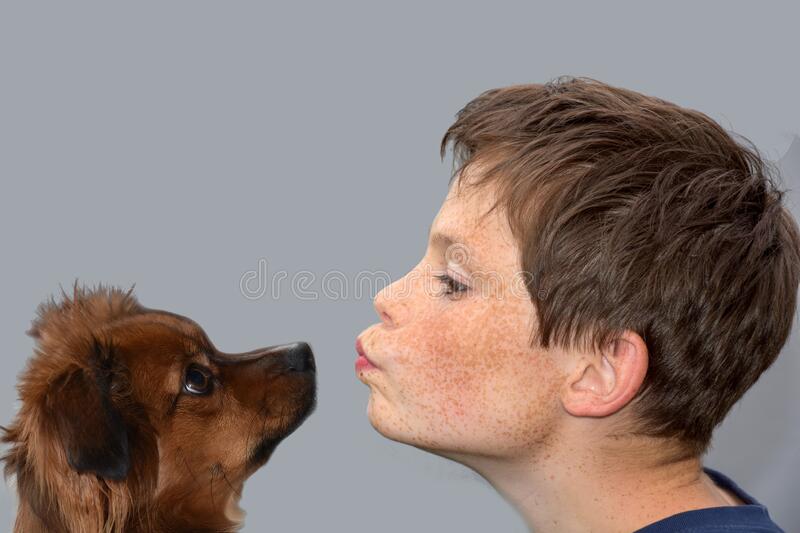 Illustration
After reading the essay that their son wrote, the parents were shocked because they saw that their son had wrong thoughts, but this essay got a perfect score with the teacher's praise for the principle.
Responsibility
The boy's teacher thinks that this essay and this student are wonderful! The boy has an extremely noble sense of responsibility, dares to take and the burden of "imaginary family" is also very cute. Even this spirit of the boy made many adults feel ashamed.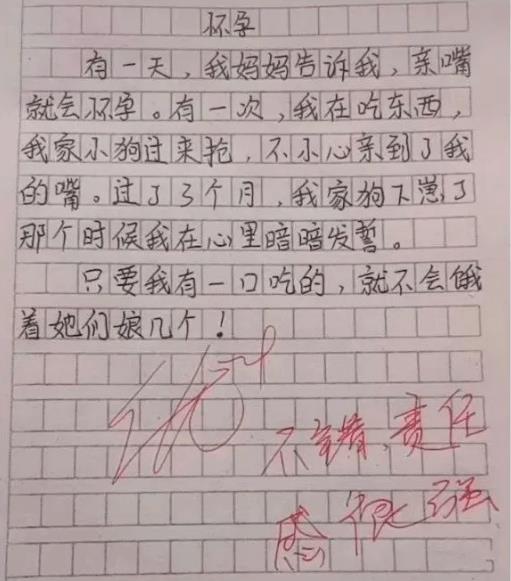 Essay "Pregnant" by elementary school boy. Image: Baijiahao
Although his words and thinking are still very innocent, the boy's precious sense of responsibility needs to be commended. Children must be responsible for doing something, born to be responsible for themselves and their families. Indeed, the small thoughts of children always surprise parents, but it is certain that when the boy grows up, he will be a good and excellent person.
Not only the teacher but also Chinese netizens showed great interest in the poem "Pregnant" and the boy's witty wit: "The boy is so sweet", "Why should parents be afraid? feel happy", "So cute"…
The writings of elementary school students really make adults both laugh and admire. It is like a mirror for adults to look at themselves, to shame themselves and change their own bad qualities.
Hopefully, the responsible boys and girls of primary school age will still keep this precious and good spirit when they grow up.
According to ttvn.toquoc.vn
You are reading the article
Parents are excited because of their son's essay "Pregnant", but the teacher praises: So wonderful!

at
Blogtuan.info
– Source:
infonet.vietnamnet.vn
– Read the original article
here