Giải trí
Post-Covid-19 syndrome – What you need to know to avoid long-term sequelae
Shortness of breath, headache, insomnia, cough, muscle and joint pain, loss of taste, decreased concentration… are the troubles of the post-Covid-19 syndrome that many former F0s are facing. Therefore, even though Covid is over, they still cannot return to normal life. So what do you need to do to avoid or quickly overcome post-Covid syndrome if you get it?
Post-COVID-19 syndrome: Don't worry, don't panic!
In recent days, when the number of F0 is increasing, the post-Covid-19 syndrome has become a hot issue that attracts many people's attention. Post-Covid-19 syndrome can occur in recovered F0s with diverse symptoms.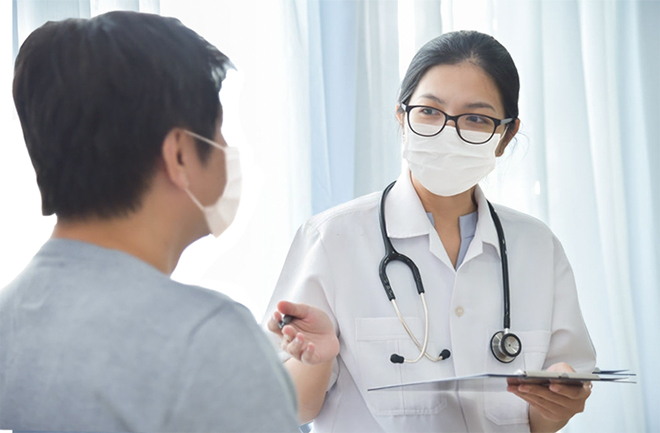 There are about 200 symptoms associated with post-Covid-19 syndrome including: low-grade fever, difficulty breathing, prolonged cough, fatigue, muscle and joint pain, loss of appetite, taste or smell disturbances… This multi-organ effect has made the consequences of the post-Covid-19 syndrome unlimited, such as causing myocarditis, brain fog syndrome, pneumonia, pulmonary fibrosis, anxiety disorders, depression… All these As a result, many patients panic!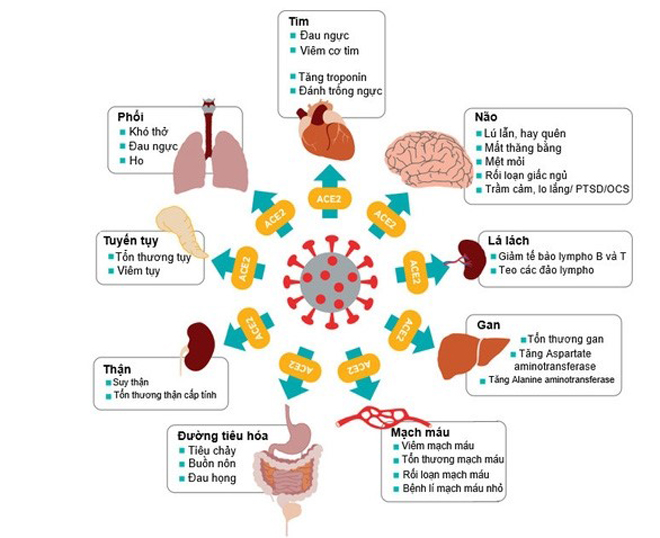 According to Dr. Sanghavi (Mayo Clinic, Florida, USA), cases of post-Covid-19 syndrome can be divided into 3 groups:
– Group 1: The patient has not fully recovered and post-Covid symptoms appear because the cells are damaged directly by the SARS-CoV-2 virus.
– Group 2: Post-Covid-19 symptoms are related to whether the patient has underlying medical conditions or had to be treated in the ICU when infected with Covid-19.
– Group 3: Post-Covid-19 symptoms appear during the recovery period. It's an interaction between the immune system and inflammatory markers caused by viruses in the body.
About 25% of F0 have a risk of developing post-Covid-19 sequelae, but not everyone suffers severe sequelae. Therefore, the patient should not be too worried! Worrying too much can also have a bad effect on the patient's psyche. According to experts, subjects at high risk of post-Covid-19 syndrome include: people over 60 years of age, with underlying medical conditions; seriously ill people during Covid-19 infection; people who have not had enough vaccine doses… Therefore, this group of people needs to be careful and closely monitor their health after Covid.
How to recognize and overcome post-Covid-19 syndrome?
Everyone should listen to their body for a reasonable intervention. If after negative, you still have one of the following symptoms: chest tightness; shortness of breath; arrhythmia; Insomnia… for a long time, you need to go to the hospital for examination and advice from a doctor. If the symptoms are mild, within the body's tolerance level, the patient just needs to eat and drink enough nutrients; healthy living; breathing exercises; gentle exercise; Live optimistically and strengthen the body's resistance.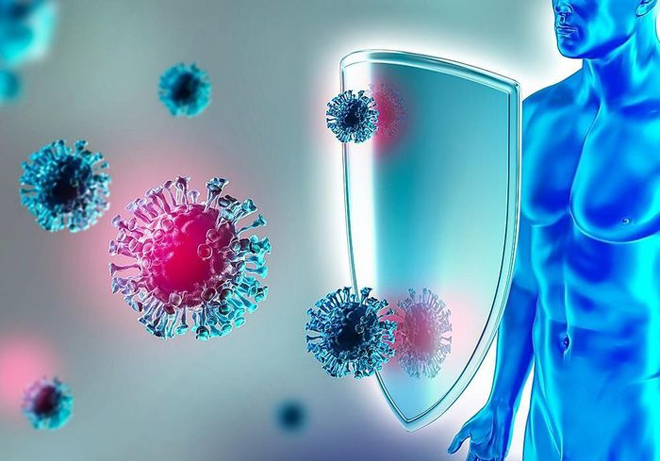 In order not to be severely and prolonged post-Covid syndrome, patients can refer to the following ways:
– Proper nutrition
Follow a diet that provides enough nutrient groups (starch, protein, fat, vitamins and minerals). If eating is difficult, you can divide meals as long as you can meet your daily nutritional needs.
– Maintain a healthy lifestyle
Go to bed at the right time and at the right time because sleep is very important for the body's recovery process. Limit alcohol and stimulants!
– Keep a positive, happy spirit
Spirituality plays a decisive role in the patient's recovery process. Do not stress, worry because it easily leads to insomnia and nervous breakdown. Always stay positive!
– Exercise and rehabilitation exercises
Exercise should be gentle, suitable for the body. You can practice breathing if you feel short of breath. Exercise appropriately if you have joint pain. Or practice yoga to help balance the body physically and mentally.
– Strengthen resistance
Resistance plays a decisive role in protecting the body against disease. Good resistance will help the body recognize and destroy pathogens early, thereby reducing the risk of infection. When the virus attacks, the strong resistance will destroy and eliminate viruses faster, limiting their multiplication, contributing to reducing the damage caused by the virus. At the same time, helping the body recover faster, less affected by sequelae.
How to effectively increase resistance?
To enhance optimal resistance, in addition to eating well, maintaining a healthy lifestyle, and keeping a good mind, it is necessary to supplement with important micronutrients for a healthy immune system such as vitamins A, D, and C. , iron, zinc … In addition, patients should consider using specialized products to help increase resistance quickly, effectively and safely. Currently, specialized resistance-boosting products contain active ingredients Beta-glucan combined with vitamins C, D and zinc as Gadopax Forte is overrated.
Beta-glucan is the "golden" active ingredient that helps strengthen the resistance of each person. Its effectiveness has been proven by more than 170,000 scientific works. In it, the research of Dr. Geller (Louisville Medical College, USA) showed: Beta-glucan stimulates the "army" of immune cells to double in just 72 hours. It promotes the maturation of immune cells, helping the body quickly detect and destroy pathogens. Another plus point of Beta-Glucan is its safety with health, which has been certified by the FDA (USA) so it can be used for all subjects, including children.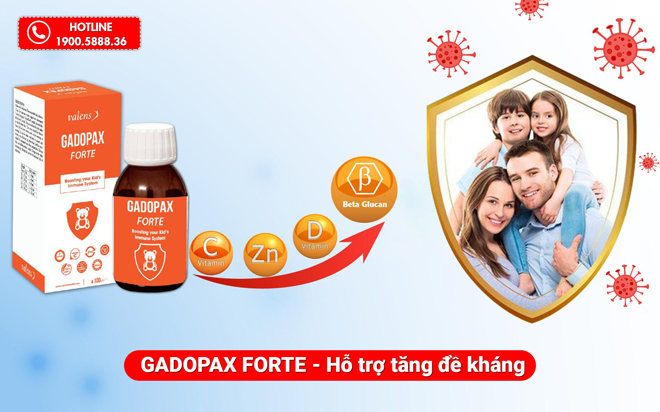 Not only pure Beta-glucan (1,3-1,6) with high content, Gadopax Forte also contains 3 essential micronutrients for the immune system: vitamin C, vitamin D, zinc creating a comprehensive formula for a healthy immune system, thereby helping to increase resistance quickly, safely and effectively.
Covid-19 is being considered for inclusion in the list of endemic diseases. So don't be too alarmed by the post-Covid syndrome! Listen to your body, monitor and take care of yourself properly, effectively increasing resistance will help you overcome it more gently!
Gadopax Forte helps to support outstanding resistance growth thanks to its high content of Beta-(1,3-1,6)-D-glucans combined with Zinc, Vitamin C and Vitamin D which are the leading micronutrients to help stimulate the system. The immune system works effectively, increasing outstanding resistance.
Gadopax Forte support to increase the body's resistance, support to reduce the risk of bacterial and viral diseases, especially for children and adults with poor resistance.
Products are imported directly from Europe, licensed for circulation by the Ministry of Health.
For more information visit: http://www.gadopax.com/
Hotline: 1900 58 88 36
Products are imported and distributed exclusively by CTT Vietnam International Pharmaceutical Joint Stock Company and Vietnam Prohealth Company.
This product is not a medicine, it is not a substitute for medicine.
You are reading the article
Post-Covid-19 syndrome – What you need to know to avoid long-term sequelae

at
Blogtuan.info
– Source:
24h.com.vn
– Read the original article
here