Business
Racing to build an online store, which key helps businesses "hit where to win"?
People build websites, people refresh websites

According to keywordtool.io, the keyword "web design" has reached 33,100 searches per month, an increase of 83% over the past 12 months. This shows that the demand to learn to "build a store" on the internet is increasing significantly. This can be considered a good signal when businesses and organizations gradually realize the importance of websites in promoting their brands and reaching out to potential customers. However, "following the trend" without understanding the nature and how to do it also leads to many consequences for businesses, costing them time and money, but business still does not "get better" at all.

The owner of a shop selling building materials shared: I also often participate in business groups on Facebook, seeing everyone in the association sharing business now without a website is the same as selling without opening. door, so then hired a friend in the team to design the website for the store. But now that I have a website, my business still happens on Facebook more. I also think it's a bit of a waste to spend more than 6 million to "build a shop" on the internet, but I don't know what to do because there are no customers.
At the same time, many shop owners, online shop owners also encounter the situation of "building a store on the internet without any customers visiting". This may be because the business has not invested in advertising on the website or the website is not designed with SEO standards, leading to the content being invested but still can not "to the TOP" on the search engines.
Thus, many businesses and organizations today do not fully understand the benefits and functions of website design, but only build websites according to "what people say". Some departments, who are aware of the importance of the website, have to "rebuild it" many times because of lack of expertise and experience.
Break and rebuild many times
It took up to 3 times to build a satisfactory website, meeting all the criteria set forth, a real estate marketing staff shared her bloody experience: "I built a website for the company a total of 3 times. The first time is to hire a website design unit with a package price of over 10 million, but after using it for a while, the website often fails and that unit "runs away" without warranty. 2, the company hired a team of programmers to design and operate the website, but it was not effective because the revenue from the website was not enough to pay. The third time, I chose a well-known website design company." .
Thanks to the previous experience, the website was built with all the necessary functions according to the actual needs of the company, and integrated a number of sales and marketing tools automatically into the website, 360 photo technology. The level helps improve the actual experience of customers when referring to projects on the website, so the company's revenue has also started to grow by double digits since last October. "Now that Covid-19 has hit, I'm not as worried as in March and April."
This is just one of the few businesses that persist in building websites and getting revenue from this media channel. Most companies today have not been able to bring into full play the power of the website, or more precisely, have not grown breakthrough revenue from the website because they are afraid to update and upgrade the website or are not knowledgeable about the integrated tools that come with it. .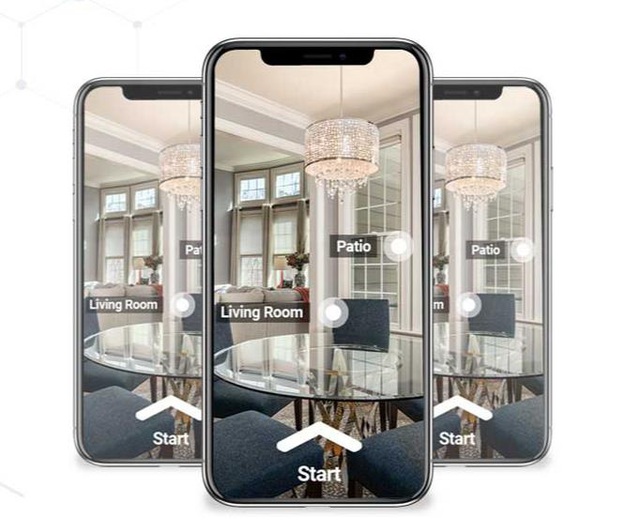 360 photo technology is integrated on the real estate website to bring the whole apartment experience to customers.
"Build a shop" how to not "hole"?
If there is a problem, then surely the business needs to find a solution. According to people with experience in the industry, the first thing to do when embarking on website design is to determine the actual needs of your company. Each company will have a different structure of goods and products, so to avoid losing time and effort, you should hire a website designer according to your needs, have the source code as much as possible so you can easily edit it. , add or remove arbitrary functions.
Besides, having the website integrated with marketing automation tools also helps to increase the communication and sales power of the website. Currently, Bizfly is the only unit that integrates this toolkit in the same ecosystem. One more big plus when website design At this unit, there is high security capability thanks to VCCloud's large cloud platform, integrating the most modern online marketing and sales tools such as chatbot, CRM, email marketing to help businesses nurture customers. right from the start, minimizing advertising costs and increasing revenue in a sustainable way.
Find out the solution to help businesses increase sales by 200% right away HERE
Bizfly Website from VCCorp is a professional, reputable website design service on demand for all industries and industries, helping businesses to effectively grow 200% in revenue, save 50% on advertising costs.
With more than 13 years of experience in website design and administration, Bizfly has consulted and designed large websites such as Dan Tri, Channel 14, aFamily… with a team of more than 1000 IT experts, with deep understanding of each industry. Let Bizfly offer the most comprehensive and affordable web design solutions for you from today.
https://cafebiz.vn/dua-nhau-xay-cua-hang-online-chia-khoa-nao-giup-doanh-nghiep-danh-dau-thang-do-20220316193627458.chn
Following the Economic Lifestyle
You are reading the article
Racing to build an online store, which key helps businesses "hit where to win"?

at
Blogtuan.info
– Source:
cafebiz.vn
– Read the original article
here