Giải trí
Schoolgirl was forced to be a "sex slave" in a container: Mysterious disappearance
Every day, a 14-year-old girl is sexually abused and assaulted in a sealed container.
Kidnapped on her way home from school, the 14-year-old schoolgirl endured nine terrifying months in a container less than 50 kilometers from her home.
Disappeared without a trace
Born on October 12, 1998 in Manchester, New Hampshire (USA), Abigail Hernandez had a peaceful childhood with her mother and sister. Friends and people around her commented that Abigail is a strong, kind, positive and cheerful girl. She is also a talented high school athlete.
But with just a few days to go until her 15th birthday, Abigail suddenly disappeared without a trace while on her way home from school on October 9, 2013.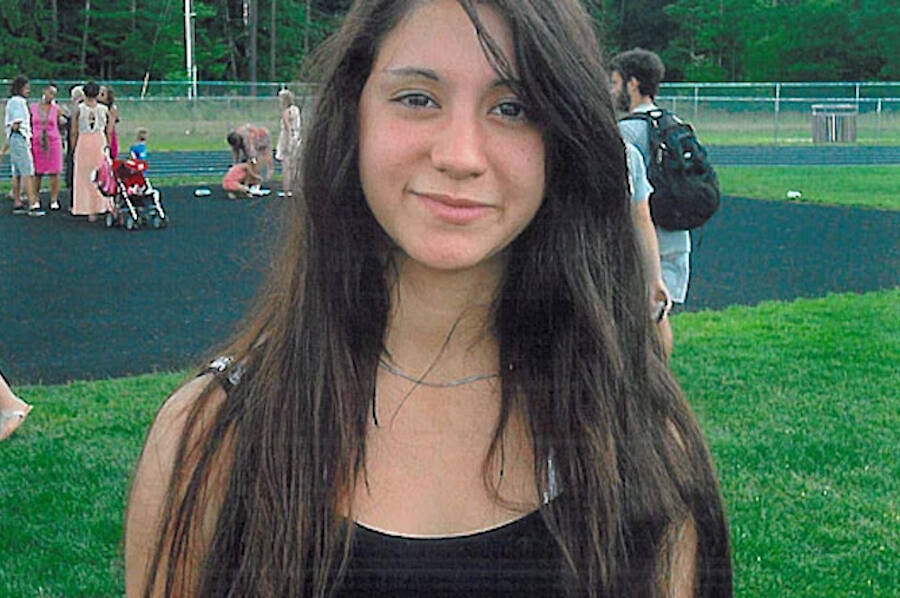 The young girl Abigail Hernandez
Abigail never came home late without telling her family. So, at 7:00 p.m., when her daughter did not come home from school, which ended at 4 p.m., Abigail's mother immediately reported her child's disappearance to the police.
The search for Abigail became one of the largest in New Hampshire state history. The girl's face appeared on many posters in the area.
Abigail's family has been fine lately, school relationships are also good, Abigail has no reason to run away. At this point, the girl's family and the police both fear the worst.
And their intuition was correct.
Terrible days
That day, Abigail was kidnapped by 34-year-old Nathaniel Kibby, a petty criminal and counterfeiter. The man had a perverse intention when he saw the female student walking alone.
Nathaniel forced Abigail into his car with a gun and threatened to cut his throat if he didn't obey.
He handcuffed her, wrapped a jacket over her head, and broke Abigail's cell phone to prevent police from searching through geolocation. Abigail tries to look out the window but is spotted by Nathaniel.
The car stopped after traveling nearly 50km from the point Abigail was abducted. It was Nathaniel's home in Gorham, New Hampshire. He took Abigail into a dark room, pulled her shirt and helmet over her head. Then, Nathaniel raped Abigail for the first time. In the pain, the female student, even though she was very scared, still told herself to do something.
She began to say to the kidnapper: "I'm not judging you for this. If you let me go, I won't tell anyone… Look, you don't seem like a bad person. Everyone makes mistakes sometimes. mistake… I won't tell anyone".
But the attempt to calm Nathaniel down was unsuccessful. He threw her in a sealed container in the yard. Here, a 14-year-old girl is abused and sexually assaulted every day. Abigail really just wanted to live and return to her mother.
A few days later, Nathaniel allowed her to watch television coverage of the press conference regarding the investigation into her disappearance. Abigail's heart sank when he saw his mother crying on the screen.
Later, Nathaniel allowed Abigail to write a letter home but had to lie that he had left rather than been kidnapped. The first letter was thrown away by Nathaniel after Abigail managed to insert the messages into the paper with her fingernails.
Authorities confirmed Abigail wrote the letter after finding traces of her DNA on the paper, but the writing made it difficult for them to understand. Investigators kept the letter for a month before it was released out of concern that Abigail may have been kidnapped and that the perpetrator could harm her.
Even knowing that, the police still couldn't do anything without any clues. Meanwhile, every day that passes is a day when the Abigail family is sitting on a fire. They are extremely afraid that their daughter will encounter trouble.
(There's more)
—————
We invite you to read the next installment of the series Schoolgirls forced to be "sex slaves" in containers at 4 o'clock on March 18 on the Law section.
You are reading the article
Schoolgirl was forced to be a "sex slave" in a container: Mysterious disappearance

at
Blogtuan.info
– Source:
24h.com.vn
– Read the original article
here