Life Style
Thế Giới
Stocks in the fast-testing and vaccine industries skyrocketed when Covid-19 broke out in China
On March 15, Hong Kong stock prices fell nearly 6% to their lowest level in nearly 6 years after the neighboring city of Shenzhen was ordered to close to combat China's worst Covid-19 outbreak in two years. five; Shares in Shanghai also fell 5% as coronavirus lockdowns accelerated in China, threatening to disrupt production and trade in the world's second-largest economy.
The stock sell-off continued to accelerate despite the country's release of data showing that retail sales, industrial production and investment in January-February all increased strongly, preceded by the decision of the central bank. China's central government did not cut interest rates to promote economic growth.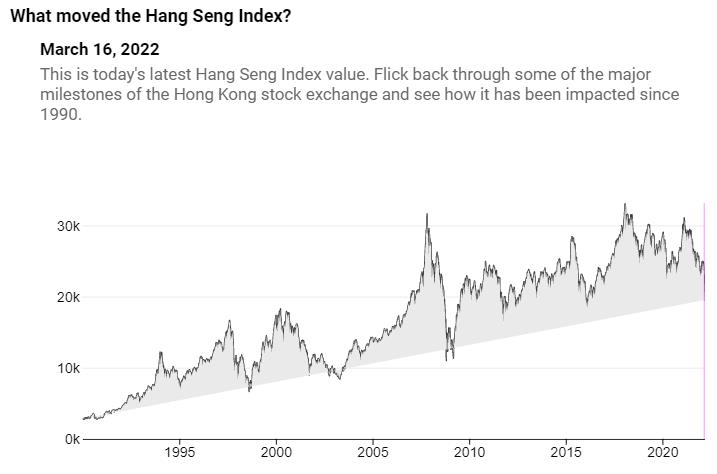 Investors have every reason to be alarmed by not only the outbreak in China, but also the uncertainty over whether persistently high inflation could stifle a global post-pandemic recovery. caused a downward shift in the prices of oil, wheat and other commodities, with a rapid decline not only in days, but in hours.
Mizuho Bank wrote in a statement that the markets appear to be trading in an eerie mix of hope, fear and uncertainty.
"Stock markets continue to fear that the shutdown could be widespread, which will severely impact China's growth," said Oanda analyst Jeffrey Halley.
Reversing that sell-off trend, stocks in the rapid test and vaccine industries surged.
China's Covid-19 rapid test kit manufacturers are optimistic about demand in this $5.3 billion market, because under the new policy, people in mainland China can use the kit. this instrument without the assistance of healthcare professionals.
Shares of Chinese companies that make Covid-19 rapid antigen test (RAT) kits jumped after Beijing allowed their products to be used publicly. Shares of this industry rose sharply, which was the brightest point on the red-hot Chinese stock market in recent sessions.
Shares of Nanjing Vazyme Biotech rose 13.6% on the Shanghai Stock Exchange and became the brightest "star" of the session on March 15, reaching 120.74 yuan ($18.9) – the company was among them. The first five companies got government approval on Saturday (March 12) to sell their RAT kits to individual consumers.
In Shenzhen, BGI Genomics, a subsidiary of BGI Yinyuan, also received similar approval, sending its shares to a ceiling of 10% during the session; while shares of Guangzhou Wondfo Biotech rose 3.7%.
RAT testing is China's "best approach to identify people who are positive for Covid-19 under conditions of gradual reopening," said Minsheng Securities analysts led by expert Zhou Chaoze. know in a report on Sunday (March 13). According to these experts, the approval of RAT kits for public use "is laying the groundwork for a gradual easing of measures against the pandemic in the future". "RAT testing is expected to be expanded nationwide."
Minsheng Securities together with Pacific Securities forecast that the domestic RAT market size could reach 33.6 billion yuan ($5.3 billion) monthly, prompting investors to rush to buy these stocks.
In addition to test kits, shares of major global vaccine companies also surged as China battled its worst Covid-19 outbreak since 2020, raising fears that the pandemic is far from over. is coming to an end – which could drive future vaccine demand.
Shares of biotech firm Moderna on Monday (March 14) rose more than 8% to end at $150.07, rallying nearly 20% in the morning to hit an intraday high of 166. 75 USD; Shares of BioNTech rose 12 percent to close at $151.92, Pfizer's shares rose 4% to $52.25 and Johnson & Johnson's rose more than 1% to $171.69.
Shares of Novavax on March 14 at one point increased by nearly 15% to reach an intraday high of 83.25 USD, although then gradually decreased and ended the session down more than 1%.
Similar to the test kit industry, vaccine makers' shares remain upbeat despite the recent global stock market's overall downtrend, as traders watch the impact of the war in Ukraine. and predict that the US Federal Reserve will raise interest rates this week.
Major cities in China have placed new restrictions on business activity to combat the outbreak of the Covid-19 epidemic, due to the rapidly spreading variant of Omicron. Shenzhen, a major tech hub in southern China, has asked companies to suspend all non-essential business or let employees work from home, while Changchun is in the northeast. blockade has begun. Apple supplier Foxconn has stopped production in Shenzhen, while Toyota and Volkswagen have suspended production in Changchun.
In Shanghai, China's financial hub, schools have returned to online learning and officials have asked residents not to leave the city unless absolutely necessary. China applies a strict zero-Covid strategy, using tough measures to quickly stamp out the epidemic.
References: Scmp, Cnbc, Business-standard
https://cafef.vn/co-phieu-cac-nganh-test-nhanh-va-vac-xin-vut-sang-khi-covid-19-bung-phat-o-trung-quoc-20220316085302141.chn
https://cafef.vn/co-phieu-cac-nganh-test-nhanh-va-vac-xin-vut-sang-khi-covid-19-bung-phat-o-trung-quoc-20220316085302141.chn
You are reading the article
Stocks in the fast-testing and vaccine industries skyrocketed when Covid-19 broke out in China

at
Blogtuan.info
– Source:
Afamily.vn
– Read the original article
here