On March 16, the Public Security Bureau of Thanh Xuan District, Hanoi, said that it had prosecuted the case and prosecuted the accused Dao Duy Thanh (SN 1996, residing in Son La city, Son La province) for the act " Forging seals and documents of agencies and organizations".
According to the documents of the Public Security Agency, on December 23, 2021, the police of Kim Giang ward (Thanh Xuan) received a report from Mr. Luu Duc Thanh, director of a bank, based in Kim Giang ward about the On December 23, a man using his identity card named Huynh Trong Nhan came to make a transfer and withdraw money from an account holder named Huynh Trong Nhan with the amount of 65 million VND. Cash and authorization to spend the amount of 400 million VND from an account named Nguyen Manh Toan… During the transaction, Mr. Thanh discovered that this ID card had signs of counterfeiting, so he reported it to Kim ward police. Jiang.
During the investigation, Thanh Xuan District Police clarified the behavior of the accused Dao Duy Thanh. At the police station, Thanh confessed that he knew Nguyen Thi Huong Huyen (born in 1990, residing in Kim Boi district, Hoa Binh) and Nguyen Manh Toan (born in 1989, residing in Thanh Oai district, Hanoi) and was Huyen discussed how many people want to buy bank accounts.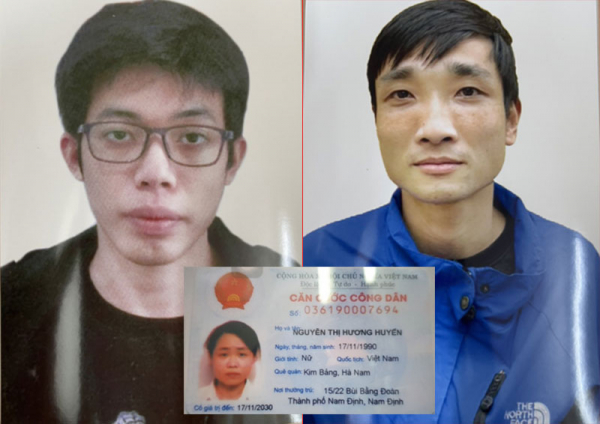 Subjects Dao Duy Thanh, Nguyen Manh Toan and Nguyen Thi Huong Huyen.
Therefore, Huyen will forge many ID cards with photos of Toan and Thanh in order to bring them to banks for account opening procedures. When opening an account, two phone numbers will be registered, some register to receive the OTP code of the money transfer application on the phone, some register to receive balance changes when money is transferred to the account (the This phone number was prepared by Huyen).
After successfully opening an account and registering a phone number to receive an OTP code, Huyen will give it to the buyer, and the phone number to receive notifications of changes in the balance Huyen keeps. Seeing the money transferred into the account, Huyen will notify Thanh and Toan so that the two subjects can go to the bank to use fake IDs to open an account before withdrawing money to appropriate this amount, each time appropriating property. Huyen will share it equally with everyone.
Specifically, from April 2021 to the end of July 2021, Huyen gave Thanh a total of 7 fake ID cards and the subject used this fake ID to open about 30 accounts at many different banks. After successfully opening, Thanh handed over all these bank accounts to Huyen to sell to customers. With the above tricks, Thanh and Huyen have repeatedly appropriated money in bank accounts. Huyen divided Thanh about 70 million VND. On December 23, 2021, Thanh used a fake ID card with the name Huynh Trong Nhan to go to a bank in Kim Giang to complete procedures to appropriate an amount of 465 million VND, but was found to be withheld.
Based on the collected documents, the Public Security Agency also summoned Nguyen Manh Toan to work. At the police station, Toan confessed, around June 2021, Huyen gave Toan a total of 7 fake ID cards, Toan used 3 fake ID cards Huyen gave to open 7 accounts at different banks.
At the time of opening the account, Toan also registered 2 phone numbers as Huyen had told before. After successfully opening, Toan handed over the fake account number and ID card to Huyen so that Huyen could sell it to customers and appropriate an amount of more than 4 million VND, which Huyen divided back to Toan for more than 2 million VND.
In addition, Toan also knew that Huyen told Thanh to use a fake ID named Huynh Trong Nhan to open a bank account, then sell this account to a man living in Ho Chi Minh City to use to buy and sell securities. and Forex (buying and selling virtual currency).
On December 23, 2021, Huyen called to inform Toan that the account sold to a man in Ho Chi Minh City had just transferred the amount of 465 million VND, Huyen would tell Thanh to withdraw 65 million VND, the remaining 400 million VND would be withdrawn. transferred to the account named Nguyen Manh Toan. After that, Toan will withdraw and bring back to share. However, when Toan made the transaction, the bank reported that the amount was suspended so it could not be withdrawn, Toan reported back to Thanh and went home.
Thanh Xuan district police determined that the subjects in the case used fake ID cards to open accounts at many banks. When opening an account, I used 2 mobile phone numbers registered with the bank, of which 1 registered to receive information on changes in account balance, 1 registered to receive OTP code when using e-banking. death.
After that, the subjects sell accounts on the Internet, when a customer buys the object will transfer the ATM card along with the phone number to receive the OTP code to the customer via delivery service. Subjects who retain phone numbers receive notifications of balance fluctuations, when detecting that there is money in the user's account, the subjects will bring fake IDs to bank branches to complete appropriate transaction procedures. victim's money.
With the above-mentioned tricks, the subjects have repeatedly done it successfully and appropriated the victim's money. The investigation documents determined that the subjects opened a number of accounts at 7 banks named after the account holders: Huynh Trong Nhan, Dang Quoc Dat, Nguyen Van Tan, Le Van Tuong, Dang Quoc Dat, and Nguyen Viet Quang. , Hoang Thien Khiem, Nguyen Tuong Hung, Phan Duc Thinh, Nguyen Duc Viet, Phan Duc Thinh…
Currently, the subject Nguyen Thi Thuong Huyen has gone from her residence, the Thanh Xuan District Public Security Bureau of Investigation has issued a notice of tracing; at the same time, consolidate the dossier for Nguyen Manh Toan for handling in accordance with the law.
In order to serve the investigation and expand the case, the Thanh Xuan District Police Department's Investigation Agency recommends that whoever is the victim of the above case please contact investigator Nguyen Van Ha, at phone number: 0913132121 or to the head office of the Police Department of Thanh Xuan District, Hanoi at the address: 58 Vu Trong Phung, Thanh Xuan Trung, Thanh Xuan, Hanoi to report.
The police agency also advised people not to buy and use the bank accounts of the traffickers on social networks for use, leading to unfortunate consequences.
You are reading the article
The bank's director was alert to help the police unmask high-handed tricks

at
Blogtuan.info
– Source:
Soha.vn
– Read the original article
here